Are you looking for a compelling and immersive virtual reality experience? Perhaps you should try the PlayStation VR headset. PlayStation VR has been making waves in the video game industry as virtual reality technology becomes more widely available to consumers. The capabilities and features of the PlayStation VR headset will be thoroughly examined in this review, along with its advantages and disadvantages.
To give you a thorough understanding of everything the PlayStation VR has to offer, we'll go over the headset's design, comfort, performance, game selection, and more. This review will assist you in determining whether the PlayStation VR is the best option for you, whether you're a die-hard gamer or just curious about virtual reality.
PlayStation VR 2 Review:
A thrilling new VR headset from Sony, the PlayStation VR 2, expands on the strengths of its predecessor with a number of cutting-edge features and upgrades.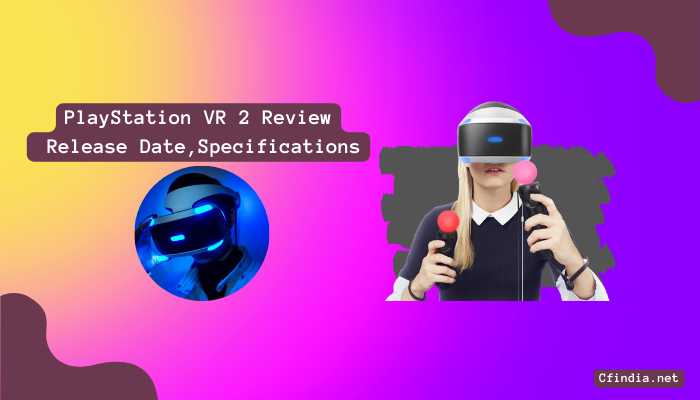 Display Upgrades:
One of the most noticeable updates is the high-resolution OLED display, which offers stunningly clear and vibrant images and boasts a resolution of 2000 x 2040 per eye. The new ergonomic controllers for the headset are also a noteworthy upgrade, providing better feedback and a more user-friendly layout for a more engaging gaming experience.
Connectivity Upgrades:
Since the PlayStation VR 2 is made specifically to work with the PlayStation 5 console, a wired connection to the console is necessary. The PS5's powerful hardware enables incredibly detailed and immersive VR experiences that are simply not possible on other platforms, which might be seen as a drawback by those looking for a more portable VR experience.
VR Sensor Upgrades:
Eye-tracking technology is another feature of the PSVR 2, allowing for more accurate tracking of the player's movements and more natural interaction with the virtual world.
The haptic feedback of the headset is also integrated into the device itself, further increasing the player's immersion and involvement in the experience.
Ergonomic Upgrades:
I was impressed by the headset's style and comfort during a recent PSVR 2 demo. The headset has a straightforward, lightweight design that is cozy to wear all day. The halo-shaped strap can be adjusted to provide a secure fit that won't come off the user's face while they're playing.
A variety of features that enable a more intuitive gaming experience have been added to the controllers, which have also undergone a significant improvement in terms of ergonomics. Motion sensors, haptic feedback, and capacitive sensors that can track finger placement are all included in the controllers, enabling more accurate and fluid movements throughout the game.
Performance Upgrades:
Another area in which the PSVR 2 shines is performance. The high-resolution OLED display offers stunning visuals with rich colors and detail, while the headset's support for both 90 Hz and 120 Hz ensures that fast motion is displayed smoothly, reducing the risk of motion sickness.
With 30 games planned for release alongside the headset, the PlayStation VR 2 promises to offer players a variety of thrilling games. Aside from Gran Turismo 7, which will have a dedicated VR mode, other popular games coming to the platform include Resident Evil Village and No Man's Sky.
Horizon Call of the Mountain, which I had the good fortune to play during my hands-on time with the headset, is one of the most exciting games coming to the PSVR 2 launch. With the added benefit of placing you in the center of the action in virtual reality, this game completely immerses you in the breathtaking world of Horizon Zero Dawn. This level of immersion really distinguishes the game from other VR experiences I've had because it has an interactive world that encourages exploration.
Although Horizon Call of the Mountain is a promising PSVR 2 launch title, there are many other games to be excited about. Another intriguing possibility is the confirmation that Beat Saber, a beloved PSVR game from the first generation, will be released after launch.
The PSVR 2's new games are important, but they're not the only ones. Numerous fantastic games from the original PlayStation VR were also available, and it is likely that they will work with the new headset.
It's exciting to consider how these games, such as Astro Bot Rescue Mission, could be enhanced with the new features of the PSVR 2. Some of these games were ground-breaking in terms of how they used VR technology.
Of course, the PSVR 2's success ultimately depends on the caliber of the games that are compatible with it. It's obvious that Sony is working hard to offer players a variety of experiences that make the most of the new hardware, but only time will tell if this is successful. However, the future of VR on PlayStation appears to be very bright if the launch titles are any indication.
Here's Everything PSVR 2 Will Offer!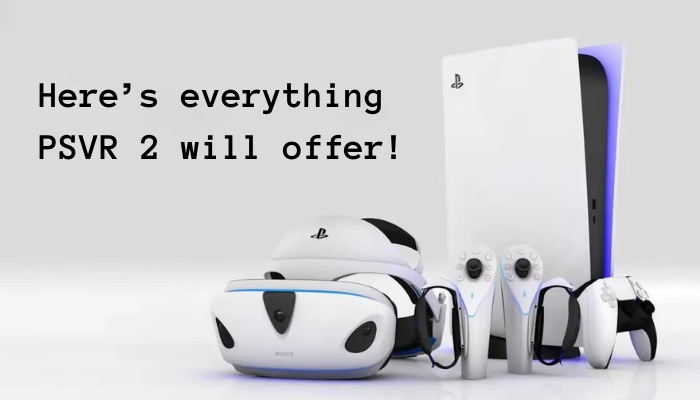 The quality of the experience offered by the headset is undeniable, even though the cost and the need to be connected to a PS5 may be obstacles for some. The PSVR 2 is ready to offer some of the best VR experiences available on any platform, with a strong lineup of launch titles and more confirmed games to come.
The PlayStation VR 2 offers a more immersive and compelling VR experience than its predecessor, which is sure to please gamers. A more intuitive and immersive gaming experience is made possible by the high-resolution display, sophisticated controllers, and eye-tracking technology, and the haptic feedback provides an additional layer of immersion.
While the need to be connected to a PlayStation 5 console may be a drawback for some, the PS5's powerful hardware guarantees that the PSVR 2 can deliver highly detailed and immersive worlds that are not possible on other platforms. Overall, the PlayStation VR 2 is an essential purchase for any serious VR enthusiast and a positive indication of what VR gaming will look like in the future.
The PlayStation VR 2 offers a more immersive and compelling VR experience than its predecessor, which is sure to please gamers. A more intuitive and immersive gaming experience is made possible by the high-resolution display, sophisticated controllers, and eye-tracking technology, and the haptic feedback provides an additional layer of immersion.
The PS5's powerful hardware ensures that the PSVR 2 can deliver highly detailed and immersive worlds that are not possible on other platforms, even though the requirement to be connected to a PS5 console may be a drawback for some. Overall, the PlayStation VR 2 is an essential purchase for any serious VR enthusiast and a positive indication of what VR gaming will look like in the future.
Specifications Of Sony PSVR2:
Sony has revealed some of the PSVR2's most important features ahead of its anticipated release. The following are some of the PSVR 2's key specifications:
OLED displays: The PSVR2 will have OLED displays with 2,000×2,040-pixel resolution per eye, providing a significantly higher resolution than the PSVR.
Frame rates: The headset will support frame rates of 90Hz and 120Hz, which should make the experience smoother and more immersive.
Field of view: The 110-degree field of view on the PSVR2 will be an improvement over the 100-degree field of view on the PSVR.
The PSVR2 will include eye-tracking technology that enables the system to render images more effectively by focusing on the user's point of focus through the use of foveated rendering.
Adjustable lens separation: The PSVR2's lenses will have a different distance between them, allowing users to tailor the experience to their particular preferences.
Vibration inside the headset: The PSVR2 will have in-headset vibration technology, which will heighten the immersiveness of the VR experience.
3D audio: The PSVR2 will be able to play 3D audio, making for a more lifelike and immersive audio experience.
Tracking: The PSVR2 is going to have four external cameras that it can use to track the Sense controllers and the headset.
Connection: The PSVR2 will only have one USB-C port, making setup and use simpler.
Sense controllers: The PSVR2 will come with new Sense controllers that feature USB-C ports, Bluetooth 5.1, rechargeable batteries, and 6 DoF tracking. The controllers will also have finger tracking using capacitive touch buttons and infrared, haptics, and specialized haptic triggers like the DualSense controller.
PSVR2 Pros and Cons:
Pros
High-quality graphics: The PSVR2 headset has OLED displays with 2,000×2,040 pixels per eye, a significant improvement over its predecessor. Games can now be played in a way that is more realistic and immersive.
Advanced tracking technology: The addition of four additional external cameras for tracking as well as eye tracking with foveated rendering improves the accuracy and precision of the player's movement and positioning, leading to more fluid gameplay.
Better audio: Players can enjoy an immersive audio experience that improves their overall gaming experience with 3D audio and in-headset vibration.
Sense controllers: The Sense controllers provide a more realistic and immersive experience by offering finger tracking, haptic feedback, and specialized haptic triggers.
The PSVR2 is compatible with the PlayStation 5 gaming system, enabling users to experience the newest games in virtual reality.
Cons
High price: It is anticipated that the PSVR2 will cost more than its predecessor, which may make it unaffordable for some consumers.
The PSVR2 library is still small, especially when compared to games for traditional consoles, despite Sony's promise of 30 launch games.
The PSVR2 is still wired and only supports a single USB-C connection to the console, which makes movement during gameplay more difficult and cumbersome.
How & Where To Preorder PSVR 2: US & India
In the US, you can pre-order the PSVR 2 from major retailers such as Amazon, Best Buy, and GameStop. Additionally, you can pre-order directly from Sony through their online store.
PSVR 2 Preorder In The USA:
Preorders for the PSVR 2 have started and are still open as of November 15 in the USA. Preorders must be made through the online PlayStation store because Sony is taking care of all preorders on its own. This is the only way to get the VR headset when it first becomes available. Remember that there can only be one preorder per household.
The PSVR 2 will be delivered to customers who pre-ordered one between February 22 and February 28. Preordering gives you the assurance that you'll get the headset on launch day and that you'll be among the first to use cutting-edge VR technology.
Preordering does have some drawbacks, though, like the possibility of shipping delays or unanticipated headset problems that might not be discovered until after the product has been released. It's worthwhile shopping around to see if any pre-order bonuses are offered because different retailers might as well.
The PlayStation Website Is Currently Closed To Preorders.
In India, you can pre-order the PSVR 2 from Sony India's online store or from major retailers such as Flipkart and Amazon India.
PSVR 2 Preorder In India:
Pre-orders for PSVR2 are currently being accepted through regional shops in India, particularly those that deal with the Sony PlayStation 5 and its sales. You must inquire with your neighborhood shop to see if they are taking pre-orders in order to get the PlayStation VR2 when it launches in India.
Pre-orders began on November 15 and are still available, but there is a one-order-per-household restriction. Customers who pre-order the PS VR2 now will get it between February 22 and February 28.
There are benefits and drawbacks to pre-ordering. Benefits include getting the item before it sells out, getting it on launch day, and occasionally getting bonuses or discounts. The possibility of product delays or shipping problems, as well as the potential to discover the product at a lower price after it has been released, can all be disadvantages.
PS4 VR Headset Bundle:
For gamers who want to experience VR on their PlayStation 4 or PlayStation 5 console, the PlayStation VR headset is a fantastic option. According to sales, the price of the bundle, which includes the headset, two Move controllers, a PS Camera, and Marvel's Iron Man, ranges from $249 to $399.
The PSVR's cinematic mode, which offers a different display for playing standard PS4 or PS5 games and is comparable to virtual desktop apps, is one of its standout features. With a screen that can be adjusted up to 226 inches in size, the experience is similar to playing video games in a home theatre. This gives watching movies or playing video games a technologically extremely advanced feel.
The complicated setup of the PSVR is one drawback. To connect the processor box and the headset, users require a free USB port on their console and an additional power outlet.
Additionally, PS5 console owners must contact Sony's customer service department to obtain a free adapter or purchase one on Amazon in order to use the PS Camera. It can be difficult to calibrate the PSVR and Move controllers because the tracking system needs a lot of space to function.
Overall, the PSVR bundle is a fantastic choice for gamers who want to use their PlayStation console to experience virtual reality. The bundle offers a variety of accessories, a selection of games, and an engaging cinematic mode, providing excellent value for the money.
However, users should be aware that the setup procedure can be a bit of a hassle and that it will take some time to get it up and running.
How Much Is A VR Headset PS4?
The current cost of the original PSVR headset for the PS4 is about $300 USD and about 18,000 INR, though these amounts may change depending on the retailer and any discounts or special offers that might be running. Remember that this price does not include any optional extras that might be required for particular experiences or games, like the PlayStation Camera or Move controllers.
PSVR 2 Games:
Gran Turismo 7 – Players will experience the thrills of car racing as they race through different tracks, compete against opponents, and upgrade their vehicles.
Moss & Moss: Book II – In this game, players control Quill, a small hero, as they navigate through different puzzles and obstacles in a world filled with enemies.
Horizon Call of the Mountain – This game offers a seven-hour campaign mode that lets players explore the Horizon universe, fight enemies, and solve puzzles.
Star Wars: Tales from the Galaxy's Edge – Players take on the role of a droid repair technician on the outskirts of the galaxy in this action-packed adventure game.
Resident Evil Village – Players will fight through hordes of monsters as they explore the creepy village and uncover the secrets behind it.
Resident Evil 4 – This is a remake of the classic zombie shooter game with updated graphics and VR support.
Demeo – In this game, players can team up with their friends and embark on a dungeon-crawling adventure.
Kayak VR: Mirage – Players can experience real-world locations in this kayaking simulator with photorealistic graphics.
No Man's Sky – Players will explore a vast and procedurally generated universe, where they can gather resources, trade with other players, and upgrade their ships.
The Walking Dead: Saints & Sinners Chapter 2 – Players will scavenge for resources and fight off zombies and rival gangs in a post-apocalyptic New Orleans.
Overall, each game offers a unique VR experience, whether it's racing cars, exploring the galaxy, or fighting off zombies. VR enhances the gameplay, making it more immersive and engaging.
PlayStation Call Support:
You can contact Sony PlayStation support in the following ways:
Phone support: You can call the PlayStation support team at 1800-345-7669 (Monday to Friday, 8 am to 8 pm IST; Saturday and Sunday, 7 am to 6 pm IST). You will be connected to a representative who can assist you with any questions or issues you may have.
Live Chat: You can also reach out to PlayStation support through the live chat feature on their website. Simply navigate to the PlayStation support page, select your product or service, and click on the "Contact Us" button to initiate a live chat session.
Social Media: Another way to contact PlayStation support is by sending them a message on their official social media accounts. They are available on Twitter (@AskPlayStation) and Facebook (https://www.facebook.com/playstation/).
Email support: You can also email PlayStation support by visiting their website and selecting the "Contact Us" option. From there, you can fill out a form with your details and the nature of your inquiry or issue, and a representative will respond to you via email.
Frequently Asked Questions:
Does oculus work with ps4?
Oculus does not work with the PS4 as it is a standalone VR system developed by Oculus, while the PS4 VR system is developed by Sony.
How much is a ps VR?
The price of a PS VR varies depending on the bundle and retailer, the starting price was around $399 for the headset alone, and more for bundles that include accessories and games. But now it sells at $250-300 on online sites. In India, it is now available for ₹18000.
Does Playstation VR work on ps5?
Yes, the PlayStation VR is compatible with the PS5, but you need a special adapter to connect the PSVR to the PS5 camera. Sony provides this adapter for free to PSVR owners.
Conclusion:
In conclusion, the PlayStation VR headset continues to be a popular choice for gamers in 2023. With its immersive and realistic gaming experience, it has become a must-have accessory for any PlayStation owner. The headset's advanced tracking system and comfortable design provide a seamless experience, making it a preferred choice for extended gaming sessions.
Moreover, the compatibility with both PlayStation 4 and PlayStation 5 ensures that users can continue to enjoy their VR games without any interruptions. Overall, the PlayStation VR Headset is an excellent investment for any gaming enthusiast who wants to take their gaming experience to the next level.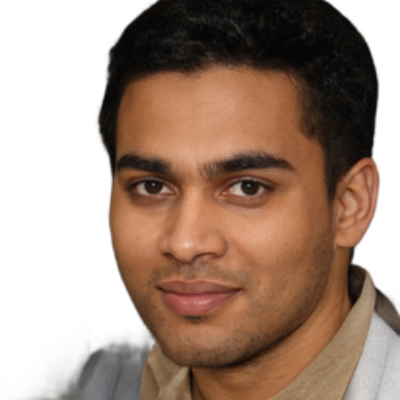 I am a Chandan Tewatia and I am the founder of this blog cfindia.net. I have been in the industry for over 10 years and have worked with some of the biggest names in the business. I have a wealth of experience and knowledge to share, and my blog is a platform for me to do just that.