Are you looking to buy the Best Soundbar in India for Under 10000? You'll surely love this list of best Soundbars that are under your budget and promise immersive sound quality with punchy bass.  
It doesn't matter how expensive your TV is; you'll never get that high audio quality with deep bass. Thus, you need a perfect Soundbar with deep bass and cinematic experience in your home. 
But finding a soundbar that has spectacular sound quality, occupies less space, looks classic, is easy to use, doesn't have many cords, and fits the budget is a tad challenging.
I have reviewed a few Soundbars models for under ten thousand rupees. To my surprise, some of the sound systems are just exceptional. Based on this, I've compiled the list of best soundbars under 10,000. Let's have a look. 
Top 10 Best Soundbars In India Under 10000 Rupees
Before purchasing, you need to look after a few things such as features, quality, Dolby sound, budget, and many more. To help you, we've listed here some of the best Soundbars in India under 10,000. 
1. BoAt AAVANTE Bar 1700D Bluetooth Soundbar (With Dolby Support)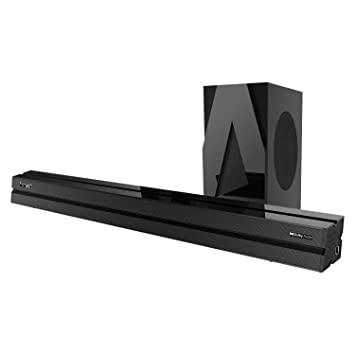 The boAt Avante Bar deserves first place because of its immersive Dolby sound quality. This Soundbar has a subwoofer for heavy bass so you'll love listening to pop and rock music. The system lets you enjoy movies with a rich sound, and you'll feel like you are sitting in a theatre. 
Talking about the design, the soundbar is super slim and sleek so it perfectly fits under your TV and complements the entire look. Furthermore, it has multiple connectivity options, including AUX, Bluetooth, HDMI, and others. Also, the Bluetooth range is 10m, so you don't feel trouble operating the device from anywhere.
The soundbar is perfect whether you love watching movies or listening to music. Also, it offers a 3D enthralling experience, making it a good pick. Lastly, it comes with a one-year warranty, and boAt offers excellent customer service pan India.
2. Blaupunkt Germany's SBW200 160 Watt 2.1 Soundbar (Fully Functional Remote Control)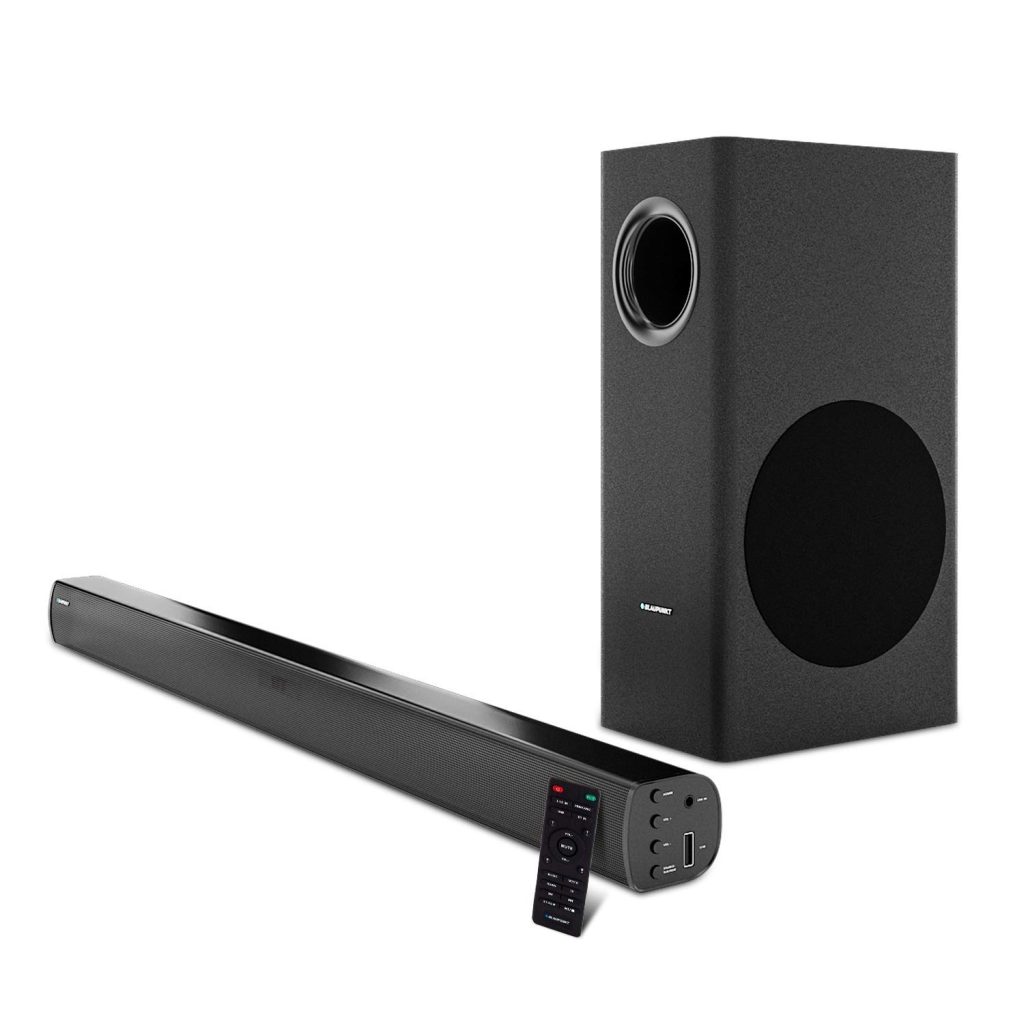 Blaupunkt SBW200 is an iconic soundbar with a subwoofer to deliver cinematic-style sound with heavy bass. The wooden soundbar has multiple connectivity options, such as AUX, HDMI, Bluetooth, etc., making it easier to connect with any TV. This powerful soundbar has a European design that mercifully matches your TV and room style.
Apart from this, I loved its fully functional remote that allows you to change the volume, play songs and movies and customize the bass easily. It has EQ modes, including pre-made sound templates, for better sound clarity. With this, you can change the EQ according to the movies, news, and music to have a home theatre system feeling at home.
Besides this, you get excellent customer care services and enjoy tech support at a glance. Overall, the soundbar is best for enjoying high-quality sound with deep bass.
3. BoAt Aavante Bar 1500 2.1 Channel Home Theater Soundbar (Down-Firing Subwoofer)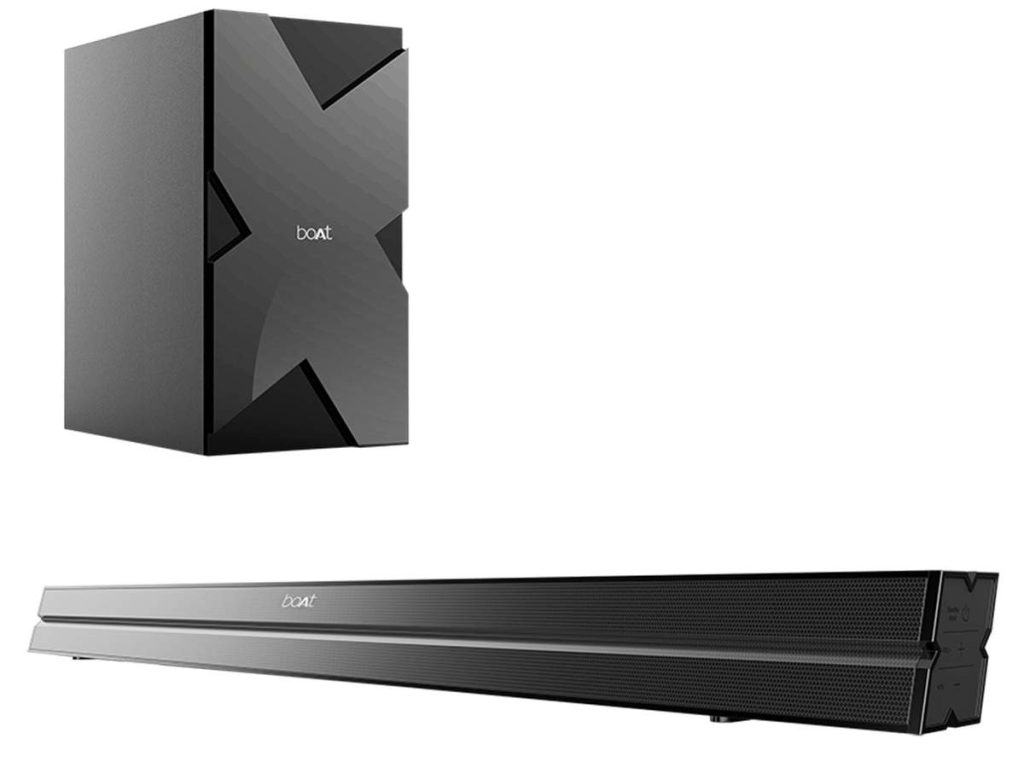 The boat has been known for designing the slimmest soundbar with exclusive sound quality. This model comes with 120W RMS sound with a heavy bass subwoofer. The thrilling bass makes you feel like you are in a home theatre. It is equipped with a down-firing subwoofer that helps to deliver a bold sound.
The slim and sleep soundbar has a premium finish matte body, making it an excellent choice for all kinds of homes. Plus, you get multiple connectivity modes for a versatile setup. The connectivity options are optic, USB, AUX, Remote connectivity, etc.
With these options, you can easily connect it to your TV. Furthermore, the soundbar utilizes high-end equalizer technology that helps optimize the sound output you need. If you like thrilling bass, this device is the best to invest in.
4. Blaupunkt SBA01 100W Soundbar (Built-in Subwoofer)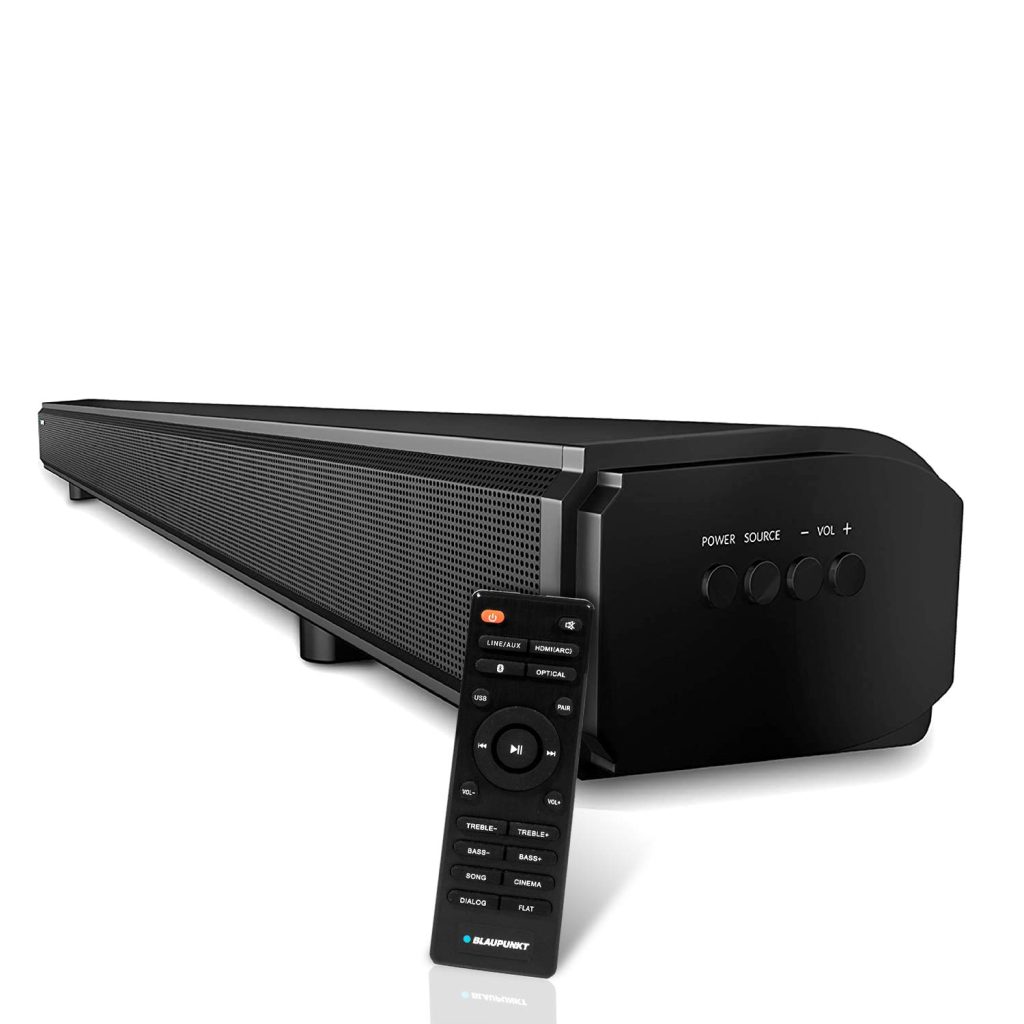 Finding the best Soundbar for a party? Try this Blaupunkt SBA01 Soundbar that comes with a built-in subwoofer. This Soundbar has two built-in speakers and 2 built-in subwoofers to bang on music with the double bass. Its three-inch subwoofer further enhances the deep bass to create a party ambience at your home.
Digital signal processing allows you to sync software and hardware easily. Also, the HDMI Arc connectivity lets you quickly connect this Soundbar to your old TV setup. An LED indicator makes all the connection ports visible for instant information.
You get a remote control with this Soundbar with which you can easily change the equalizer, and soundtrack, customize bass settings, and much more. Above all, this Soundbar is perfect for a rich music experience at home.
5. BoAt Aavante Bar 1250 80 Watt 2.1 Soundbar (Wireless Bluetooth Soundbar)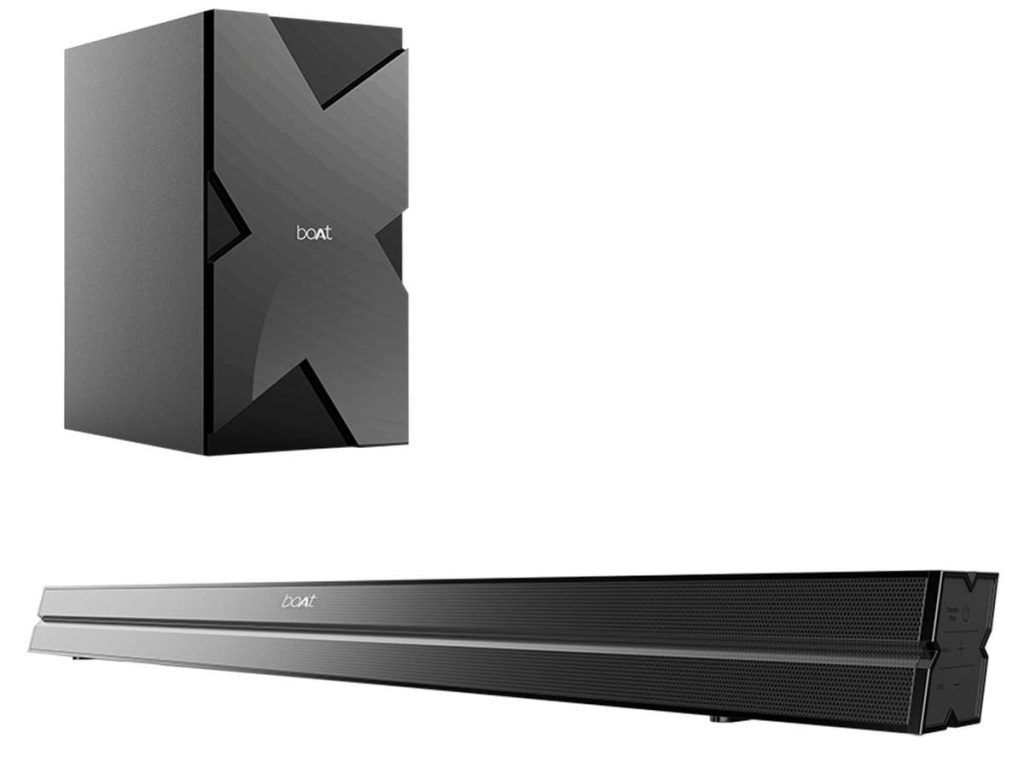 If you want to purchase a high-quality soundbar in India at an affordable price, no other name comes to mind than boAt Avante Bar. Its 2.1-channel captivating sound sets an alternate dimension for a better visual and audio experience.
Featuring a remote control device with which you can control your soundbar easily. With this remote control, you can change volume, optimize bass, equalizer, etc., with just a single tap. Also, the exquisitely styled soundbar comes with a premium finish making it an ideal audio device for a wonderful sound experience at home.
 For versatile connectivity, the soundbar has multiple connectivity ports such as AUX, Bluetooth, USB, and optical wire. This device has a one-year warranty, so you can set yourself worry-free from repairing hassles. Overall, the device is best for transforming your place into a home theatre.
6. iBall Cinebar 200DD – 120 Watts Bluetooth Soundbar (With Dolby Digital Sound)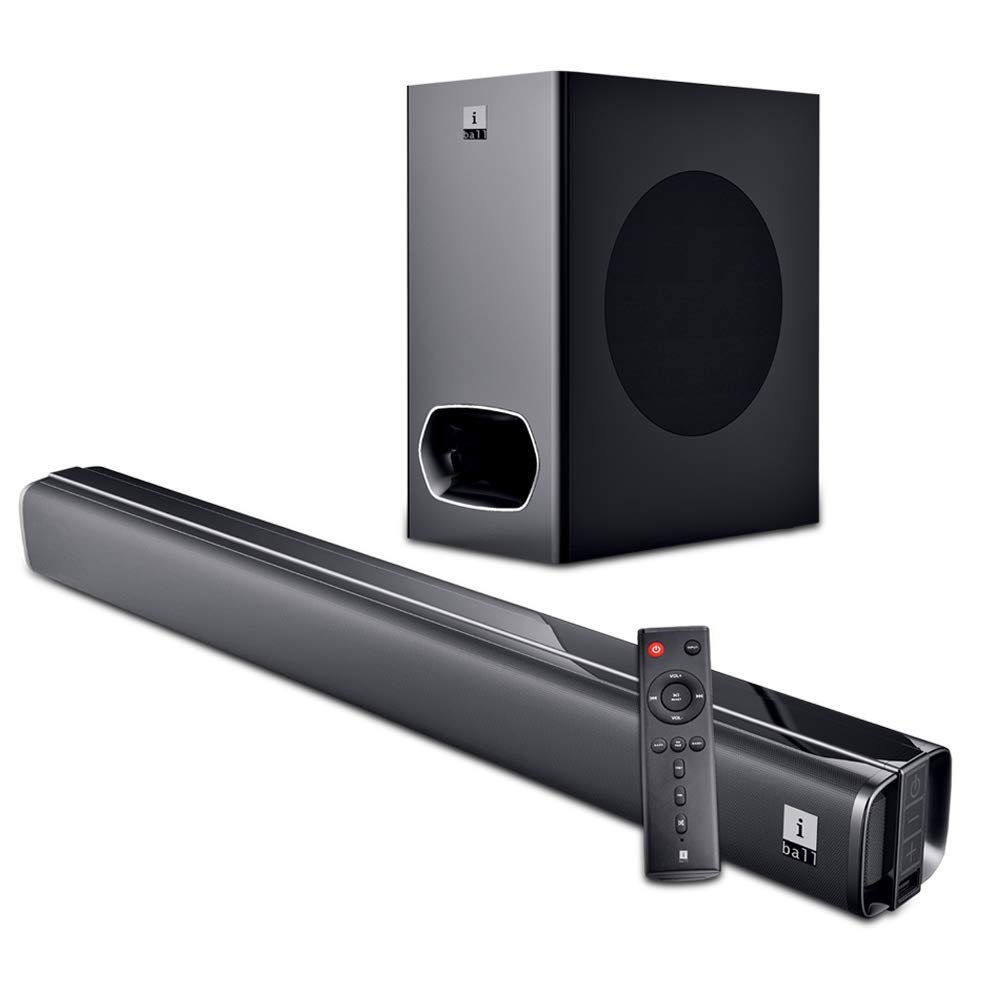 The sleek design and multiple connectivity features have made this soundbar stand out among India's best soundbars under 10000. This soundbar is very easy to set up and comes with an HDMI port, AUX, and Bluetooth, with which you can connect this device hassle-free.
iBall Cinebar 200DD comes with Dolby Digital sound that gives you crystal clear sound and heavy bass. Furthermore, due to its sleek design, it fits your space very well. This system gives a remote control device, which helps control this soundbar easily.
This Bluetooth Soundbar comes with a subwoofer that delivers heavy bass to enjoy a home theatre-like sound at your home. With this powerful bass, you can pump up sound and tune it to enjoy the most melodious music. The product is not to be dropped if you are on a budget.
7. Sony WLA-NS7 Wireless Neckband Speakers (Most Affordable Wireless Sound Speakers)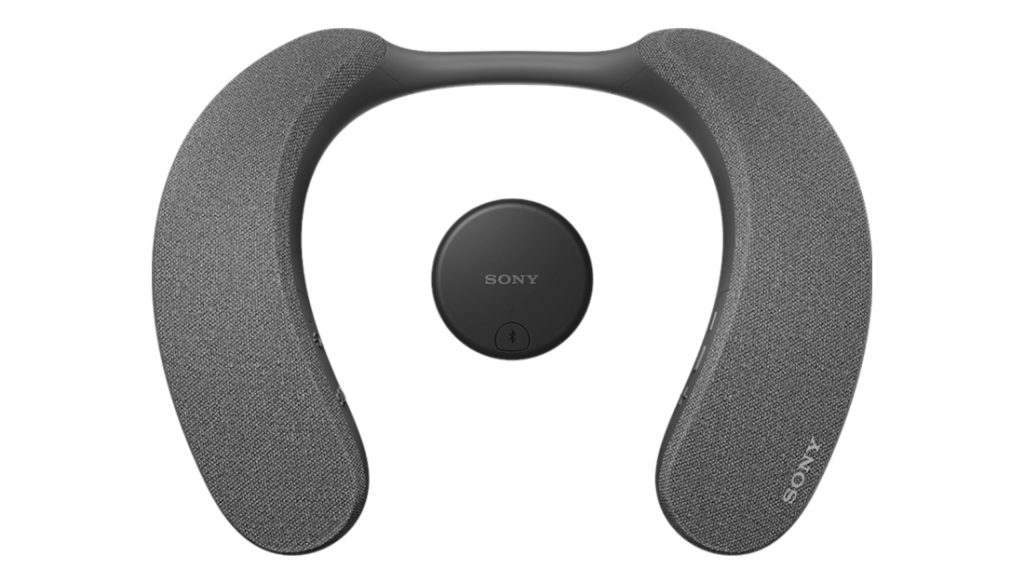 Do you need a decent soundbar system that fits your budget and offers the best sound quality? Have a look at the Sony WLA-NS7 Wireless neckband speaker. This small one has multiple ports that connect this device seamlessly. Moreover, the device is compatible with many smart TVs, so you don't need to bother about its connectivity problems. 
I like its Dolby Atmos features that allow you to enjoy deep bass sound in your home. Also, the Bluetooth connection is extremely powerful and offers lower lag time for hassle-free operation. The best thing about this small soundbar is that it is highly compatible with almost all Sony headphones. 
If you want to personalize the sound quality, you have to connect through the 360 Spatial Sound personalizer app. Above all, it\'s a simple and elegant speaker worth buying at this price range.
8. Trunk Audio Duson WL Ultra-Slim TV Sound Bar (Ultra Slim Design)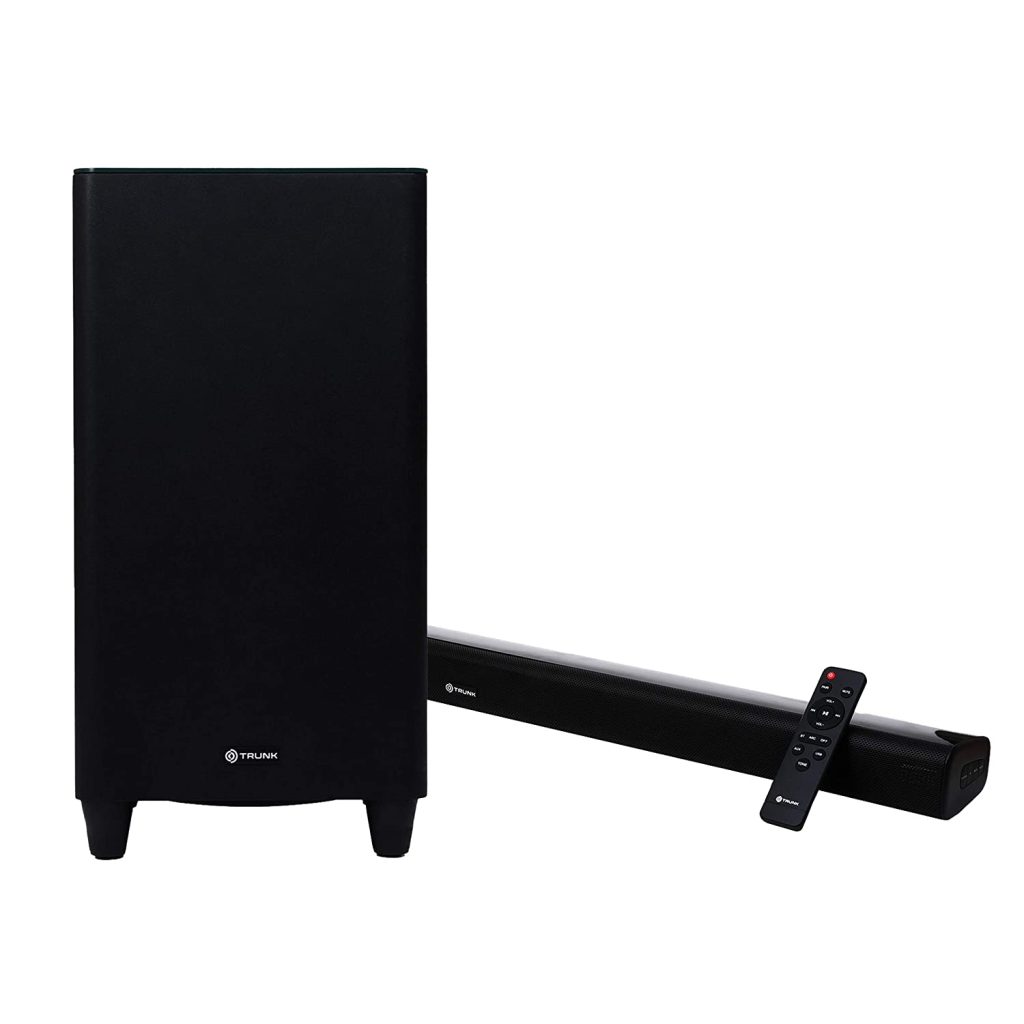 Very stylish and has an ultra-slim design that looks classy with your TV setup. It comes with a subwoofer having five full-range drivers that reduce noise delays and improve sound quality. The device features deep bass that allows you to have full-spectrum audio performance.
The built-in Bluetooth technology helps you enjoy wireless streaming. It comes with a wireless remote with which you can easily control your device and change settings. Moreover, you get multiple import port systems that allow seamless connectivity with no hassles.
The ultra-slim TV soundbar is perfect for delivering home theatre sound quality at your home. This soundbar is best to buy for less than 10000 for its exceptional sound quality and numerous connection possibilities. This would be a budget buy deal for you.
9. Blaupunkt Germany\'s SBW100 120W Wired Soundbar (Value for Money)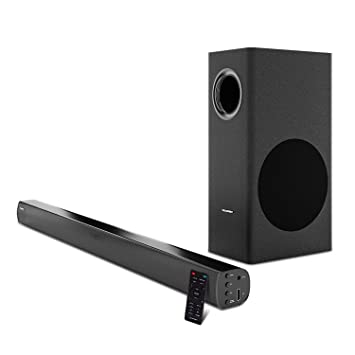 Blaupunkt Germany's SBW100 120W wired soundbar secured a place on the list, because of its sturdy build and excellent sound quality. It has cutting-edge audio technology and a wired subwoofer that delivers heavy bass and loud volume. The powerful soundbar system is excellent for enjoying movies with Dolby sound quality. 
This European design soundbar features multiple connectivity options that let you connect your device easily to your TV system. Its slim and sleek design makes it versatile enough to use in home and elsewhere. The device has an EQ mode that helps set the sound mode for each genre according to your mood. 
Its side wiring woofer is extremely powerful to deliver more bass and thump to enjoy crystal-clear sound. Moreover, you have a remote control with this soundbar that lets you control the device easily. Overall, it's a great device to have a home theatre-like feeling at home.
10. Zoook Rocker Studio One 160 Watt Peak Power 2.1 Soundbar (High Sound Quality)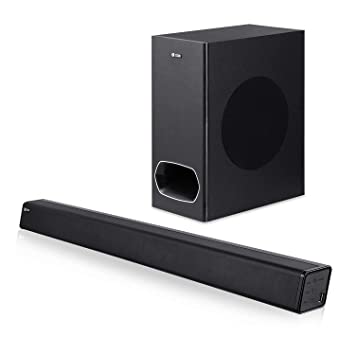 With 200W power, the Zoook Rocker studio 2.1 soundbar is the best gaming soundbar. The product has been engineered for deep bass and crisp treble sound. It comes with unique DSP technology that allows you to disperse the audio in a 180-degree direction, ensuring you have the incredible experience of listening to music.
The device features a remote control for volume, bass, and other things. This soundbar has multiple connectivity portals, so you can connect this device easily to your TV to enjoy crystal-clear sound. Due to its unique design, it fits your space comfortably.
Moreover, it comes with a subwoofer which lets you enjoy deep bass and loud music as you experience in home theatres and cinemas. This is best to try if you want to enjoy movies with a high bass sound and loud music.
How To Choose The Best Soundbar – Buyers Guide 2023
Searching for the best Soundbar is always daunting, especially when you don't know product features and details. Therefore, I've listed some key things to consider while purchasing the best Soundbar. 
Assistance With Technology:
When buying a Soundbar on a budget, it's crucial to check for assistance with technology to operate this system easily. You can look after those Soundbars with remote control and voice assistant features such as Alexa and Google voice assistance.
Connectivity:
Most soundbars come with multiple connectivity options such as Bluetooth, Aux-in, HDMI Arc, Optical In, USB, and other connectivity options. If you have an old TV, be sure to choose that Soundbar that has HDMI Arc support; otherwise, you won't be able to enjoy Dolby audio.  Make sure the soundbar is compatible with your TV and other devices.
Service Quality:
Service quality plays a crucial role when investing in any gadget like Soundbar. Look after how quickly they respond to service requests and how effectively they repair your Soundbar. In addition, you can check whether the service providers offer free repair services within the warranty period. 
Look for a soundbar with good audio quality, including clear and balanced sound, deep bass, and immersive surround sound. Consider buying from a reputable brand with good customer service and support.
Internet Access via Wireless:
Internet access via a wireless connection lets you enjoy endless music from YouTube and other options. Hence, if you want to enjoy internet access, look after this feature in your Soundbar. Look for soundbars with additional features like voice control, smart home integration, and multiroom audio.
Design:
Design is the most important thing to consider when purchasing a high-quality Soundbar in India. It should be slim and comfy enough to fit in your space. Ensure the Soundbar doesn't cover much space and has a short wire instead of long wires.  Consider the size of your TV and the soundbar, and choose one that fits in the space available.
FAQ:
How many watts is a good Soundbar?
A good Soundbar used 15W to 40W. However, if you're connecting a subwoofer, it may consume around 200-300W. 
Which brand is best in Soundbar?
Sony, JBL, boAt, and Blaupunkt are some of India's best brands of soundbars.
Which Soundbar is best for home?
Blaupunkt and iBall Soundbar are best for home-usage. 
How to connect the Soundbar to the TV?
The soundbar has multiple connectivity options, such as Bluetooth, HDMI, and USB. You can connect your Soundbar easily with any of the options. 
Soundbar vs. home theatre, which is better?
Both are better on their own. However, if you are on a budget and want to enjoy movies as you watch in cinema halls. Soundbars are best.
What is the highest rated Soundbar?
 BoAt Aavante bar 1700D and Sony WLA-NS7 are some of the highest-rated Sound Bars available. 
What is a good Soundbar for the money?
BoAt Aavante, Blaupunkt, and iBall are good Soundbars for the money. 
Do I need a subwoofer with a Soundbar?
A Soundbar doesn't need a subwoofer because it has multiple speakers that deliver crystal-clear sound.

Which is better 2.1 or 5.1 sound bar?
At first glance, it's clear that a 5.1 soundbar has a lot more to offer than a 2.1 soundbar based on the numbers alone. With an additional center channel for dialogue clarity and two rear speakers, it's no surprise that the listening experience is enhanced and enriched – even without any additional technological features.
Conclusion:
These are the top ten best Soundbars under 10,000 in India. I hope you've enjoyed reading about the reviews and tips for buying the top-notch Soundbar for your TV system. Some of the listed products have multiple connectivities and Dolby Audio for better sound. Now, you have a few of the best options for buying a budget-friendly Soundbar system.
It's up to you to know which model you'll choose from the list. However, if you aren't satisfied with the product, then follow the buying guide to make an informed decision and get the best Soundbar under your budget.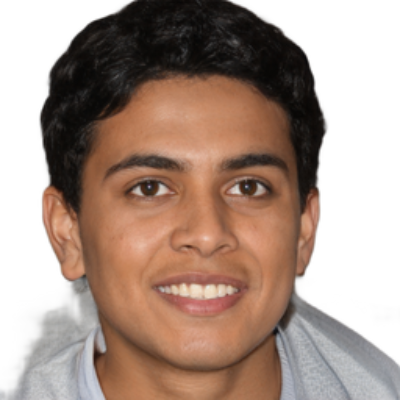 I am a tech enthusiast who loves gadgets and electronics. I have been following the latest technology trends and developments for many years now.I am always keen to learn about new technologies and how they can be used to improve our lives.