Boat and Boult are the two big competitors in the audio segment of the market. Both of these companies have a good reputation and hold a strong position in the audio category.
Boat and boult might sound a bit similar. For this reason, many people think they both are the same company. Music plays an essential role in everyone's life.
Therefore the medium through which you listen to music is essential. A good earphone or headphones lets you feel your favorite music to a different level, vibrating your entire body.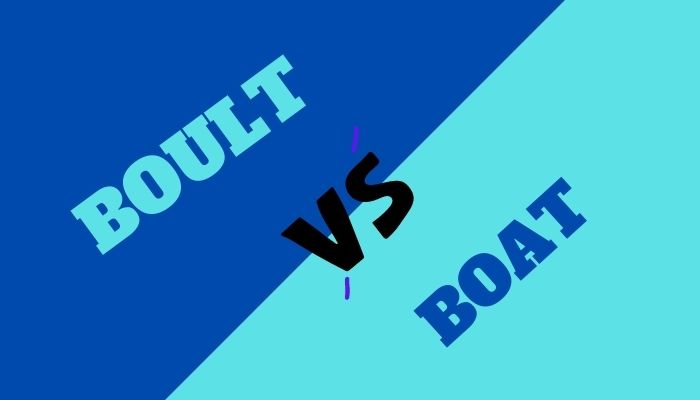 Boat and boult provide their customers with a wide range of audio collections to enjoy your music. They are available at different prices and in quality.
Both companies introduce other types of models for the user's convenience. In this article, we will be discussing Boult vs. Boat Which Is Better?
About Boult Company: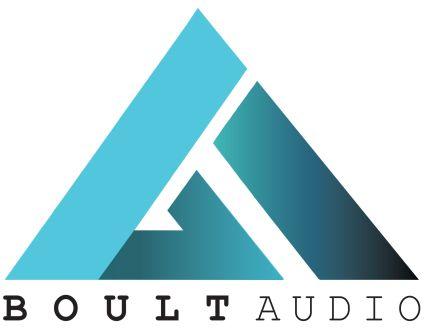 Bolt is a company made in India. Soon after it was launched, it quickly became known and earned a place in the market among the rest of the competitors.
Boult is a high-end electronics company that produces audio products. It is one of the leading companies in premium audio, providing a highly accurate audio experience with supreme comfort.
The boult company also produces innovations, superior value, and customer satisfaction solutions. The boult company continuously improves its standard to meet the new demands of the customers.
Boult is based in India, but its products are manufactured in China. From China, the products are imported to India.
The boult company was founded by Varun Gupta, the company's CEO. The company was founded in 2017 and is situated in Delhi. Despite being a small company, everyone appreciates its products.
Boult is a small business with 10- 50 people. The company has a total capital of 15 lacks and a share capital of 15. The company is performing very well in the market.
Is Boult A Good Brand?
Yes, Boult is a good brand. It delivers fine products at a budget-friendly rate. According to the customer's reviews and opinions, it is one of the best in the market and has value for money. The bass and sound quality of the audio sets are phenomenal. The overall build quality is good, and the battery backup of the products is also appreciable.
About Boat Company: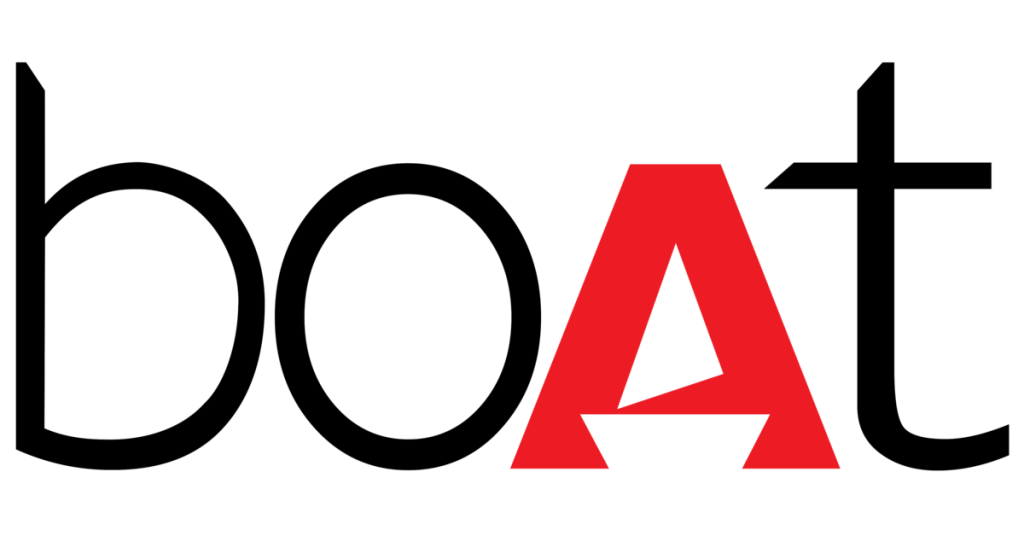 Boat company is also an Indian-based brand. It was established in 2015. It markets not only audio systems but also smartwatches and mobile accessories.
Its products are made and designed in China and exported to India. In India, more than 48 cities have boat service centers available. Its headquarter is placed in New Delhi.
Aman Gupta and Sameer Ashok Mehta founded the boat company. It has become the number one brand for wireless earwear. The company provides its customers with durable, affordable, stylish audio sets. The business has been earning lots of profit for the last five years.
The Boat is a significant business firm. It has 201- 500 employees. Driven by a passion for music, Boat intends to deliver more than just a product to its customers.
It gathered 800,000 customers in 4 years. The company increased its profit from rupees 637.5 crores to rupees 1420 crore in FY2021. It became the world's 5th most prominent brand.
Is Boat A Good Brand?
Yes absolutely. The Boat is a good brand. It provides its customer with durable and long-lasting audio products at a reasonable price. Compared to other companies, it has the most stylish look that attracts customers.
The bass drive is also up to mark. The battery capacity of the products is also remarkable. The products are also water-resistant.
Boult Vs. Boat Wired Earphones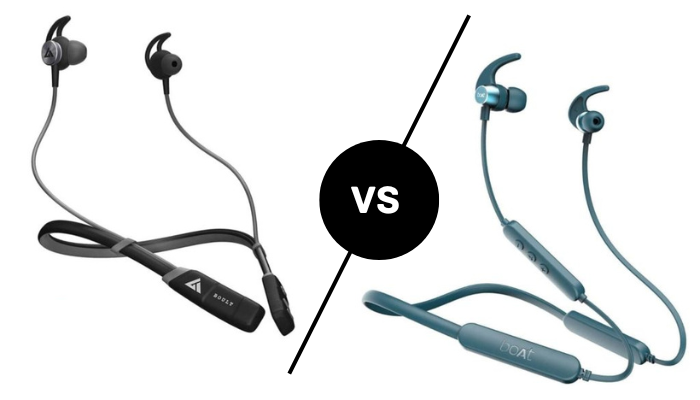 Sound Quality:
Boult wired earphones come with a micro woofer along with an in-built mic. This provides the customer with a crystal-clear sound. The newly added ENx technology cancels all the noises from the background and supplies the user with a clear calling and listening experience. 
Boat earphones also give the user a noise-cancellation feature that lets you calmly listen to your music without external disturbances. Therefore the user can also experience a clean call.
Design:
Boult earphones have a soft silicone band that consists of control buttons. They are light in weight. The earphones provide the user with great comfort because of their design structure.
The earphones have a stylish loop design. It perfectly fits into the ears. The buds are magnetic. Boat earphones also have a silicone band with controls on them. The earphones have a hawk-inspired design. They are lightweight.
The user is comforted with the design. It can be carried for a long time. The buds inside contain magnetic sensors that protect the cable from damage.
Price:
Both earphones are available at a reasonable price. The price of a Boult earphone is slightly less than that of a boat earphone. Both earphones offer mainly the same features. Buying a Boat earphone will be the best option as its quality is incomparable.
Boult Vs. Boat Headphones: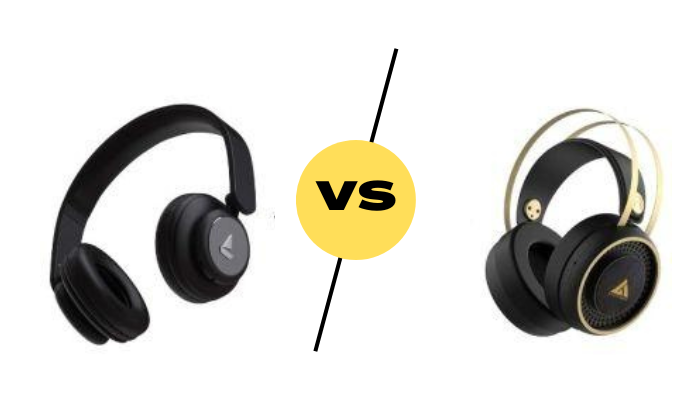 Sound Quality:
Boult headphones offer a high-quality sound. Boult has a more compact design. It has less interference from the surrounding things. The headphone provides extra punchy and deep bass. The headphone comes with the feature of passive noise cancellation.
Boat headphones have a slightly lower quality sound than that of boult. The difference is tiny. The headphones also provide superior sound due to their larger cups perfectly fitting users' ears. It has the feature of active noise cancellation.
Design:
There are a few differences between the design of the two headphones. Boult headphones provide a plastic material for ear cups. This makes them durable and long-lasting. Boult headphones include an adjustable headband. The overall headphone is very lightweight, which makes them ideal for carrying. They have a compact size.
Whereas Boat headphones use a leather material for the ear cups, which might wear down with regular use. The boat headphones provide soft cushioning for the user to use comfortably. They have larger ear cups to fit in properly for customers to have a pleasant experience.
Price:
There is not much difference in the features of both headphones, but their price varies. The boat headphones are slightly costlier as compared to the boult headphones.  
Boult Vs. Boat Airdopes: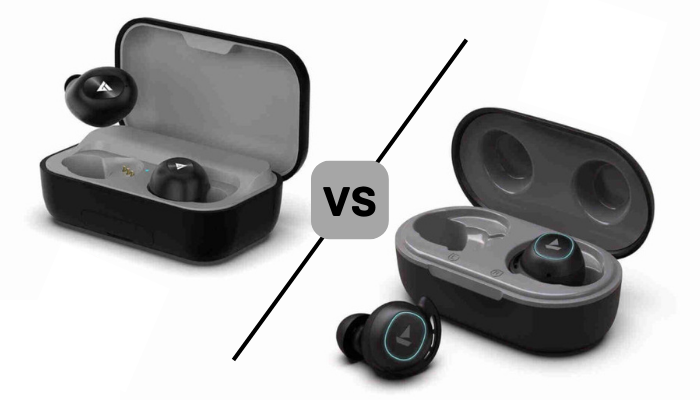 Sound quality:
Sound quality from boat earbuds gas much more rate than that of boult. Comparing the airdopes concerning bass, the Boat has a more robust, powerful, and deep bass. Whereas boult also has good bass but not as much as Boat.
The Boat has a balanced sound quality; it is neither bassy nor soft but has less loudness than boult airdipes. Therefore the Boat's overall sound quality is better than the boult's. 
Design:
Both Boat and boult airdopes have a popular designs. Boult has a more attractive design as compared to that of the Boat. Boult airdopes are more modern in the device. It has a smooth texture. 
Boat airdopes have a good design but look less modern than the boult airdopes. The size is perfect, and it fits well in the ears of the user. 
Price:
There is not much price difference. Boat airdrops are slightly more expensive in comparison to that if boult. The boult airdrops are much more affordable. Boult is the best option if you want a cheaper boat. 
Boult Vs boat Bluetooth Speaker: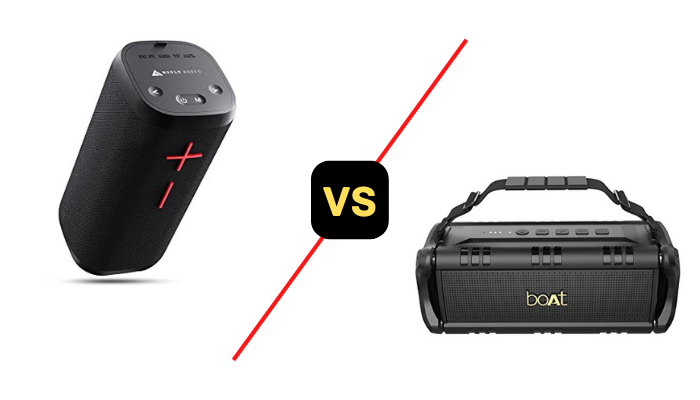 Boult's bass and sound are of good quality. The bass can be heard and felt without any roughness. It is soothing to the ears. The speaker works well even when the sound is increased or decreased. Neither makes the sound gets too low or too high.
The Boat's Bluetooth speaker provides extra bass compared to the boult. Clear sound comes out, and they don't distort. The speakers are worth it. The sound quality is also perfect.
Design:
The size of the boult Bluetooth speaker is small. It is compatible and portable. The bass is also good but not as deep as that of Boat. Boult speakers are best for indoor activities. The sound quality is also good but not as much as Boats.
The Boat Bluetooth speaker is more extensive and has better sound and bass quality. You can feel the bass in your ears when it starts to play. It is best for outdoor parties where you need to amplify the sound.
Price:
Boult Bluetooth speaker is always cheaper than Boat Bluetooth speaker. Both of them have slight differences in their sound quality and bass. Investing in a boat's Bluetooth speaker is better if you want a better bass and sound experience. 
Boult Vs. Boat Which One You Should Choose
Boult vs. Boat both brands offer the best products at a very reasonable price. Boat earphones are very lightweight and more comfortable for the user than boult. The design of some effects of Boat is perfect, which gives it a plus point. 
Both brands have quite similar features. Some models of Boat excel in comparison to boult and vice-versa. Both have their pros and cons. The playback time of boat earphones is 8 hours, whereas the standby time is 3 to 4 days. 
The playback time of boult earphones is 12 hours, but the standby time is 2-3 days maximum. The Boat comes in many models and colors compared to that of boult. The colors provided by Boat are unique.
Therefore, the bass and battery backup boat wins in terms of design. If we compare prices, the boult is the winner with more or less the same features as that Boat.
Which Is Better In Aftersale, Boult Or Boat?
Sometimes people face trouble after buying products from both brands and require excellent after-sale service. According to reviews and opinions of people, people are not satisfied with boult's after-sale services. 
Boat's after-sale services are better as compared to that of boult. Still, the Boat takes a long time to repair or exchange your product. So overall, Boat's after-sale service is better than Boult's.
Frequently Asked Questions:
Is boult better than Boat? 
Both brands have their pros and cons. Boat excels in some areas of specification, whereas in others, boult excels. Both of them have identical features. Very slight differences are present between them. 
If we speak concerning design, bass, and sound quality, Boat is better than boult. If we talk concerning price, boult offers products at a reasonable price with more or less the same features.
Is boult a Chinese company? 
No, many people think that boult is a Chinese company. But this isn't true. Boult is an Indian-based company with its headquarters in Delhi. The products of boult are made in China and then later exported to India. 
Is Boat a Chinese company? 
The same goes for Boat as well. The Boat is not a Chinese company. It is an Indian-based audio set company. The Boat products are manufactured in China and then exported to India. The headquarters of Boat is in New Delhi. 
Is Boult a trusted brand?
The Boult Bluetooth earphones are reputed for their good product quality, sturdy build, exceptional after-sale service, and affordable pricing. The products from this brand are highly regarded for their premium appearance and superior quality
Conclusion:
Therefore, both boult and Boat are the leading companies in India for audio sets. The customers are immensely enjoying the products and the services they are providing. Both companies set high standards to meet public expectations and set higher competition in the market. 
The features of all types of audio sets have been discussed above. Consider all the features and prices before buying a product. Both companies are more or less alike.
With the rate at which the demand for these companies is increasing, it is sure that they will shock their customers with a new unique innovation. I hope this article Boult vs Boat Which Is Better? It helped you clear your confusion.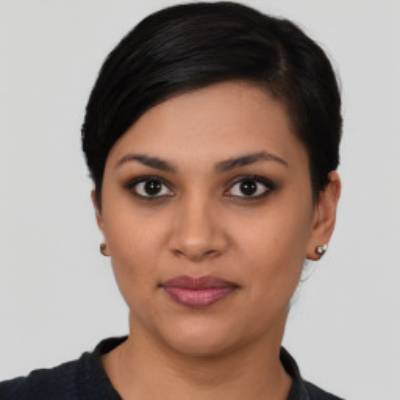 I am Garima, pursuing my 3rd year Electronics from Delhi University and I like to write on gadgets and computers through my social media, blogs and actively participating on quora discussions on gadgets. I have a keen interest in technology and how it can be used to improve our lives.