Introduction:
Are you looking for Bluetooth earphones that cost less than Rs. 1000? Buying a pair of Bluetooth earphones shouldn't cost you hundreds of rupees. An individual's life without headphones is unthinkable. You want the finest earphones in India, whether wired or Bluetooth.
Bluetooth earphones cost less than Rs. 1000 in shops across the country. You may listen to excellent music virtually wire-free with inexpensive earbuds. Based on your usage patterns, the bulk of these items allows you to conserve power while still getting a battery life adequate for a full day.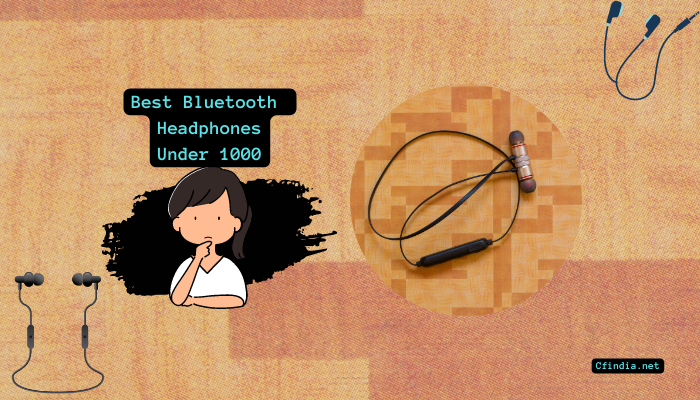 Are you trying for the finest Bluetooth earbuds? See below for information on the Best Bluetooth headphones under 1000 in India.
Best Bluetooth Headphones Under 1000:
1. pTron Tangent Duo Bluetooth: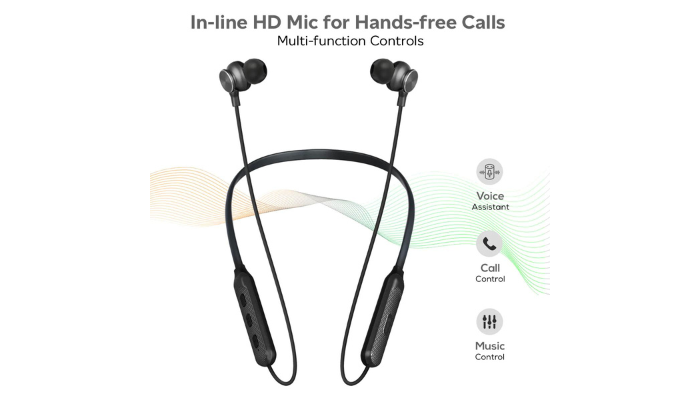 Up to 24 hours of music playback time is possible with the pTron Tangent Duo Bluetooth headphone necklace. Thanks to its quick charging, a 10-minute charge may provide up to three hours of playtime.
With deep bass and an in-line HD microphone, this large 13mm dynamic driver ensures a fantastic stereo sound experience.
The Bluetooth headphone with mic features Bluetooth 5.2 for quick pairing, broad compatibility, attractive ergonomics, and a lightweight, sturdy build (just 26 grams).
Features:
Bluetooth 5.2 for Quick Pairing & Stable Connectivity.
In-line Mic for Handsfree Calls; Ergonomic & Lightweight Built.
In-Ear buds & Snug-fit for Passive Noise Cancellation.
Magnetic Earbuds with Voice Assistant Support.
Integrated Music & Call Controls Type-C Charging IPX4 Water/Sweat Resistance 6 months Manufacturer Warranty.
Pros
Bluetooth 5.2 offers a reliable and quick connection with compatible devices thanks to its stability and speed.
The ability to playback for 24 hours is remarkable, allowing long-term usage without charging.
Music lovers will appreciate the 13mm drivers' deep bass and excellent sound quality.
The earphones support HD calls, which enhance voice quality and reduce background noise.
Quick charging of the earphones is possible using the Type-C cable.
You may link two devices simultaneously with the dual pairing function, making it simple to change between them.
Voice assistant integration makes living easier in every way.
They're IPX4 water-resistant so that they can withstand light rain and sweat.
Cons
While the earphone is attractive to some, others may find them uncomfortable to wear for extended periods because of their design.
The external noise may seep through the noise isolation, reducing the overall listening experience.
Depending on the device you're connecting to, some users may experience connectivity problems.
In noisy environments, the microphone quality may not be optimal for placing calls.
The earphones do not include any ear tips in varying sizes for people with various ear sizes, which is a flaw.
2. boAt Bassheads 220: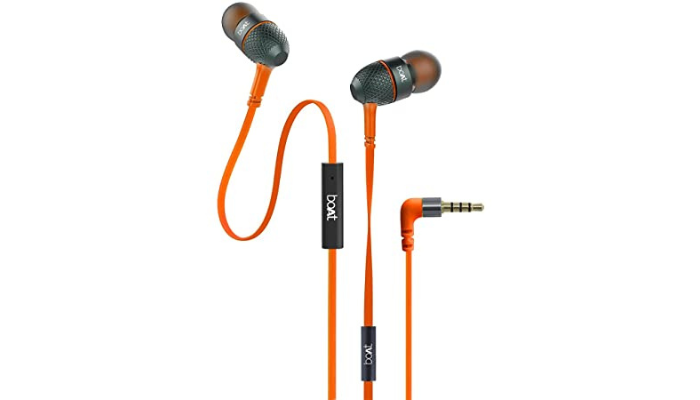 With powerful 10mm drivers for sonic clarity, bass-driven stereo sound, and excellent attenuation of ambient noise, the drivers-innovative housing design allows for easy adjustment and optimum wearing comfort.
Design – It fits you and your lifestyle and is designed to be comfortable and secure for your ears.
Users may listen to music in a loud and cluttered setting with the help of Passive Noise Cancellation, which also allows users to take calls on the go.
Features:
No other brand can match the experience offered by boAt Bassheads 220 Wired Earphones.
Match your style with polished metal. With super extra bass, you'll experience incredible clarity.
Flat cables with no tangles keep you nice and comfortable.
The earphones have 10mm drivers, which provide crisp sound and thumping bass.
You won't miss any important calls thanks to the in-built noise-canceling mic.
The boAt earphones are ideal for anyone who can carry that attitude and have colors that match your style in your day.
Connect them, and you can listen to your favorite songs with awesome sound.
Pros
The boAt Bassheads 220 earphones have a stylish design with polished metal and color options to match your style.
They have 10mm drivers that provide clear sound quality with extra bass for an enjoyable music-listening experience.
The tangle-free flat cables help to avoid the frustration of tangled wires, making it easier to use the earphones on the go.
The built-in noise-canceling mic allows you to take important calls without distractions or background noise.
Cons
The earphones are wired, which may limit mobility and movement during use.
The extra bass may not appeal to everyone's personal sound preferences and may overpower other music parts.
The noise-canceling mic may not work as effectively in very noisy environments.
Some users may find the earbuds uncomfortable after prolonged use.
3. Truke Yoga Mystic Lite: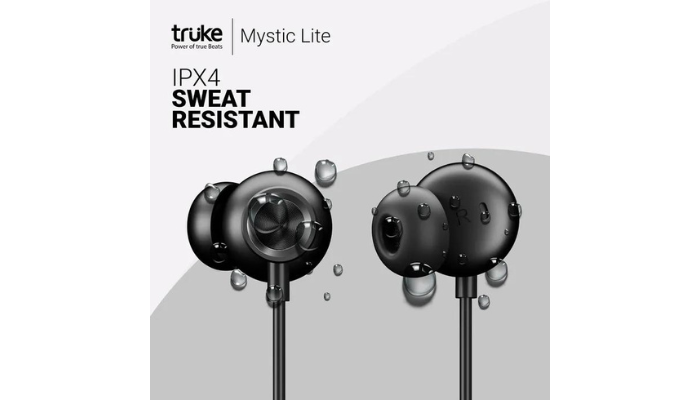 Truke Yoga Mystic Lite Bluetooth Neckband offers up to 50 hours of playtime on a single charge [50 Hours Playtime with Fast Charge]. It also has a fast charge type-C port, giving you 10 hours of playtime in ten minutes of charging.
Truke Yoga Mystic Lite Bluetooth earphones utilize ENC technology, which allows you to have crystal-clear conversations. Have great quality talks, wherever you may be, as if speaking to someone face-to-face.
[13mm TITANIUM Speaker]:- With 13mm big titanium drivers powered by AAC Codec on truke Yoga Mystic Lite, you'll be taken to a land of excellent sound.
Features:
Bluetooth 5.2
Microphone10′ Range20'Hz (Min) – 20'KHz (Max)
Frequency Response13 mm
DriverNeckband In the Ear
Wireless Headphones
Pros
Multiple ear tips and wings are included with the earbuds to ensure a secure and comfortable fit. As a result, they're well suited for long-term usage during fitness activities.
Bluetooth 5.0 is used by the earbuds to connect with your smartphone, tablet, or computer wirelessly. Up to 10 meters of connectivity is available.
IPX5 rating: The earbuds have an IPX5 rating, indicating they are resistant to sweat and water splashes. As a result, they are best suited for intense fitness sessions or outdoor sports.
The earbuds feature 10mm dynamic drivers that provide crisp, balanced sound. They have excellent sound quality. They're ideal for various music styles because of their powerful bass and crisp treble.
The earbuds have a battery life of up to 20 hours with the charging case. This ensures they will last the whole day without needing to be charged.
Cons
Since the earbuds have limited controls, you must rely on your smartphone for most functions, such as switching tracks, changing the volume, and taking calls.
The earbuds do not feature active noise cancellation, so you may hear ambient noise when using them.
The earbuds do not support wireless charging, so you must plug them in with a USB cable.
Charging case: The charging case is heavy and may not be easy to carry around in your pocket. As a result, it isn't the most portable wireless earbuds available.
The earbuds have an average microphone quality, which means you may be unable to take calls in noisy environments. Average microphone quality: The earbuds have an average microphone quality, so they may not be ideal for taking calls in loud settings.
4. ZEBRONICS Zeb-Evolve: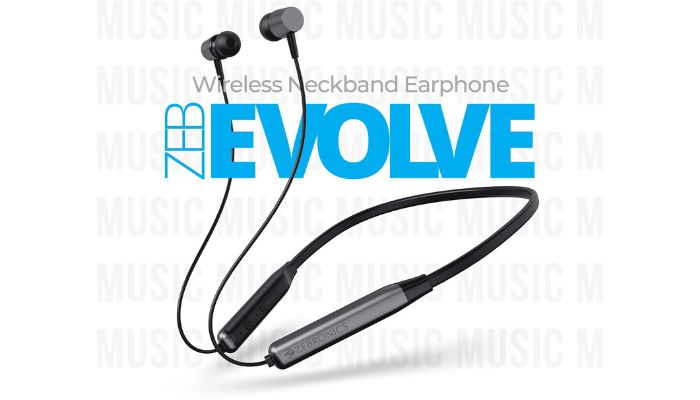 Make Calls & Listen to Music with the Metallic Wireless Neckband Earphones
Bluetooth Version 5.0 provides seamless connectivity.
Ok, Google and Hey Siri are voice assistant support
Type C Port, Quick Charging Technology
The Dual Pairing Feature allows you to connect two devices simultaneously.
Features:
Neckband wireless BT earphones
Volume/Media control
Voice assistant support
Built-in rechargeable battery
Dual pairing
Call function
Magnetic earpiece
Pros
Style: The ZEBRONICS Zeb-Evolve earphone has a nice and sleek appearance, making it simple to wear for long periods.
The earphone delivers a clear, crisp sound quality for music enthusiasts and audiophiles.
Battery Life: The earphone has a long battery life, with a single charge of up to 10 hours, making it ideal for extended usage.
Bluetooth Connectivity: You may connect the earphone to any Bluetooth-enabled gadget via Bluetooth.
Volume Control, Track switching, and Call Accept/Reject: The earphone has in-line adjustments that allow you to easily alter the volume, switch tracks, and accept or reject calls.
Cons
The ZEBRONICS Zeb-Evolve earphone may not provide enough bass for some listeners who want a brassier sound.
Noise Blocking: You may not be able to completely block out external noise since the earphone lacks noise-blocking features.
Many users may find it difficult to speak clearly because the microphone on the earphone isn't ideal.
Build Quality: Some users have said the earphone's construction is not as solid as they would want it to be.
Comfort: For the most part, the earphone is comfortable for most users. However, some may experience discomfort after extended wear.
5. Aroma® NB119 Titanium: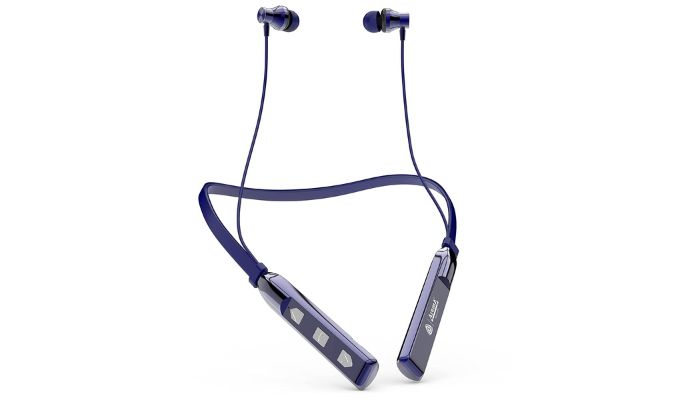 Aroma Wireless Bluetooth Headset Series comes with a Monstrous Battery backup of up to 48 Hours @60 – 70%, solving all your charging worries.
Aroma's Wireless Bluetooth Headset is Sweat & Splashproof, making it a great choice for outdoor and daily exercise. IPX4 Rated:
This Bluetooth Headset has a lightweight, durable Flexi-band that comfortably drapes around your neck and comes with adjustable wire clips.
Features:
Neckband wireless headphones with Bluetooth 5.0
Microphone range of 10 meters at 20 hertz (Min) and 20 hertz (Max).
Battery life is 48 hours.
Pros
Aroma® NB119 Titanium strings are a tougher titanium alloy, which may help them withstand greater wear than other strings.
Titanium strings are recognized for producing a bright, clean tone, which some guitarists prefer.
Aroma® NB119 Titanium strings may be a good option for guitarists who play with a heavier touch or rely on a lot of bending and other processes that might pressure the strings. Because of their toughness, they may be particularly beneficial for heavy playing styles.
Cons
Aroma® NB119 Titanium strings are more costly than most other kinds of strings. Hence they may be less accessible to some players.
Stiff feel: Some guitarists may find that titanium strings feel stiffer and less flexible than other strings, which could affect their playing style or comfort.
Tone may not be for everyone: While some guitarists enjoy titanium strings' bright, clear tone, others may prefer a warmer or more mellow sound. It's important to consider personal preferences and play style when choosing strings.
Is It Worth Buying Bluetooth Earphones Under 1000?
It is advantageous to procure Bluetooth earpieces costing less than a thousand bucks if you're operating on a financial plan and want a suitable pair of Bluetooth earpieces. Many remarkable options with good sound quality, snug fit, and battery life still exist.
Though pricier earpieces offer better sound quality and features, there are still ample choices. Additionally, Bluetooth earpieces are incredibly lightweight and enable you to move around while listening or conversing on the telephone. Before purchasing, research and scrutinize prior purchasers' feedback to ensure you're obtaining the finest deal on the market.
What To Expect From A Bluetooth Earphone Under 1000?
If one desires Bluetooth earphones costing under 1000, one should expect exceptional sound quality, a snug fit, a stable connection, and a good microphone. Nevertheless, it is imperative to remember that a wired or a high-end Bluetooth earphone may not offer the same auditory experience.
To acquire Bluetooth earphones costing under 1000, it is recommended to search for a comfortable fit, test battery life, and analyze reviews from other consumers.
Conclusion:
Numerous options are available to discover the best Bluetooth headphones under 1000 currency units. This roster delineates the finest wireless earphones under 1000 INR in India. Five different products from divergent brands have been incorporated into this compilation.
These earphones are fairly alike and confer almost indistinguishable experiences. The key differentiation pertains to the longevity of their batteries. The other earphones included in this roster are also meritorious.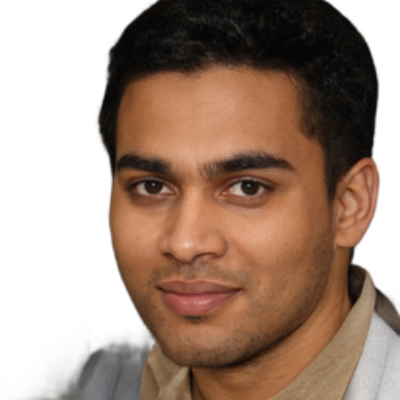 I am a Chandan Tewatia and I am the founder of this blog cfindia.net. I have been in the industry for over 10 years and have worked with some of the biggest names in the business. I have a wealth of experience and knowledge to share, and my blog is a platform for me to do just that.