Gamers and professional photographers, graphic designers are lately drifting towards 4k monitors as they provide high performance at a very affordable price. Generally, any HD screen content is 1920 X 1080 pixels. In short, 4k monitors are far more responsive and best suited for console gaming and video editing. For your convenience and ease, we have summarized some of the best 4k monitors in India for 2023. 
However, any 4k screen would deliver four times as many pixels at 3840 X 2160. The first and true advantage of a 4k monitor over any other HD screen would be space. The banter between 4k TV versus 4k monitors for console gaming is still very persistent.
4k monitors provide an edge over 4k TVs as they have minimal input lag, quick response time, and a higher refresh rate. 4k monitors offer a more vibrant picture quality than a normal HD screen would not offer.
How To Choose The Best 4k Monitor India – Buyers Guide
There are always certain parameters that must be considered while purchasing a 4k monitor. So, how do we know whether the 4k monitor is well-suited for your use or not? Well here are some of the factors that you must contemplate before buying one:
Display-Size Resolution:
The display resolution is one of the most significant features of any monitor. Higher resolution may accumulate strain on the hardware parts whereas lower resolution may result in poor-quality images taking up a humongous amount of workspace. The resolution of a Full HD display is 1920 x 1080 pixels whereas that of a 4k display is 3840 x 2160 pixels.
Refresh Rate & Response Time:
Refresh rate technically refers to the rate at which the image on the screen refreshes. The higher is the refresh rate, the smoother will be the image display. Response Time is the amount of time taken by a pixel to transition from one color to another. If the response time is below optimal, users will experience a blur.
Color Accuracy:
Color accuracy essentially means the extent to which a monitor can imitate the colors and shades of an image. This is the most important aspect for a gamer or graphic designer as it mostly governs the user's emotions. It represents the difference between the actual hue of the displayed image and the input image.
Purpose:
The purpose is the sole factor that determines what kind of monitor and with what specifications should be bought. The debate on using 4k monitors for general purposes is still very prevalent. 4k monitors are mostly used for gaming and content creation. They offer very clean and crisp graphics that enable video editors to spot very small details.
Viewing Angle:
Viewing Angle is the range of angles from which the user finds it comfortable to look at the screen. The preferred spot for viewing the monitor is the center of the panel. If the user reaches the edge of the viewing angle, they may experience disparity in brightness levels, color contrast, and color shifting.
Budget:
The first and foremost thing that we look for in a product before purchasing it is price. We always want the product to be affordable or rather to be within our budget. If the product overshoots the budget, it is the human tendency to walk away from it. For this reason, 4k monitors now come at a very affordable price so that every cohort of customers can buy them. 
Best 4k Monitor India For Gaming & Editing
Image
Product
Features
Price

28" 4K UHD (3840 x 2160) Widescreen IPS Zero Frame Design Display with AMD Radeon FreeSync Technology
90% DCI-P3 wide color gamut I HDR 10 Supported Technology I 300 Nits Brightness
Connectivity Ports: 1 x Display Port, 2 x HDMI 2.0 (HDMI Cable Included) I -5 to 35 degree tilted angle for the comfortable viewing
BlueLightShield PRO & Flickerless technology to reduce fatigue

Check Price

4K display with 3840x2160 UHD resolution, 157 pixels per inch and real 10-bit color
60Hz refresh rate
Asus-exclusive QuickFit virtual scale and Splendid Video Intelligence technology for true 'what you see is what you get'
Ergonomic tilt, swivel, pivot and height adjustment plus smart cable management

Check Price

HP P27v G4 Monitor comes with 27-inch diagonal Full HD IPS screen
Programmed with HP Low Blue Light, which shifts the color spectrum for more comfortable viewing.
Tackle your daily to-do list and multi-task across multiple windows on the extra-large 27-inch diagonal HP P27v G4 Monitor that adjusts to your comfort needs and delivers Full HD picture quality.
Equipped with HDMI and VGA ports

Check Price

27-INCH 4K DISPLAY: 144Hz refresh rate 1ms MPRT IPS gaming monitor,
IMAGE OPTIMIZATION: BenQ HDRi technology, Light Tuner, and Black eQualizer optimize image quality for better gaming experiences
SUPERIOR SOUND: Dynamic 2.1 channel speakers plus Bongiovi DPS sound technology
AI NOISE-CANCELLING MIC

Check Price

27 inch 4K-UHD (3840 x 2160) IPS Display - 3 Side Borderless
sRGB 99%, HDR 10, VESA Display HDR 400, 350 Nits Brightness
Color Calibrated & Hardware Calibration Compatible
Inbuilt Speaker 5w Dual Channel (Maxx Audio)

Check Price

Display: 23.8-inch QHD (1920x1080) Monitor | IPS Panel
Visual Experience: 16.7 Million Colours | 99% sRGB | Brightness: 300 nits | Anti-Glare
Design: NearEdgeless Ultra-slim Monitor | Tilt: -5°/22° | VESA Compatible Wall Mount (100x100)
Refresh Rate: 75Hz | Response Time: 4ms | AMD Freesync

Check Price

STUNNING 4K DISPLAY: Enjoy immaculate 16:9 image quality with 4K UHD 3840x2160 resolution, 90% DCI-P3 wide color gamut, and 1.07 Billion Colors
SUPERIOR SOUND
USB-C CONNECTIVITY
EASY ACCESS
EYE-CARE TECHNOLOGY

Check Price

27" 4K UHD (3840 x 2160) Resoltion with HDR 10
IPS Screen with 178/178 deg viewing angle with 300 nits brightness
Color Calibrated Display with sRGB 99% and 1.07 Billion Color
Connectivity: HDMI x 2 , Display Port & Headphone out

Check Price

Exceptional High Resolution: 31.5 Inch UHD 4K 3840x2160 Resolution Display
HDR 10 Ready Increases the dynamic range between black and white to showcase incredible clarity and details
Acer VisionCare Technology optimize viewing experience
Connectivity Options Includes : 2 X HDMI 1 X Display Ports with Inbox DP Cable

Check Price

BenQ AQCOLOR Technology used for 10-bit of color depth, 100% sRGB/Rec.
Dualview Function displays two picture modes
Keyboard Video Mouse (KVM) Switch function allows users to display and control content from two different PC systems on one screen using just one set of keyboard and mouse to boost work

Check Price

27" 4K UHD (3840 x 2160) Resoltion with HDR 10
IPS Screen with 178/178 deg viewing angle with 300 nits brightness
Color Calibrated Display with sRGB 99% and 1.07 Billion Color
Radeon Freesync - Gaming Features - DAS Mode and Black Stablizer

Check Price
For a very long time, the resolution of TVs and monitors has been limited to 1290 x 1080 pixels. However, 4k monitors come with four times the resolution at 3840 x 2160 pixels. With enhanced picture quality, 4k monitors are a boon for gamers and video editors as they enable higher-quality video and graphics. However, finding a perfect 4k monitor for yourself is often a hassle because there are plenty of options in the market. Here, we provide you with a buyer's guide to ease the entire process and help you choose the best 4k monitor in the Indian market.
1. LG 27UL500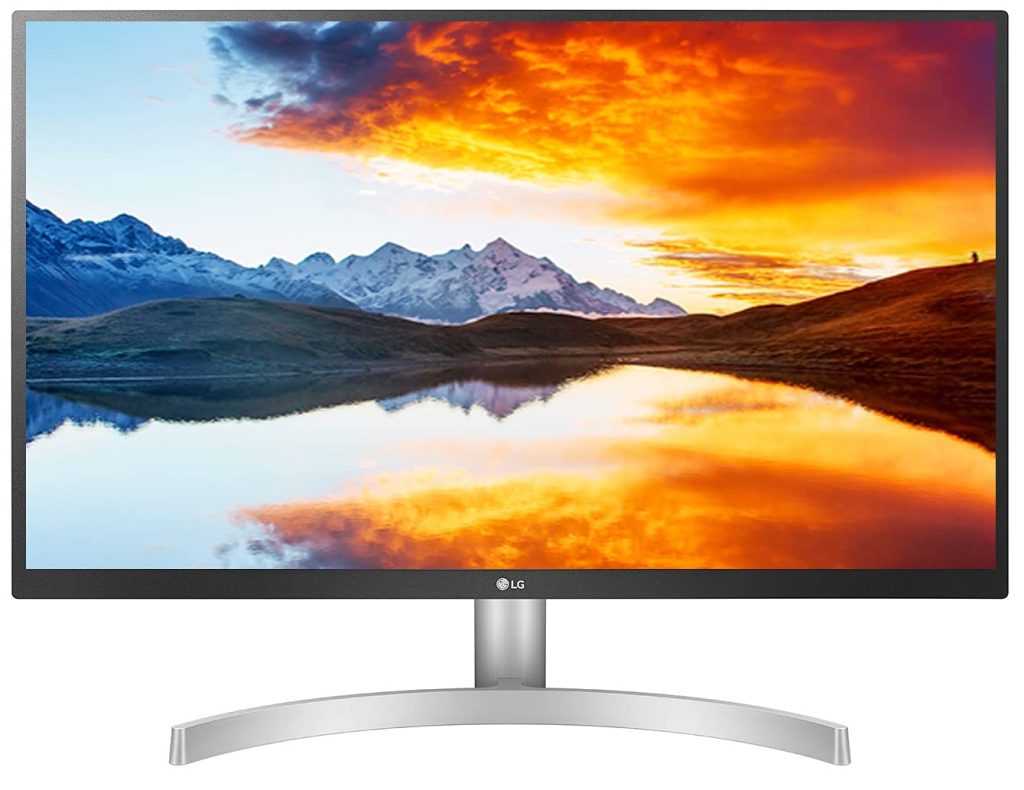 This LG monitor is suitable for users who prefer a 27-inch screen and matte screen surface. Moreover, this monitor is compatible with HDR10 which enables users to see bright and dark parts of high dynamic range content in high quality.
The LG 27UL500 series is known for its color accuracy and wider viewing angle. With enhanced gaming features like Radeon FreeSync, DAS Mode, and Black Stabilizer it is a good buy for gamers. It has a response time of 5 milliseconds and a refresh rate of 60Hz.
Although it has a very sleek design, it is lightweight. This means it is not that sturdy and you have to invest in mounting equipment. Also, if you are looking for a monitor in the mid-Rs. 20,000 to Rs. 30,000 range, this may not be the ideal one for you.
However, within Rs.40,000 range it might be a good one for entertainment purposes, not so sure about gaming.
2. BenQ PD2700U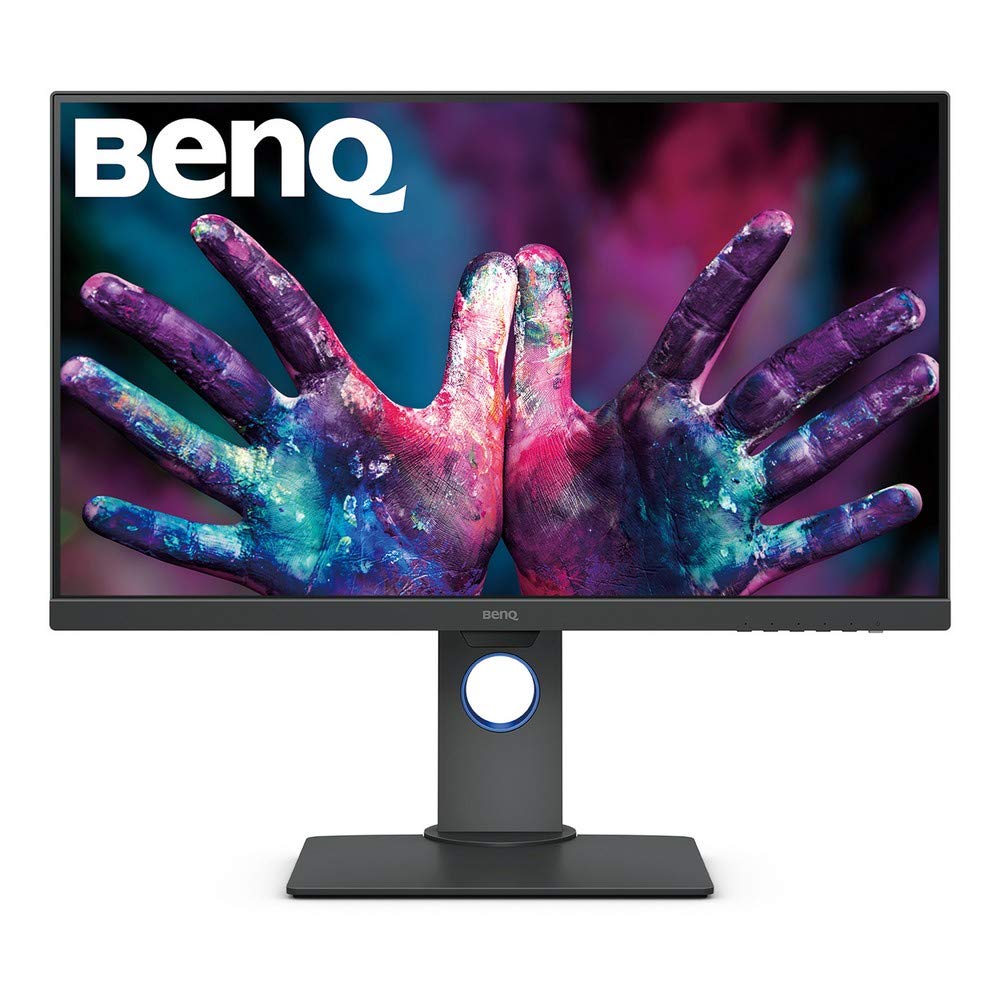 The 27-inch BenQ monitor is specifically designed to cater to the needs of graphic designers. It comes with specialized CAD/CAM mode, animation mode, and darkroom mode that help the designers work with critical adjustments on brightness and contrast.
In addition, the Dualview Function helps to display a picture in two modes (sRGB/Darkroom Mode) at the same time, cutting down the need for two monitors. Keyboard Video Mouse (KVM) Switch function is a groundbreaking feature that allows users to display as well as control content from two different screens simultaneously.
The maximum resolution is 1280 x 1024 (SXGA) which is quite lower than the 4k standard and it has only one HDMI port.
Moreover, the monitor is not perfect for buyers who want it within a budget range of Rs.30000. This monitor has many new features that others don't have. It is a perfect buy for designers and video editors.
3. Acer ET322QK :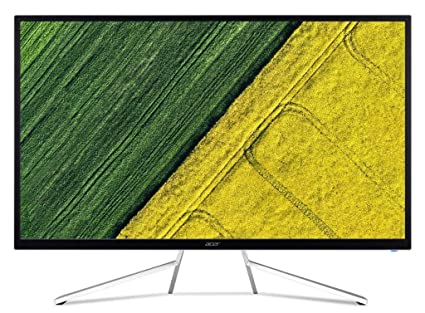 This 31.5-inch LED monitor comes with an exceptional resolution of 3840×2160 pixels. With 10-bit color depth and Super Sharpness technology, the Acer ET322QK monitors offer users a vivid and colorful experience.
It has a wider angle which means that even if the screen is viewed from 178 degrees, the image clarity and prime colors will remain intact and won't change. The Acer BlueLightShield protects the user's vision by minimizing the exposure to blue light and by adjusting color hue and brightness.
Since the monitor is wide but weighs only 5.6 kilograms, it is not that sturdy. For someone who is on a tight budget, this monitor may be a more viable option. It has a refresh rate of 60Hz and a response time of 4 milliseconds, which is ideal for gamers.
It can be used for professional as well as entertainment purposes like gaming and movies as it offers a rich user experience.
4. LG 27UL650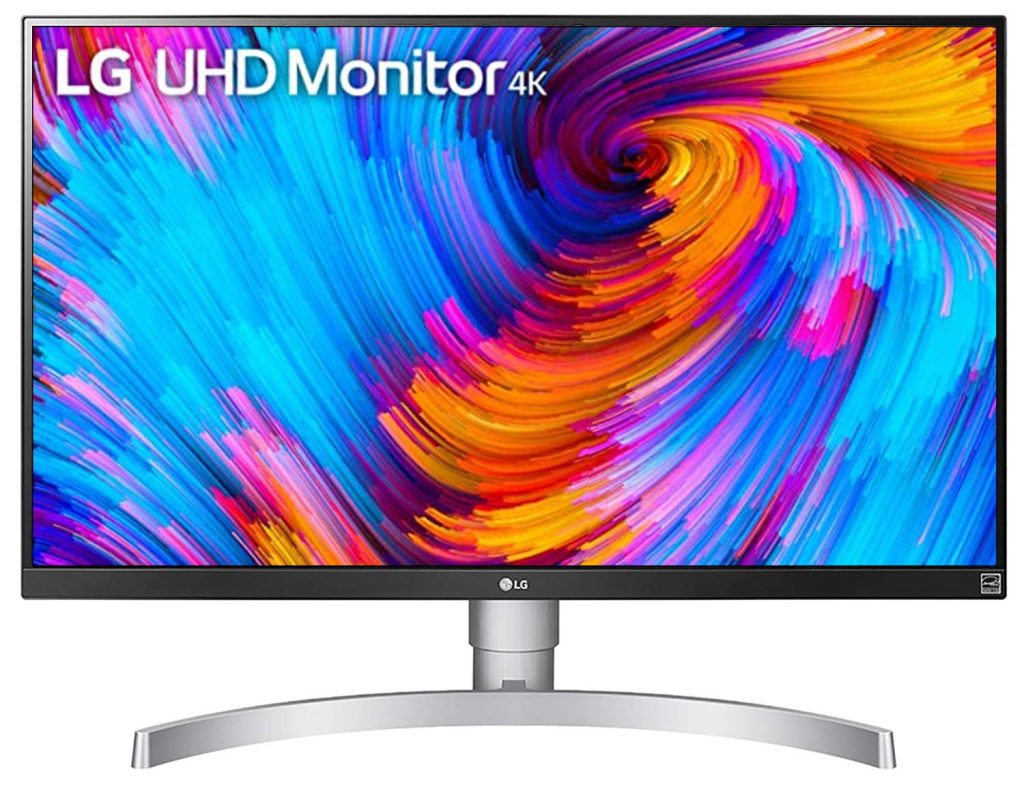 Another 27-inch LG 27UL650 4k monitor is compatible with VESA DisplayHDR 400 and enhanced features like Radeon FreeSync help it exceed the capabilities of ordinary TV screens. The picture quality is exceptional and made to work in any lighting condition.
It comes with different gaming modes such as FPS gaming mode and RTS pre-set mode that helps gamers adjust their requirements. It comes with an ergonomic stand which gives the monitor a sleek design and amplifies its stability of the monitor.
Although it is an affordable buy for gamers, it does not come with a USB C port and is not compatible with upstream and downstream USBs which is a big issue.
Moreover, it does not come with in-built speakers, hence Amazon fire-stick cannot be used here. This monitor has exceptional visuals and quality, hence it will surely exceed the expectations of gamers by offering them a rich and realistic experience.
5. BenQ EW3270U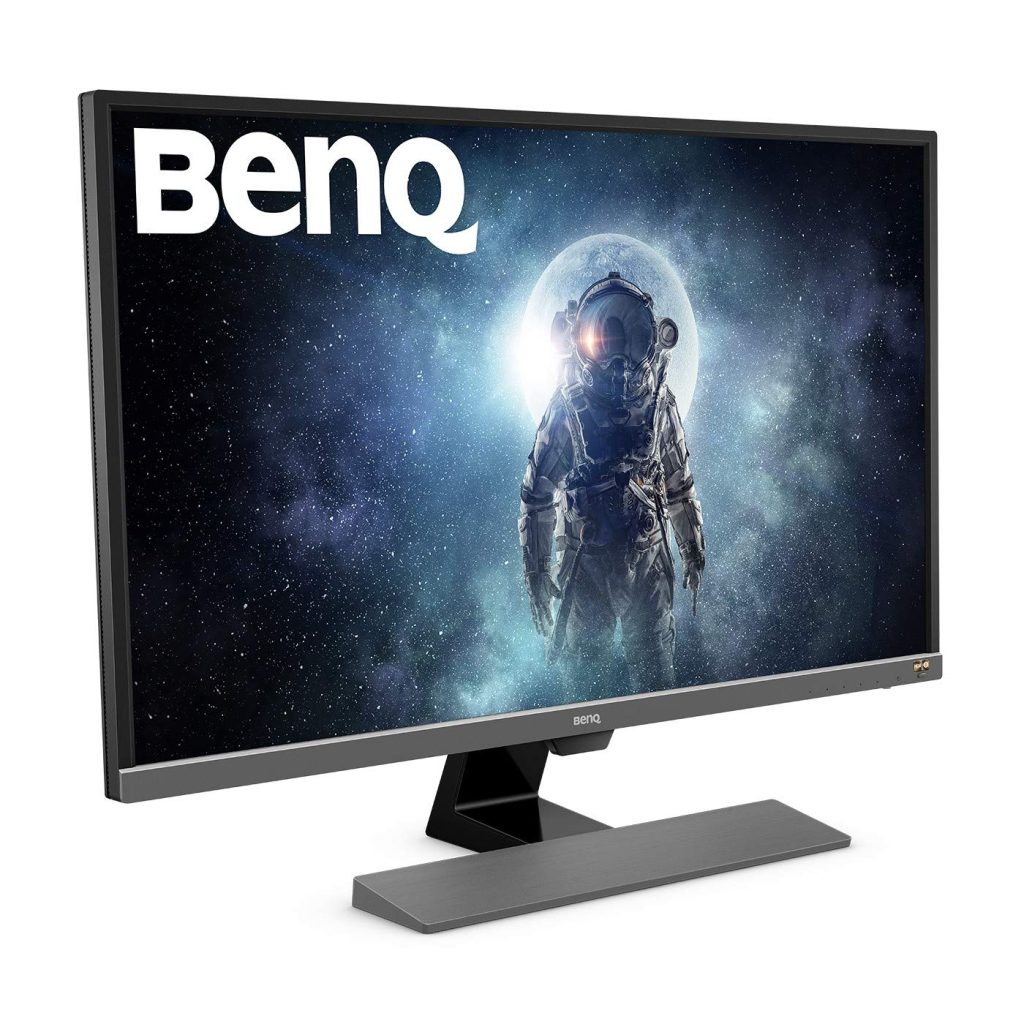 The BenQ EW3270U monitor is widely known for its extraordinary and realistic picture quality. With 4K UHD 3840×2160 resolution, 95% DCI P3 color gamut, and 1.07 Billion Colors this BenQ model assures you the best clarity of images.
It has a contrast ratio of 3000:1 which is almost three times that of usual IPS panels. It also includes AMD FreeSync technology which enhances your gaming experience by minimizing image tearing, broken frames, and choppy gameplay.
It is an incredible deal for gamers who are looking for a monitor between Rs.30000 and Rs.40000 range. For enhanced multimedia connectivity, it supports all three HDMI, USB C, and Display Ports. Hence, users don't have to worry about multimedia support.
However, the monitor is a bit bulky both in terms of size and weight. Users who are used to small screens may find it difficult to adjust to them initially. But overall, it is an amazing monitor for both gamers and working professionals.
6. Lenovo Q-Series Q24H-10 24 Inch(60.45Cm)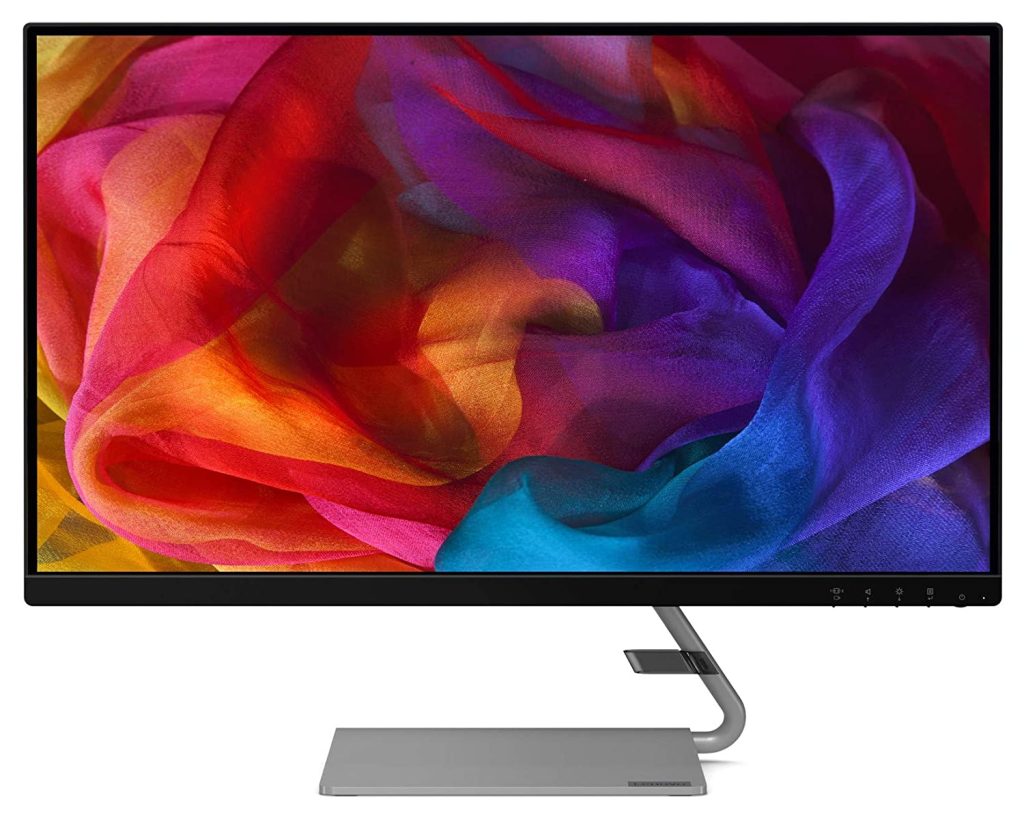 The best part about the Lenovo Q-Series Q24H-10 is its inclination toward minimalist and contemporary design. With an ultra-slim 6.9 mm build, black stand, and minimally obtrusive 3-side Near Edgeless bezels, the design is made to blend with your house decor.
With a refresh rate of 75 Hz and a response time of 4 milliseconds, it is an extremely good monitor for gamers. AMD FreeSync technology minimizes flickering and tearing and ensures a smooth gaming experience. Moreover, it has in-built speakers of 2x3W. Most monitors even if they have in-built speakers are of 1-2W.
However, the monitor is a bit lightweight and stability may be an issue sometimes. Moreover, it supports only HDMI and Display Ports connectivity and does not support USB-C connectivity.
The best part about this monitor is its design which is aesthetically better than most monitors. So, if the design is what you are looking for, this may be the perfect buy for you!
7. LG 27UL850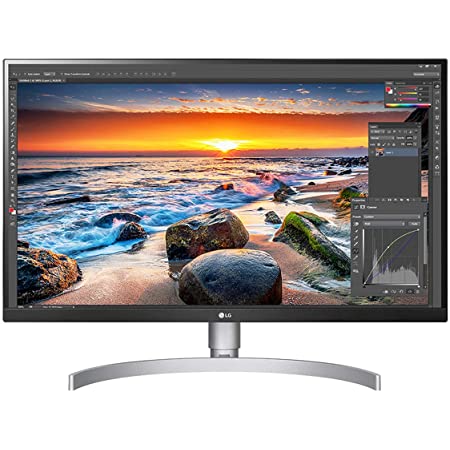 This is a 27-inch monitor and is extremely aesthetically pleasing as it is borderless on three sides. Along with the streamlined design and MAXX AUDIO, LG 27UL850 is poised to deliver dazzling and lifelike visuals with the best in the world audio quality.
Unlike other monitors, its Display Connection uses USB Type-C and is also compatible with MacBook. This means that With a single cable, users can simultaneously transfer 4K screen data and other data while charging a MacBook or any mobile device up to 60W.
Color performance can be optimized by using Hardware Calibration through the True Color Pro software. The only drawback of this monitor is its pricing. For users looking for a monitor within a tight budget, this may not be it.
However, this monitor excels in both video and audio quality and is undoubtedly better than most of the monitors in this range. This is best for users who are looking for a rich cinematic experience.
8. BenQ MOBIUZ Gaming Monitor EX2710U 27″ 4K UHD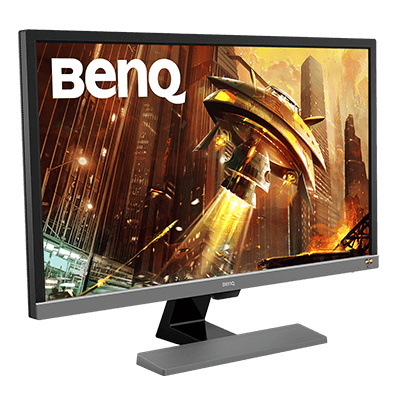 The 28-inch BenQ MOBIUZ Gaming Monitor EX2710U 27″ 4K UHD monitor comes with Brightness Intelligence Plus Technology which adjusts the brightness according to different lighting conditions. With a refresh rate of 60 Hertz and a response time of 1 millisecond, this monitor offers ideal conditions for gamers.
The super-fast response time allows users to experience smooth and delay-free entertainment. AMD free sync technology removes image tearing, broken frames, and choppy gameplay that gives a rich gaming experience.
High Dynamic Range (HDR) and Cinema HDR mode amplify the overall range of true black and bright white which makes your cinematic experience much more immersive and realistic. The design may be a bit outdated as the body is thick and bulky.
So for users whose preference is design, this may not be ideal for you. Moreover, it does not support USB-C connectivity. This monitor has extraordinary gaming features, hence it is a perfect buy for gamers as well as designers. 
9. HP P27v 27-Inch G4 FHD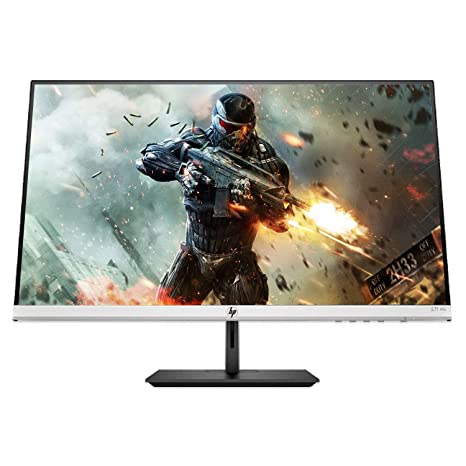 This monitor is best known for its crisp and realistic visuals. With ultra-high-definition content and stunning 4K resolution.
Its unique feature is its Gas piston design that allows 130mm of smooth, precise height adjustment so that display is always comfortable for the user. Most monitors do not have this feature, hence this is what makes them superior to other monitors.
With IPS technology, this monitor has the best color accuracy and wider viewing angles to cater to the need of every cohort of users, be they gamers, office professionals, or designers. However, the major drawback of the monitor is its sturdiness.
It weighs only 3.5 kilograms and is extremely lightweight in terms of a 27-inch monitor. Users may need to invest in external mounting devices. However, in terms of both visuals and comforts, this might be a reasonable purchase for gamers as well as designers.
10. ASUS PB287Q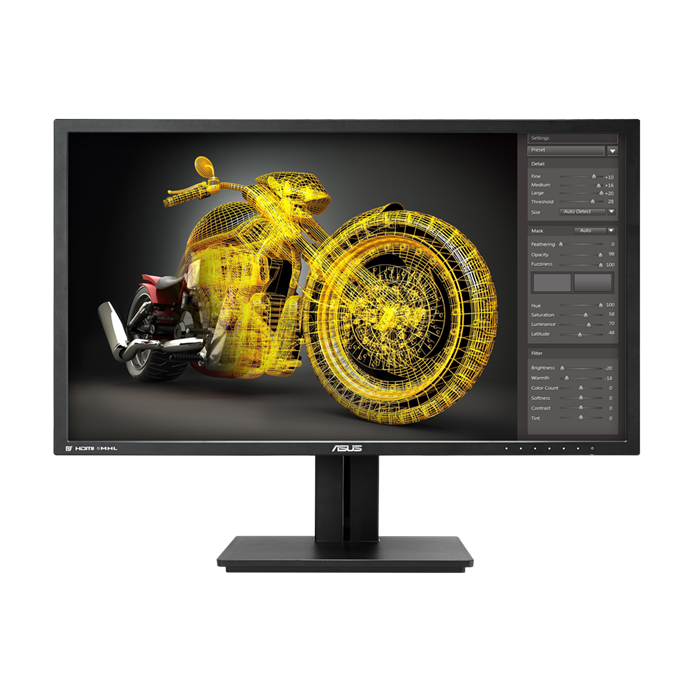 The 28-inch ASUS PB287Q monitor comes with real 10-bit color and a response time of 1 millisecond that will give you smooth and fluid video quality. It supports HDMI, HDMI/MHL, and DisplayPort and does not let you compromise with entertainment connectivity at any cost.
In addition, it has additional connectivity with native WQHD content support with HDMI, DisplayPort, and Dual-link DVI which makes it superior to other 4k monitors in this range. This monitor has a pixel density of 157 pixels per inch (PPI) which gives users an enriching and detailed cinematic experience.
ASUS eye care technology utilizes flicker-free technology and provides a comforting experience to the users. The monitor comes with ergonomic tilt, swivel, pivot, and height adjustments plus a wall-mount capability that allows users to adjust the monitor to their maximum comfort.
However, the design is a bit outdated when compared to other monitors of this range. For users looking for a stylish monitor, this may not be the ideal choice for you.
11. Acer CB282K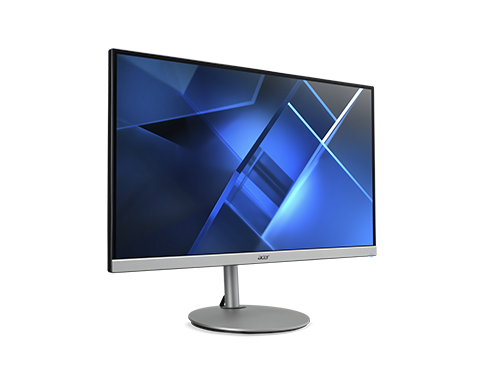 The 28-inch Acer CB282K monitor comes with an IPS Zero Frame Design Display with AMD Radeon FreeSync Technology that makes your visual and cinematic experience ultra-rich. It is also compatible with HDR10 technology which helps it make the video quality much more realistic.
The AMD Radeon FreeSync Technology makes the refresh rate dependent on the graphics card rather than the fixed rate of the monitor. It removes tearing and eliminates choppy gameplay, making sure that your gaming experience is always up to the mark.
The Ergo Stand enables you to find your optimal and comfortable position while viewing the monitor. The stand is quite stylish and stable.
However, the body is a bit bulky which makes the appearance a little bland and it also lacks USB C connectivity. But it supports Display ports and HDMI connectivity. This an amazing deal for content creators and gaming enthusiasts who have a tight budget.
Frequently Asked Questions:
What is a 4k monitor?
A 4k monitor has a resolution of  3840 x 2160 pixels, which is almost four times the resolution of HD monitors and TVs at 1290 x 1080. Hence, the pictures are much brighter and clearer than on ordinary display screens.
Is 1440p the same as 4k?
No, they are not the same. They have a slight difference. The 4k resolution is much clearer than the 1440p resolution. This is because 4k has a higher number of pixels when compared to 1440p.
Is 4k better than 1080p?
1080p resolution is 1920 x 1080 pixels, whereas the resolution of a 4k monitor is 3840 x 2160 pixels. The resolution of the 4k display is four times that of 1080p. Hence the pictures are more vibrant, sharper, and clearer.
Is 4K overkill for 27 inches?
A 27-inch monitor is okay unless the viewer is sitting a meter away from the device. However, if the user sits two to three meters away from the monitor, it may appear too small.
At what size is a 4K monitor worth it?
The ideal size of a 4k monitor is still very debatable. A 32-inch monitor is considered to be an ideal size for a 4k monitor. It is neither too small nor too big for official purposes, video editing, graphics, and gaming. A 24-inch or 27-inch monitor would look very small from a distance greater than 1 meter.
Which is better QHD or 4K?
QHD means it has a resolution of 2560 x 1440 pixels. Quadruple means four times. So the resolution of QHD is four times higher than its predecessor 1080p. 4k on the other hand has a whopping 3840 x 2160 pixels with 4 times more detail than full HD!
Conclusion:
So that was all we had to explain in the buyer's guide for the best 4k monitor in India 2023. Although we have mentioned every drawback and advantage of the above-mentioned 4k monitors, you as a user must be always clear about its purpose.
For example, if you want to purchase a 4k monitor for gaming purposes, you must specifically dwell on its response time and refresh rate.
However, if you are a video editor or a graphic designer, you must get a monitor which has better color accuracy and a wider viewing angle. Similarly, if you need a monitor for only entertainment purposes like watching movies or posting pictures on social media you may not opt for a high-end 4k monitor. 

Also Check: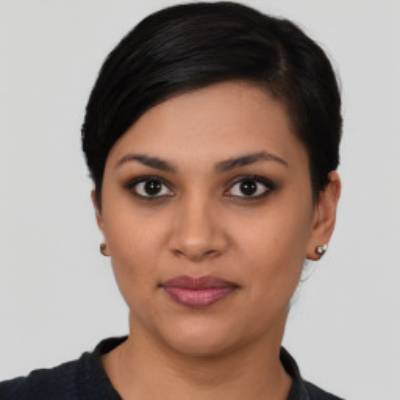 I am Garima, pursuing my 3rd year Electronics from Delhi University and I like to write on gadgets and computers through my social media, blogs and actively participating on quora discussions on gadgets. I have a keen interest in technology and how it can be used to improve our lives.