Trying to install a CCTV camera but don't know the installation process? Continue reading to learn how to install a CCTV camera home step-by-step.
This guide will explain the key components required to install CCTV cameras and pre-planning, along with a stepwise guide on installing HD CCTV cameras, Wi-Fi cameras, and IP cameras. Remember not to skip any step to correctly installing CCTV cameras. Let's dive in.
How To Plan Before Installing A CCTV Camera?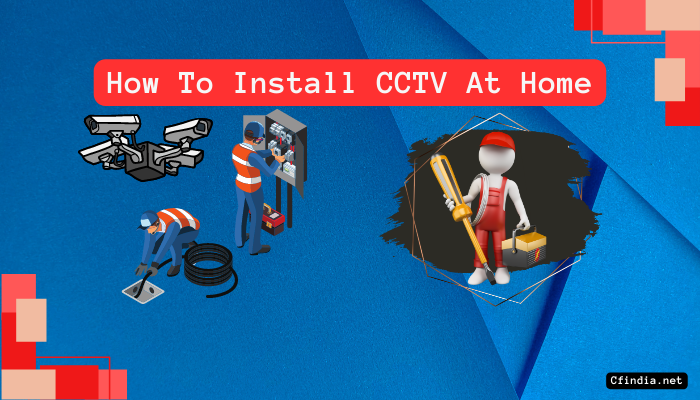 Before you proceed to install a CCTV camera at your place, it is vital to choose the best spot for maximum coverage without increasing the length of the cable.
Let us take an example if you want to install a CCTV camera at indoor places, ensure to choose a corner place from where maximum entry and exit points are easily visible.
In addition to this, the power socket must be closely associated with the camera point. However, if you are installing a camera in outdoor spaces, you prefer to select a higher spot from where the door entry point, garages, windows, etc., are easily visible.
Components/Tools Needed To Install CCTV Camera:
Here are some key components to installing a CCTV camera at your place.
DVR (Digital Video Recorder)/NVR (Network Video Recorder)
Monitor/LCD (Laptop, PC, etc.)
CCTV Camera (Dome, Bullet, and PTZ camera)
Adopter, Power Supply, Power Splitter, and connectors
Power Drill
Small screwdrivers
Electric heavy-duty screwdriver
Safety goggles, boots, helmet
Electrical tape to stick cables to rode
Electrical meter to check the network and electricity
Network testing tool
Should We Buy A CCTV Kit Or Individual Components?
A CCTV kit is packed with everything you need to install a CCTV camera. In short, this is a ready-to-use kit that you straightway pick and start the installation.
However, the downside is that the CCTV kit uses an 18-meter cable, and DVR will be a limitation on DVR and NVR as you can only reach a maximum length of 18 meters. Apart from this, you may need to create large holes in the walls because cables already have connectors.
But buying individual components can offer significant advantages. One such advantage is that you can buy various components according to your need for CCTV camera installation. Moreover, you can also purchase essential CCTV set up according to your budget.
Testing And Troubleshooting Your CCTV System:
Once you have connected everything, make sure to power on and see the images on the camera monitor screen. The monitor will have a split screen. So, if you want to install four cameras, you will see images of all these cameras on a split screen.
However, if you don't find images on the screen, ensure your power supply box is connected properly and switched on. Check the network clips and connections if you cannot see the cameras' images. If your camera screen is still not working, your cable might be damaged.
You can test it with the help of a video test monitor along with continuity utility. Sometimes, the camera will be powered up with the help of the video test monitor itself. The video cable of the CCTV camera can be directly connected to the video test monitor.
If the cameras get powered up, you can see images on the monitor showing that your CCTV camera is working properly. In case your camera doesn't show images and doesn't power up, then the camera might be faulty. You can replace it with a new one.
How To Install HD/Analogue Camera?
You must collect the following things to install an HD/Analogue camera at your place.
CCTV cameras
A DVR
CCTV cable
A power supply for the camera
BNC connectors
DC connectors
A monitor or TV (with VGA or HDMI port for HD camera)
A Toolbox
A Drill machine
Some screws and saddles
Step 1:
Select the right place to install DVR. Now you need to turn on the power supply for your camera. Keep in mind that the DVR installation place must be close to the monitor unit if you use an HDMI cable. This is because the HDMI cable supports only up to the 20-meter distance.
So, make sure to keep it in mind before you start wiring. Suppose you have five cameras to install, foremost you need to lay out CCTV wire for the individual camera from your DVR to the camera.
Step 2:
Once you have installed the wires, drill the holes in the wall where you need to place the camera. Tighten the camera with screws. Next, you need to tighten the connectors to the side of the cameras. You get two different connectors to create. The first connector is BNC, and the second is a DC pin.
The BNC pin is used for the transmission of videos, and DV is for the camera power. You also get two wires in the BNC pin: one for the ground and one for videos.
You need to connect the CCTV wire core with the positive wire of the ground wire and BNC wire along with the BNC negative point. Likewise, you need to connect the DC positive with the red wire and the DC negative with the black wire.
Step 3:
Now, you need to move to the DVR side. You need to tighten the BNC pin to the given wire at this point, as you have done in step 2. Make sure to put the remaining wire in the power supply.
It has two terminals, a negative and a positive. In the positive terminal, you need to install a red wire. Use black wire in the negative terminal.
Step 4:
Connect all the given BNC pins to your DVR. Once you have done it, power up your DVR and power supply. Once all the installation is done, you can view all the areas covered by a camera on the screen.
Lastly, connect the monitor to your DVR system with the help of a VGA/HDMI cable. Ensure that all your connections are tight and proper.
Step 5:
You need to set the camera's viewing angles and sides to your needs. You are good at viewing all the angles in real-time.
IP Camera Installation:
The IP camera's installation proceeds are quite different from that of the HD analogue installation camera. You may need basic PC network knowledge and how to connect two different PCs via LAN wire.
If you know all these, it will be easier for you to install the camera. Before moving further, let us share some vital information about the prerequisite to installing an IP camera.
LAN (cat 6 or cat 5 cables)
rj45 connectors
A switch(according to the number of cameras)
A power supply (If cameras are non-PEO)
A computer
Basic knowledge of the computer
Once you get to know about the prerequisite, follow these steps.
1. Set The IP Address Of The NVR
To begin with, power on your NVR. You must set the IP address per your existing router or Wi-Fi network. Let us illustrate this with an example. Suppose your router IP address is 192.168.0.1. So, this will be the gateway of the NVR. Then the IP address should be 192.168.168.0.XXX. Go to the CMD of your PC to know the router IP address and type "ipconfig." Hit the enter button, and you get the information on the screen.
2. Set The Camera's IP Address
Once you have set the IP address of the NVR, you now have to note down the IP address of the IP camera as per the IP address of the NVR. For example, if the IP address of NVR is 192.168.0.200, then your camera IP must be 192.168.0.xx.
Remember that all the cameras may have unique IP addresses; you need to note them down. Suppose your NVR IP address is 192.168.0.200. If you have two cameras, the camera's IP address will be 192.168.0.201 and 192.168.0.202.
3. Hand All IP Cameras And Install NVR In the Right Location
Now, once you have set the camera's IP address, you need to install the camera at the right location. You must lay out a cat 6 cables from your NVR to a different camera. Tight the rj45 connectors.
4. Add IP Camera To Your NVR
You must go to the "Add Camera" option in your NVR. Here you get the IPs of different cameras. Click on the "Add Button" to add a camera to NVR.
5. Set The Viewing Angle
Once you have set the camera on the monitoring screen, you need to set the camera's viewing angle to cover maximum areas.
Install Wi-Fi Camera
Before you move to install a Wi-Fi camera, here are some of the prerequisites you need for installation.
1. Wi-Fi Camera
This camera works on wi-fi directly, and you can operate this device with your mobile phone and via the internet.
2. Android Or IOS Device
You may need an Android device to connect your wi-fi camera to install a camera.
3. Working Internet With Wi-Fi
You need to have working internet with Wi-Fi. Make sure the connection you use is stable and ensure a sturdy network.
4. Basic Knowledge Of The Internet
Before you move to the installation, ensure you collect basic information about internet usage.
Now that
you know the basics of installing this Wi-Fi camera, it's time to install it by following these steps.
Step 1: Check Our User Manual
The wi-fi camera configuration will depend on the user manual of the manufacturing company. Since there is no fixed method to install a Wi-Fi-based camera, follow the user manual on installing the wi-fi camera.
Step 2: Download The Application
You need to get the application given by the company. Read the proper instructions and find out the application according to the Smartphone. Download the application and install it on your device.
Step 3: Configure The Application
Now, you need to follow the instructions given in the company manual for the application's configuration. Usually, the application may ask for the barcode printed on the Wi-Fi camera. You need to scan it, and you will be able to view this camera on your Smartphone.
Step 4: Setup Video Recording
Once you have configured the application, it's time to set the recording parameter as per your requirement. Ideally, the Wi-Fi camera may support the SD memory card and FTP account, which the company provides. You need to put this SD card in your Wi-Fi camera and FTP details with the help of mobile application settings.
Step 5: Set The View
Lastly, you have to put the Wi-Fi camera in the right place from where you can easily view your area's wider angle or proper view. Congratulations, the installation is completed, and you can enjoy real-time live monitoring from your device.
Frequently Asked Questions:
Can we install CCTV by ourselves?
 You can install a CCTV camera by yourself if you use an installation kit. However, sometimes you are likely to create mistakes while installing CCTV cameras, resulting in un-optimized storage and poor coverage. So, it would be great to have professional help to install a CCTV camera. 
How do I connect my CCTV to WIFI?
It's very simple; you must connect your DVR with a monitor and configure the DVR's settings. After that, you need to configure a wi-fi router for your DVR and connect it to wi-fi through a LAN cable. Check the settings and then connect it to your mobile device.
How can I connect my CCTV camera to my phone?
 Install the CCTV camera application on your phone. Now add the CCTV camera to the application through a QR code scanner. Once installed, click on the security camera to see the live footage. You can easily set different settings such as alert frequency, motion, detection, etc. 
Is it hard to install CCTV?
No, installing a CCTV camera yourself is not hard. If you don't know how to install a CCTV, you can take professional assistance to install it.
Is electricity required for CCTV cameras?
No CCTV camera work without electricity. CCTV does not work without electricity however now with the advancement of technology, CCTVs have been updated a lot. A CCTV usually has a backup battery and onboard storage system so they can record things for some time at least based on the power of the battery.
Bottom Line:
So, we hope you have complete information on installing a CCTV camera step–by-step at your place. So, this will be easier for you to install a CCTV camera at your place. However, if you still have doubts about installation, take help from professional CCTV camera installers.
Also Check: Best CCTV Brands in India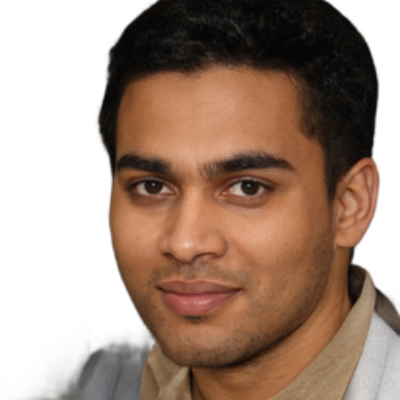 I am a Chandan Tewatia and I am the founder of this blog cfindia.net. I have been in the industry for over 10 years and have worked with some of the biggest names in the business. I have a wealth of experience and knowledge to share, and my blog is a platform for me to do just that.