Looking to shoot an amazing video to get viral on YouTube and social media platforms? Or want to shoot your vlog in 4k? An ordinary camera is fine, but shooting with a Vlogging camera is next level.
Merely looking at the 4K resolution and higher megapixels won't make much sense if you need to create impressive content. Some of you are solo content creators, so you need the Vlogging camera with a flip-out screen, Mic input, high resolution, decent stabilization, and, most importantly, long battery backup. 
With that in mind, we've curated the trendiest and best Vlogging camera with incredible features here. So, if you want to stand out as the best Vlogger, check out our list. 
What Is A Vlogging Camera?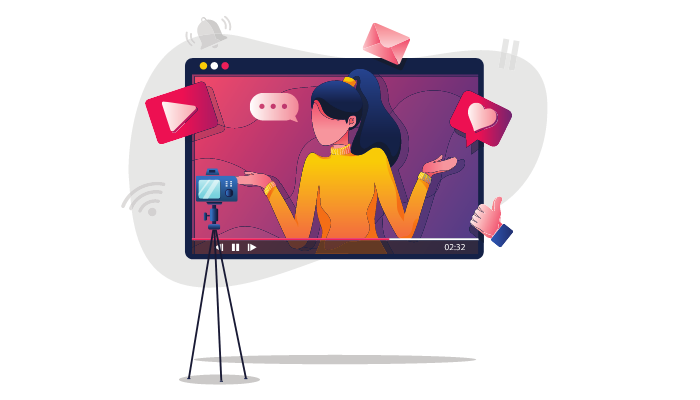 Vlogging cameras are specially designed for making videos solely. The camera has a flip-flop screen, a mic input, a mirror screen, microphones, and stabilization features and is extremely handier. With this camera, Vloggers can easily create solo videos with no hassles. The built-in microphones also help in reducing background noise. Equipped with a higher-megapixel lens, you can shoot like a pro.
Types Of Vlogging Cameras:
There are three types of vlogging cameras which are as follows:
Underwater vlogging Camera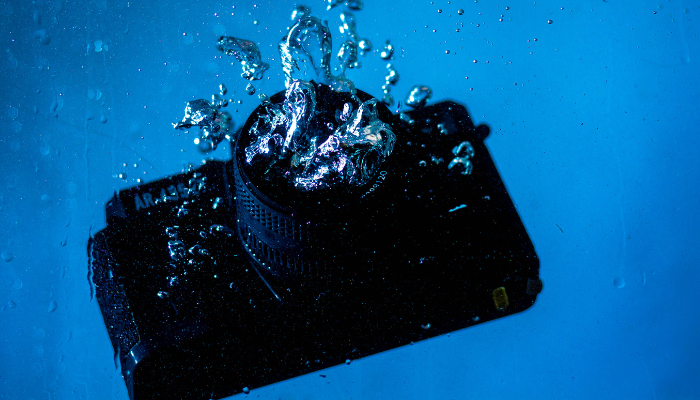 An underwater vlogging camera is best for shooting videos inside water. They are specially designed to shoot videos at 50 m depth and more. It offers better stabilization, an optical zooming sensor, and a wider aperture to shoot into the water properly. Some underwater vlogging cameras are safe for taking video shots even at higher depths.
Touch Screen Vlogging Camera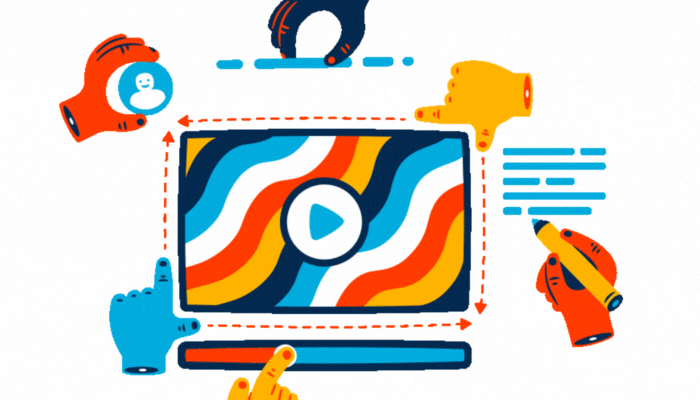 A flip-flop or touchscreen camera is best suited for beginner vloggers who love shooting YouTube videos. It comes with a CMOS sensor, built-in mic, mirror screen, and many more features. Touch screen cameras are versatile enough to shoot videos anywhere with no hassles.
Remote Control Vlogging Camera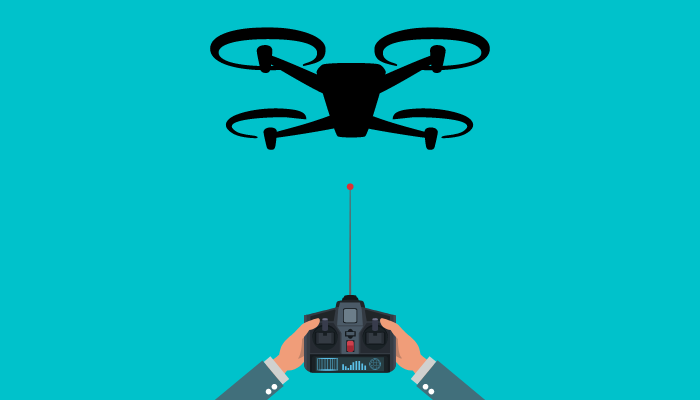 Remote control vlogging cameras are perfect for shooting sole videos. The camera has Wi-Fi connectivity and a remote control that helps operate the camera even from a distance. Whether you want to shoot outdoors or indoors, a remote control camera is perfect for creating visual content.
Guide to Choose Vlogging Camera India
Resolution:
When choosing the right vlogging camera, check the resolution of the gear. Ideally, go with those vlogging cameras that offer 1080 resolution and allow you to record videos at 4k resolution. Higher resolutions help record full HD videos that are excellent for YouTube. So, do not compromise with the resolutions if you use professional-style videos. 
Waterproof:
If you love shooting outdoors, underwater, or trying to capture water sports activity, you must have a camera that offers waterproof features. It would be great to look after that action camera for vlogging that offers water-resistant up to 50 m depth. Some vlogging cameras often offer water resistance at 100m depth. You can look after any of the cameras that suit your requirement. 
Connectivity:
Make sure to purchase those vlogging cameras that offer robust connectivity and enable Wi-Fi to transfer videos faster. Some vlogging cameras also provide built-in app connectivity to instantly transfer data on your mobile phone. In addition to this, you can consider USB and other connectivity options to have the best buy. 
Storage Capacity:
Storage capacity is an important aspect to look after in the vlogging camera. Ideally, go with those cameras that offer a supported SD card of 32 GB. However, you can also have those cameras that offer 64GB and higher storage capacity cards. It helps store your videos and images that you click with the camera.
Lens:
The lens plays a crucial role in recording higher-resolution images and videos. So, try to buy cameras with at least 1-20MP wide aperture angle lenses for wide coverage. Some cameras even offer auto-focus and 360-degree panoramic lenses to get 360-degree views. When you are purchasing, be sure to consider this feature too.
Battery Life:
Battery life is one of the key factors you must consider while buying India's best vlogging camera. If you have a high-resolution camera, but battery backup isn't worthier or only allows you to record 15-20 minute videos isn't worthier. So, I prefer a camera that offers at least 90-130 minutes of video recording at one go. This would be great for recording even one-hour-long videos. 
Portability:
Usually, vloggers shoot outdoors, so the camera should be handy and portable enough to carry in the travel backpack. Therefore, be sure to choose those vlogging cameras that are highly portable and easy to carry anywhere with you. The camera with a bulkier design is neither travel-friendly nor easy to carry. So, invest in those cameras that are portable and easy to use.
In-Body Image Stabilization:
Vlogging is always related to motion videos and pictures. So, the cameras you use for vlogging mist have in-body image stabilization to ensure a perfect shot. There are a lot of cameras available in the marketplace that come with image stabilization features, so be sure to focus on these things while making an investment in small cameras for vlogging.
External Microphone Input:
Sometimes we forget to take microphones with us while recording videos in outdoor spaces. However, some people also feel annoyed using an external microphone to record audio while creating videos. The good news is you can have the best vlogging camera with a built-in microphone or external microphone input. This way, you can record sound without any external noise distraction. 
Sensors:
The motion sensor is a great feature to look after while buying the camera for vlogging. It helps to detect motion and capture the shot perfectly. In addition to this motion sensor, you can also look after auto-focus sensors that help to adjust the frame automatically and capture the best shots.
Purpose:
Make sure to know about the purpose of purchasing a camera. For instance, if you want to shoot personal videos at home, an ordinary camera will be great on a budget. However, vlogging cameras are best if you want to create professional-style videos.
Price:
Lastly, you can look after the budget before investing. Vlogging cameras are available at different price scales. So, you can invest in those that are worth buying and fit your pocket. Beginners can purchase the budget to buy cameras. But if you need a pro-level camera, high-end vlogging cameras are best.  Make sure to make your budget and look at the vlogging camera price in India.
Top 10 Best Vlogging Cameras in India 2023:
Now you know how to decide which vlogging camera in India is best to shoot videos for YouTube, it's time to focus on reviews of some of the best cameras for vlogging. 
1. Sony Digital Vlog Camera ZV-1- Best Overall: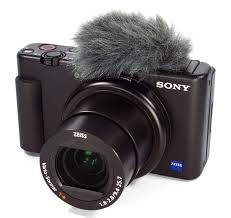 Sony Digital Vlog Camera ZV-1 deserves first place in India's list of best vlogging cameras. Equipped with a 20.1MP stack back-illuminated camera, CMOS sensor, and large aperture, the camera helps you shoot ultra-clear video with maximum stability, even without a gimbal.
Furthermore, it has a directional 3-capsule inbuilt-Mic to help record clear audio even if you forgot the mic. I loved the tiny flip screen, and you can use it for shooting solo videos for the vlog.
Plus, it comes with Video Eye AF technology that displays frames on the screen to ensure the subject is at the focus point. There is a Bokeh Switch that helps you switch backgrounds quickly to get the best shots. 
Also, the vlogging camera comes with real-time tracking and is a perfect device for taking amazing time-lapse videos. With this handy camera, you can shoot like a Pro. 
This Sony vlogging camera is an amazing pick for beginners and expert-level vloggers. The battery life is average, and a single charge gives you a good time to shoot short and medium-sized clips.
2. DJI OSMO Action Camera (Super Fast Recording)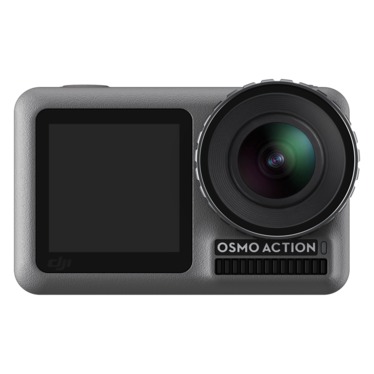 DJI OSMO Action Camera is arguably the most versatile and super-fast recording camera. This model has a vivid front screen that helps frame you in a different setting. Furthermore, the back screen delivers a hyper-responsive and crystal-clear display. On a personal note, I love its RockSteady technology that combines with a complex algorithm to deliver stable footage.
It has an actionable camera with a CMOS sensor, 145 ⁰ wide aperture, 12MP lens, and a CMOS sensor that allows you to shoot 4K HDR videos like a professional vlogger. Also, the dual-screen lets you capture wider shots with a touch button.
Last but not least, it features 8x slow motions and lets you capture epic movies with 1080 resolution and jaw-dropping clarity. Boast with exclusive accessories that make it perfect for beginners and pro-Vloggers.
3. GoPro Hero 9 Black Action Camera (Versatile Actionable Camera)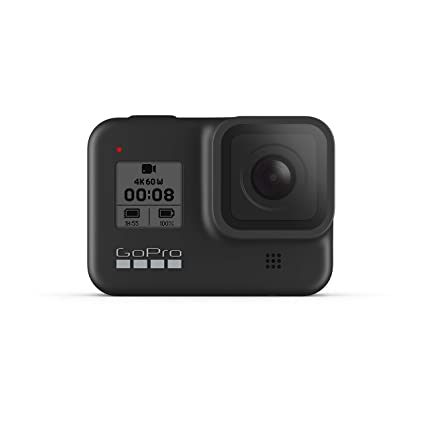 This camera is perfect for shooting vlogs underwater. The camera lets you shoot like a pro filmmaker with accessories with a flashes microphone, digital lens quick loading, and microphones. The dynamic three-level stabilization made shooting super smooth, even if you're in a noisy place.
Features with TimeWarp 2.0 automatically adjusts video speed based on your motion. I like its digital lenses with which you can easily shoot narrow, wide, distortion-free liner and super views. Plus, it comes with SuperPhoto combined with improved HDR to create the best visual contrast.
With this revamped algorithm, you can create professional videos without blurring. The camera is waterproof up to 33ft and has a tough frame making it an ideal underwater camera. Above all, if you genuinely want to start vlogging, this camera is a must to bag in.
4. Insta360 ONE R Twin Edition Sports Action Camera (5.7K Panoramic Action Camera)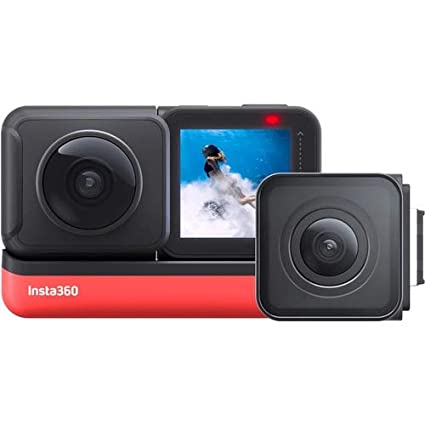 This mini camera for vlogging has a 4k 60fps wide aperture lens combined with a 360⁰ panoramic lens that helps shoot panoramic views. The paired-back camera helps to capture high-resolution videos without any glitches. The image stabilization features let you shoot perfect videos with no bounce.
It has a 5-meter bare metal water-proof design helps film videos even at 5m depth. I loved this camera because of its smart speed ramping and automatic horizon leveling, making it a dynamic camera to shoot slow-motion videos.
Feature with a night scene mode that helps to capture perfect shots in low light. Switch to the night scene mode and start capturing shots in dim light. Besides this, it comes with voice control that helps click pictures and shoot videos with one command. Of the above, it's a superb camera to shoot professional-style videos.
5. GoPro HERO10 Black – Water-proof Action Camera (Hyper Smooth Shooting Camera)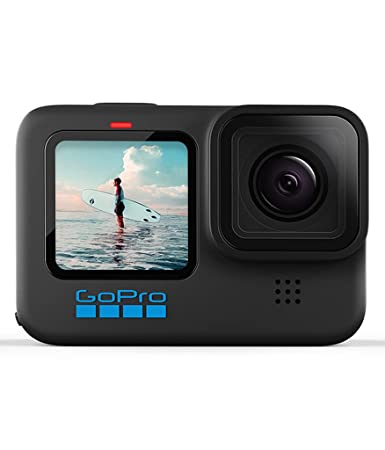 This revolutionary camera has been redesigned for faster, sharper, and crystal clear video shooting. It has a dynamic process and responsive touch control with a double frame rate for pro-level footage. The GoPro vlogging camera is specifically designed for nature's videography.
Its high frame rate and incredible 23MP 60fps wide-angle camera help record smooth motion video. The camera has 8x slow-mo features that let you record slow-motion video at 2.7k. You can even pause the slo-mo and click a still photo at 15.8MP from the 5.3K video, and that's impressive.
Furthermore, it comes with HyperSmooth 4.0 features which let you shoot video with excellent stabilization. The horizon leveling and night scene mode helps to get better shots in low light. Overall, the camera is excellent for having unbelievable video quality, sharp video texture, and impressive stunning contrast.
6. Canon EOS M50 Mark II + EF-M 15-45mm is STM Kit Black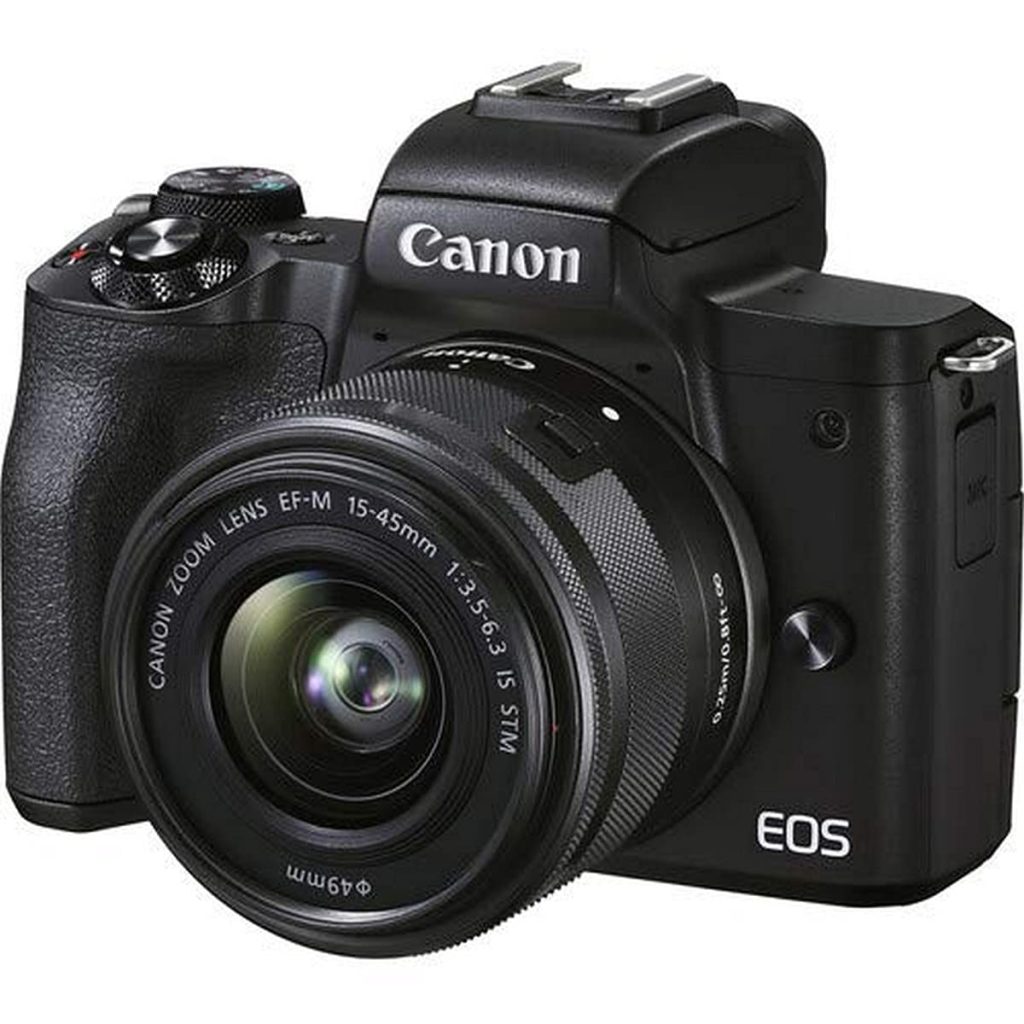 FOR MANY REASONS, Canon EOS M50 Mark II stands out as the top-notch vlogging camera. The sensibly leaned design, compact size, 4k resolution, and external Mic support let you easily record video and live stream.
This gear comes with a 20M 1-type CMOS sensor camera with 4k footage that helps to record thumbnails. Furthermore, features with an autofocus system work seamlessly with the f/2.8-1.8 lens to produce crystal-clear videos.
Also, the 30fps burst mode and stack 1-inch CMOS sensor made this a perfect camera to shoot vlogs for Instagram stories. I was impressed with its vertical shooting mode that incredibly lets you shoot videos as you do it on the phone to post on Instagram.
Though it's pricey, this handy camera is worth buying if you're serious about vlogging and want to shoot like a professional.
7. Sony RX100M3 Premium Compact Camera with 1.0-Type Exmor CMOS Sensor (Perfect for YouTube)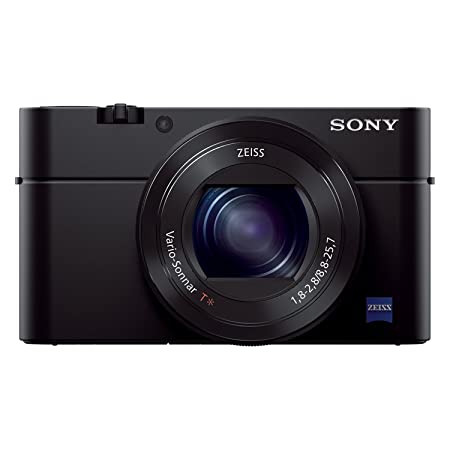 Canon Power Shot G7 Mark II camera features a whole new Digic 7 imaging processor for high-speed shooting. 20.1-megapixel cameras combined with CMOS sensor for crystal clear video shooting. Its processor has improved autofocus tracking, enhancing the IS and allowing you to shoot high-clarity videos.
It is equipped with full HD display capability, NFC, Built-in Wi-Fi, and in-camera RAW conversion; it offers you everything you need to capture a professional-style video. Its slim and compact design made it an extremely travel-friendly camera.
This camera combines with an auto-focus f/1.8-2.8 lens that helps to capture vivid shots even in low light. It has a 3.0 inches touch screen and tilt-type LCD monitor to shoot video with wider angles. Overall, this camera is a perfect fit for vloggers to shoot vlogs and capture images.
8. AKASO EK7000 4K Wi-Fi Sports Action Camera (Best High-Resolution Videos)
If you're new to vlogging and have the least budget, AKASO EK7000 is the best camera. Featuring a 4k Ultra HD 1080P/60fps action camera with which you can shoot high-resolution video. The 12MP camera combines a wider aperture lens to click crystal clear photos.
It has a wireless wrist 2.4G remote control to capture videos even from a distance. The remote control helps to shoot videos extremely conveniently. Want to shoot underwater creature videos? Go ahead! This camera is specially designed to withstand even at 100ft depth, making it ideal for underwater shooting.
Furthermore, you get a full bag of accessories that make your shooting convenient indoors and outdoors. This actionable camera comes with two rechargeable batteries that help to record 90 minutes videos when fully charged. Overall, this camera is compatible with Android and iOS devices, so you can easily import and export video.
9. SJCAM SJ4000 Wi-Fi 12MP Full HD Sports Action Camera (Budget-Buy)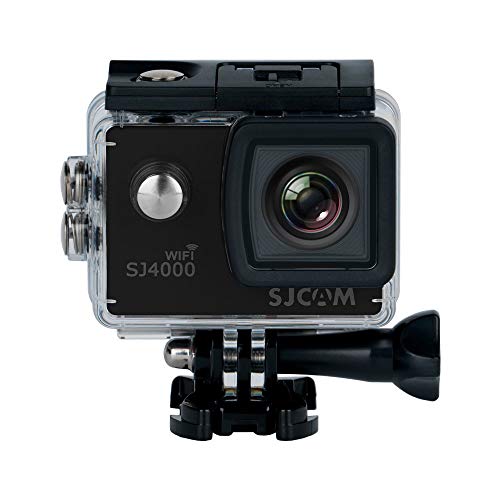 Finding the best vlogging camera under 10,000? Get this SJCAM full HD action camera. It comes with a water-proof casing which makes it highly water-resistant. Due to its durable hard-shell construction, you can film videos underwater. It also comes with a wide-angle display lens with a shorter focal length to capture videos with perfect framing.
The high-definition screen enables you to replay videos that you've recorded earlier. It features an ar0330 sensor and a 6g lens to capture wide-angle videos. You can even record time-lapse videos consistently. The camera also supports a 32GB storage card to store your videos and images.
The 12MP pixels camera helps you shoot high-definition videos without any hassles. Though it lacks a few features, it would be a great deal for beginners to start vlogging.
10. Fujifilm X-T3 26.1 MP Mirrorless Camera (Best for Time Lapse Videos)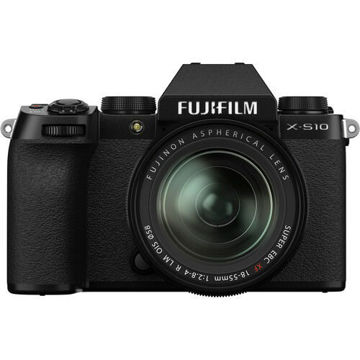 Fujifilm X-T200 is one of the best vlogging cameras in India in 2023. This mirrorless camera features a copper-wiring structure and hybrid phase for better performance. Its contrast-detection autofocus aperture and the eye-detection algorithm help focus on the face to get better shots.
Plus, it has a vari-angle 3.5 inches wide LCD touch-screen that can be opened/closed at a 180-degree angle for the perfect view. Advanced image processing helps reduce color noise and create the most appealing contrast. The HDR movie mode helps to shoot perfect angular video in full HD.
The advanced filter options help make your videos brighter and sharper. You can adjust the layout, color contrast, and visual effect to make your videos more effective. This is the best vlogging camera with a flip screen for beginners to advance vloggers.
Top Go-Pro Vlogging Camera Brands in India
Here are some of the best vlogging camera brands in India, 2023.
Sony:
Sony is one of the popular brands that offer Go-Pro cameras. The brand is famous for high-definition cameras with wider features to shoot videos like a professional videographer. Moreover, you can expect the budget to buy high-end models with versatile designs in one place.
Canon:
Canon is known for being the best DSLR cameras for vlogging and professional filming. They have an exclusive range of Canon vlogging cameras with an ergonomic design that let you shoot videos even at 4K high resolution. Canon is good if you need the best vlogging camera for underwater shooting. Maybe not the right fit for beginner vloggers, but worthier if you need to shoot professional videos for YouTube.
Go-pro:
Go-Pro is worth buying if you need a small vlogging camera at the best prices. This brand offers tiny cameras that fit in your pocket and are travel-friendly. Moreover, all cameras have exclusive features, such as a waterproof case, wider angle, high resolution, and night mode. With all these features, you can shoot the best videos and take crystal-clear videos.
DJI:
DJI is the best for having the best vlogging cameras with exclusive features. You get a new range of gear that fits your needs, from cheap vlogging cameras to exclusive underwater shooting cameras. Try out DJI cameras for vlogging if you enjoy super-fast recording with better stability and no gimbal.
Frequently Asked Questions:
How can I use a camera underwater if it is not waterproof?
You can use a protective pouch of a water-proof transparent bag to take an underwater picture. Alternatively, use a mobile phone, set the timer, and pack them in a protective pouch to shoot videos.
What is the cheapest vlogging camera?
These are some of the cheap vlogging cameras to buy on a budget. 
Canon VIXIA R800 Camcorder.
Canon EOS M200
GoPro Hero 10.
Panasonic Lumix G100
Can I use my phone for vlogging?
Yes, you can use your Smartphone for vlogging. However, a smartphone needs accessories like a microphone, a tripod stand, and more. Instead, you can try vlogging a camera to shoot videos for Vlogs.
How much does it cost to start a vlog?
 Generally, it costs you around Rs 15000-Rs 20000 to start a Vlog. The investment is in perfect camera, equipment, and site optimization.
How do you vlog for beginners?
To start a vlog as a beginner, choose a creative title and have the best small camera for vlogging. However, if you don't have the investment to have the camera, start with your phone. Use your social media platform to promote your videos.
What kind of camera do vloggers use?
As evident from the buying advice, vloggers utilize various cameras depending on their requirements.
Numerous vloggers prefer mirrorless models because they can deliver excellent image quality, impressive performance, and versatility. The top-rated mirrorless cameras for vlogging come with high-resolution sensors, in-built image stabilization for capturing smoother footage, and the ability to switch lenses to suit different shooting situations. Moreover, these cameras are relatively portable and often come with ports for connecting external accessories such as microphones, headphones, and hot-shoe lights.
Bottom Line
A Vlogging camera is a perfect device for shooting videos in outdoor spaces. They are versatile and handy enough to shoot videos without any external help. These are some of the best vlogging cameras in India 2023 that you can buy on a budget. The listed models of vlogging cameras boast advanced settings and features that help to shoot like professional photographers.
Now, from the list, you can easily decide which vlogging camera works perfectly for you. We've listed models from all top brands, from budget buy to high-end cameras. If you don't find any suitable gear, follow the buying guide and make an informed decision easily.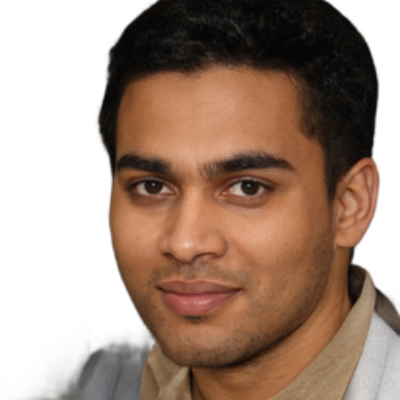 I am a Chandan Tewatia and I am the founder of this blog cfindia.net. I have been in the industry for over 10 years and have worked with some of the biggest names in the business. I have a wealth of experience and knowledge to share, and my blog is a platform for me to do just that.