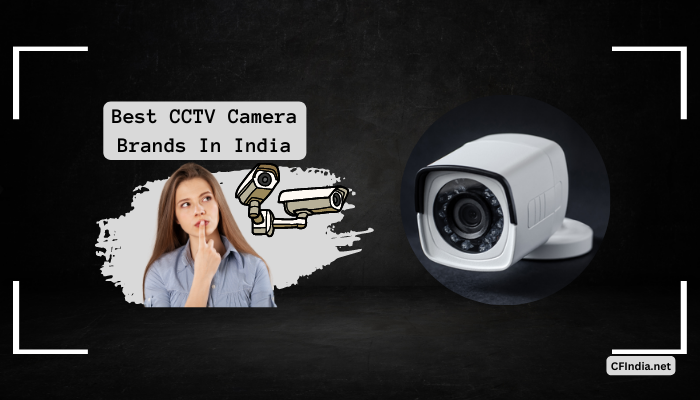 Technology and our lives are changing because it is somewhat dependent on it. Everywhere we go, we see CCTV cameras. These cameras record every movement; believe it or not, they are helpful.
Every place has CCTV cameras, restaurants, cafes, movie theatres, schools, colleges, corporate offices, roads, and even on some roads!
In this article, we will list some of India's best CCTV camera brands, which can help you ensure that crime is prevented or any other malicious activity is not carried out. 
Which Is The Best CCTV Camera Brand In India?
Although there are a lot of CCTV camera brands that exist in India, there are only some that are effective and beneficial. Apart from that, they also are affordable, which helps you fit in your price range. These CCTV cameras ensure safety; you can monitor them whenever you want. 
1. Hikvision: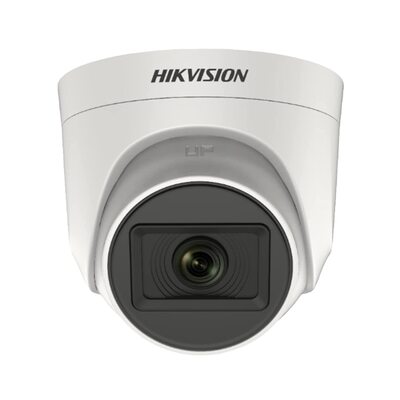 Hikvision CCTV camera is a Chinese brand and is one of the best brands of CCTV cameras in the range of security and CCTV cameras.
Apart from security cameras, they also produce equipment such as HD analog cameras, IP cameras, alarm systems, management and analytics software, and many more. There is a lot of variety when it comes to these CCTV cameras.
The CCTV cameras they produce have IP and HD analog resolutions, which help capture the videos properly.
The IP cameras have a motion audio sensor feature that helps capture minute details. Also, the price range of the CCTV cameras ranges between Rs. 1000 to Rs. 10000. 
Now, there is a whole Hikvision Full HD CCTV camera kit package. It consists of 2 dome and 2 bullet cameras, a 4CH Turbo HD DVR with a metal body, and a 90-meter 3+1 copper cable used during installation.
Furthermore, all the CCTV cameras are 3.6 mm 2 MP Turbo HD Night Vision cameras. Considering the lenses of IP CCTV cameras, they have a wider expansion. Also, Hikvision IP CCTV cameras have in-built analytics, so there is no need for extra investment on the analytics side.
Apart from all these features, these cameras are pretty easy-to-use, so even if you are not digital-savvy, they won't make a fuss. 
Pros
An upto 4-megapixel high-resolution camera, which helps to record HD pictures
While video recording, it comes with a noise reduction feature that filters out unnecessary voice
Has an alarm trigger when any intruder is spotted
Affordable price range
It can rotate and tilt up to 360 degrees which helps in capturing every angle
Cons
DVR is not equipped with a hard drive
HDD is not incorporated
2. CP Plus: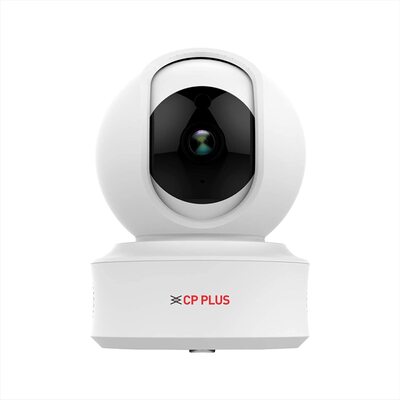 One of the leading brands in the niche of CCTV cameras, CP Plus is an Indian brand with various CCTV cameras. Its security and intelligence products have included its name in the global market.
CP Plus launched its security cameras with the catchphrase "Uparwala sab dekh raha hai" and gained people's attention.
They have security cameras in the range of home security cameras, restaurants, corporate offices, hospitals, and many more places. Like Hikvision CCTV cameras, they have IP and HD analog cameras, motion sensors, an in-built mic, and Ethernet, which are waterproof and have more functions.
The CP Plus CCTV cameras range from Rs. 1000 to Rs. 18000, depending on your preference. The CP Plus 2.4 MP HD 4 Channel DVR with 1 Dome and 3 Bullet Cameras kit is one of the best products of CP Plus.
The 2.4 MP bullet camera consists of a 3.6 mm lens, which helps capture high-resolution images, such as 1080p. Also, it is waterproof, dustproof, and can cover a range of 20 meters. Regarding the holding pattern, the audio and video are in sync, with no gap.
It has a night vision feature that helps record clear pictures and videos at night time. Further, this camera kit is armed with CMOS image sensors.
Now, if you plan on buying this camera kit without the hard drive and you can use it in your homes or offices, it is estimated to be below Rs. 10000. 
Pros
Offers next-to-perfect clarity
It has a stylish look
Well-suitable for both indoor and outdoor applications
Has a remote regulation
Cons
It might seem costly, and expensive
3. Zicom: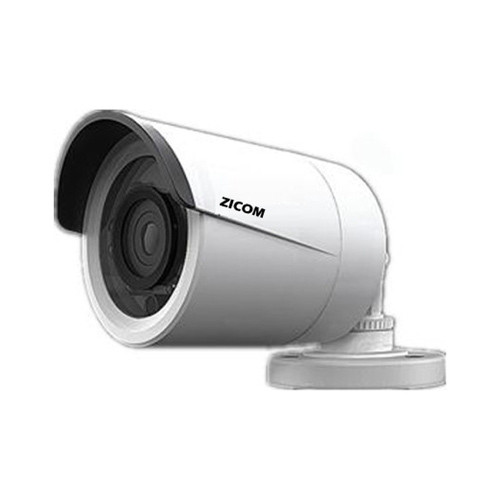 Like CP Plus, Zicom is an Indian brand that supplies security products. This brand was initially launched in 1995. Considering today's market, it has expanded its brand in security products, testing, designing, importing, programming, installing, and many other functions.
They provide CCTV cameras for both home and commercial usage. Their clients are mainly from the middle-east region, which helped them to earn a place in the global marketplace. Similar to other brands of CCTV cameras, the price range varies between Rupees 1200 to Rupees 20000. 
Many users find the Zicom 530334575 IP Dome Camera suitable for all purposes. It has a dome-like structure that helps in tilting at all angles and has multiple features. The camera has a plastic body and needs a power source of 12 volts DC and 5 watts of power.
Unlike other CCTV cameras, it delivers its video clips in HDTV mode and has a resolution of 1280 x 720 and WDR, which helps bring in clear and sharp images. As mentioned, it has amazing flexibility, such as pan up to 30 degrees, tilt up to 75 degrees, and rotation up to 30 degrees.
There are more features in this CCTV camera as well. The camera has a 1 MP lens, and it can cover an area of approximately 10 meters. Again, it is both waterproof and dustproof and works amazingly at night. 
Pros
Works well at all angles
Delivers images and videos in high clarity
Affordable
Cons
It doesn't work well if you don't have a LAN network
Only suitable for indoor use
4. Sony: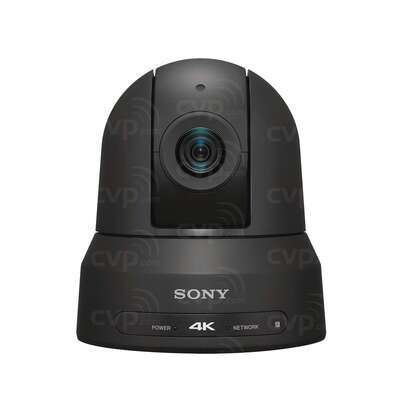 Again an Indian brand with so much popularity and success, Sony has a variety of products in the field of CCTV security cameras. One of the oldest companies dealing with electronic devices, Sony never failed to turn any stone.
They have brought the best to the plate regarding electronic devices and succeeded in the case of CCTV and security cameras. It has all the features, including HD and 4K resolution, IP network, motion sensor, etc.
Also, their products are designed according to the customer's requirements, such as price, technology, and design. 
Sony 4K PTZ Camera BRC-X400 is a versatile product with many functions that help users decide what they want. It has an easy installation process with an uncomplicated interface on your phone or laptop. This CCTV camera captures high-resolution pictures even in low-light environments with little noise.
Unlike other security cameras, they have a zoom-in feature that helps you observe all the details precisely. Their wide angle helps to cover more area than necessary, and they have a horizontal angle of 70 degrees.
Further, you can modify your captured pictures and videos regarding hue, saturation, matrix, and more. It works proficiently in every environment, regardless of whether it is indoors or outdoors. 
Pros
Amazing 4K pictures in low light
Can zoom upto 80x
Easy to install and uncomplicated
5. Bosch: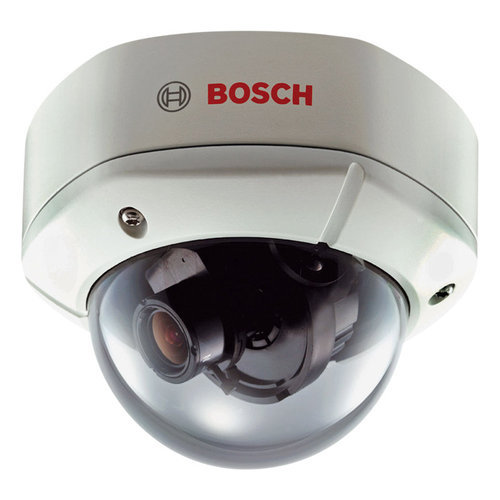 Bosch is a German-based multinational company providing a variation in electronic devices. Bosch produces analog and IP-based cameras and other extras such as keyboards, monitors, encoders, decoders, and more.
They have different types of cameras, such as 540 TVL and 720 TVL in the analog camera range. Although, IP cameras are always preferred as they have better features than analog cameras. These security cameras have diverse features such as night vision, motion and audio sensors, video analysis, and water-resistant. 
Bosch Security – FLEXIDOME IP starlight 8000i is usually preferred by many users regarding security cameras. This security camera provides 4K or 1080p resolution in pictures and videos. Again, it has an easy-to-use installation process with great performance that competes well with other brands for CCTV and security cameras.
Apart from this, it has a PTR dome, which sounds cool, but when operated in a combined mode with optical and digital modes, it makes the 8000i feature beneficial. A PTR helps the installation process easy, and you can make the camera flexible according to your needs.
Pros
540 TVL and 720 TVL camera modes
The focal range of 3.9-10 mm area
Next to negligible noise reduction
6. Samsung: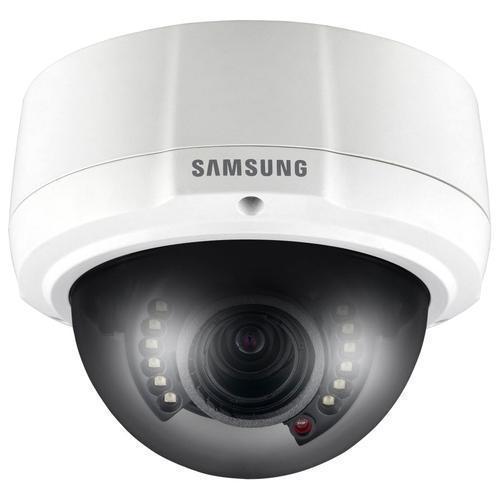 Samsung is an electronics brand with products in almost every home in India. It is one of the most trusted brands by every user that has used it. Coming to their security cameras, they are undoubtedly just like their other products.
These CCTV cameras are long-lasting and are one of the best in the market. Apart from that, they have products varying between analog cameras to IP-based cameras. Talking about the resolution, they have everything, including a wide range or Virtual Progressive Scan (VPS).
They are pretty affordable regarding the pricing of these security cameras. Their prices range between Rupees 6000 and Rupees 12000. 
The Samsung HD Bullet Camera-SCO-L2023RP is among the best surveillance cameras. This camera has a lens of 1 MP along with 750 TVL high resolution, which also comes with infrared technology. Similar to some products mentioned earlier, it can cover an area of up to 30 meters.
Unlike other products, the camera has in-built 1.3 M CMOS image sensors. Also, it requires a DVR if you want to store the images and videos that are recorded daily. Coming to its outer body is made up of powder-coated metal that proves to be durable in extreme weather conditions.
The camera requires a power source of 12 volts DC. This camera is waterproof and dustproof, with a rating of IP66. There is almost nothing that can go wrong with a brand like Samsung. 
Pros
Amazing 4K pictures in low light
Can zoom upto 80x
Easy to install and uncomplicated
Cons
It doesn't work well if you don't have a LAN network
7. AVTech: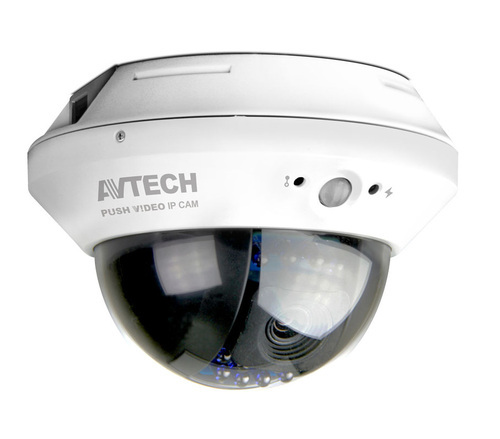 Founded in 1996, AVTech is one of the leading brands in the electronics department, acquiring a reputation in the Taiwan marketplace. It has a unique style when designing its security cameras because the outer body of the camera looks very modern.
Also, it has almost all the similar features to other CCTV cameras, which include high-resolution pictures, motion sensor detectors, negligible noise, effective area coverage, and more. 
The 2MP Motorised 1080P TVI Eyeball camera is a security camera with all your requirements and preferences, and you can adjust the changes accordingly. Firstly, it has a ½.7" CMOS sensor equipped with 1080p output. Further, the camera is also equipped with low light sensitivity that helps to record pictures and videos in low light and in high resolution as well.
It consists of DWDR to escalate the image visibility in dark areas. Apart from that, it can cover an area of up to 50 meters which is comparatively higher than other security cameras. Also, it has IP66, is waterproof, and is dustproof. 
Pros
540 TVL and 1080P TVL camera modes
The focal range of 3.9-10 mm area
Next to negligible noise reduction
8. SANYO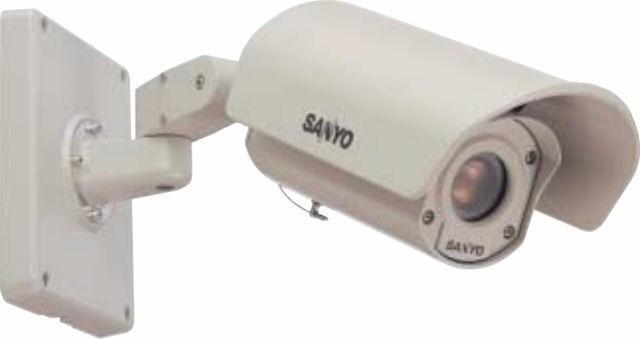 SANYO is one of the leading manufacturers in the world of electronics. Being one of the oldest brands in electronics, they have been successful in delivering amazing services to their customers over the world. They have a great range of CCTV cameras; you can choose your preferred one considering your requirements.
Apart from CCTV cameras, they have analog cameras, IP cameras, encoders, decoders, network recorders, and many more products.
Pros
Amazing 4K pictures in low light
Can zoom upto 80x
Easy to install and uncomplicated
Cons
DVR is not equipped with a hard drive
9. LG: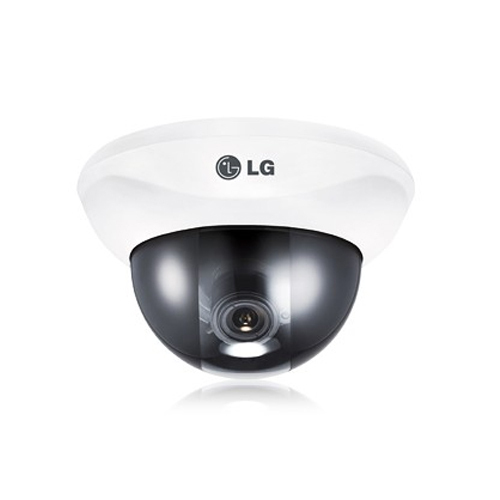 LG has always been there for its customers when it narrows down to the production and technology of electronic gadgets.
It has an expansive range in terms of all gadgets and also security and CCTV cameras. LG security cameras have a DIY feature that avoids all the necessary drama for installing the product. Apart from that, it has affordable rates for everyone and is wireless. 
The LG Smart Security Wireless Camera is a wonderful indoor and outdoor product. It has IP resolution, which does the work that an actual IP camera is supposed to do. Also, it has an unconventional design and a 5 MP lens that will capture everything.
The lens does wonders in terms of rotation, as it can rotate 130 degrees and capture 1080p images and videos. Speaking of which, it also has two IR LEDs that provide 15 feet of night vision. Further, the CCTV camera has a built-in mic and speakers for two-way transmission.
Unlike other security cameras, this one has temperature and humidity sensors for your indoor environment and a 93 dB alarm when any intruder is spotted. The camera is super advanced regarding technology elements, as you can receive emails and push notifications on your connected devices. 
Pros
Amazing video condition
It can be connected with Z-wave smart home articles
Cons
You cannot view or record any footage without a paid subscription
No free cloud storage alternative
10. Vantage: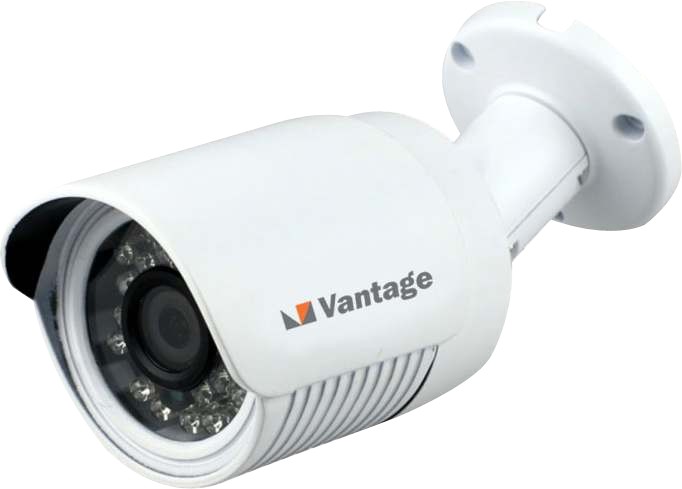 Last but not least, Vantage generally produces surveillance, CCTV, and IP-based cameras. They also have achieved a spot in the global marketplace regarding security devices. 
The Vantage 2 Megapixel Dome CCTV Camera is a premium quality security camera from Vantage. It has a lot of features which has helped the product to stand out among many other security cameras.
The camera has a full HD ⅓ inch Sony Exmor Progressive Scan Image Sensor, allowing you to view images without blur.
Also, it has a 5 MP lens, in which 3 MP is the high-performance lens, and 2 MP is for day and night vision. The camera has auto white balance and auto gain control in-built in it. 
Pros
Works well at all angles
Delivers images and videos in high clarity
Affordable
Cons
DVR is not equipped with a hard drive
HDD is not incorporated
Which One Is The Best Security Cam Or A Webcam?
All of the above-mentioned products for security cameras are truly amazing. Their features are the best you can ever get in any other brand. The main features include CCTV camera price, 4K resolution, HD images and videos, IP and analog cameras, and waterproof.
You can choose your security camera according to your preferences and what you need for your environment. Whichever you choose, you need to check your requirements with the product you choose.
All of these products are selected from a wide variety, and their performances have been loved by the existing users, making them get a spot in the best CCTV cameras in India. 
The Qualities That The Best CCTV Camera Brands In India Should Have Are:
High resolution: The cameras should have high resolution, allowing for clear and detailed images.
Night vision: The cameras should be capable of capturing clear footage even in low-light conditions.
Wide-angle lens: The cameras should have a wide-angle lens, allowing for a broader field of view and better coverage.
Motion detection: The cameras should have motion detection capabilities, triggering alerts or recordings when motion is detected.
Remote access: The cameras should offer remote access, allowing you to view footage from anywhere using a smartphone or computer.
Weatherproof: The cameras should be weatherproof and able to withstand rain, dust, and extreme temperatures.
Easy installation: The cameras should be easy to install, with clear instructions and minimal wiring required.
Reliability: The cameras should be reliable and durable, with minimal downtime or malfunctions.
Support and warranty: The brand should offer good customer support and a warranty, providing peace of mind and assistance in any issues.
Overall, the best CCTV camera brands in India should provide high-quality cameras with advanced features while also being easy to use and reliable, with good customer support and warranties.
Frequently Asked Questions:
What is CCTV?
The full form of CCTV is closed-circuit television and is generally used to capture images and videos.

How many GB does a CCTV camera consume per day?
Usually, a normal CCTV camera consumes approximately 60 GB, depending upon its usage.
What is BTS CCTV live?
BTS CCTV Live is a 34-minute video of all seven band members in different locations.
What is the maximum range of CCTV cameras?
Although each brand offers a different coverage range, a maximum of 35 to 40 feet of the area can be covered.
What are the duties and responsibilities of a CCTV operator?
There are a lot of duties and responsibilities of a CCTV operator. Still, some main ones include operating the equipment, maintaining the equipment, storing footage, watching the surveillance, and reporting accidents.

What is an IP camera CCTV?
IP camera CCTV is an Internet protocol camera that captures and sends recordings via an IP network.
How to install CCTV Cameras?
There are a couple of easy steps when installing CCTV cameras. 
First, you must decide where to fix the camera and the appropriate place.
Next, you need to place the DVR where all the footage will be stored.
Now, you have to manage and connect all the wires that might go around your house.
Lastly, you need to power on the system, and you're all done.
Conclusion:
This is a complete list of the best CCTV camera brands in India. There are a lot of different products in the market, but you should know which one to buy because not all of those products are good and recommended.
With technology being a boon in some cases, the best security cameras will provide you with next-to-perfect services according to your requirements.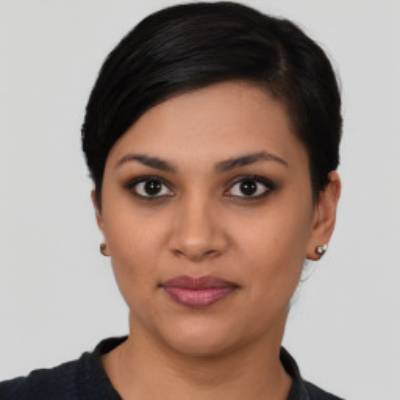 I am Garima, pursuing my 3rd year Electronics from Delhi University and I like to write on gadgets and computers through my social media, blogs and actively participating on quora discussions on gadgets. I have a keen interest in technology and how it can be used to improve our lives.