The age-old debate of mirrorless cameras versus DSLRs has still not been settled yet, it seems. There is a huge group of people that still believe in the superiority of DSLRs despite the rising popularity of mirrorless cameras.
If you want to know which of the two won the debate, then you have come to the right place. In this article, we will cover the major differences between a mirrorless camera and a DSLR.
Although big companies like Canon and Nikon have not launched new DSLR cameras in quite some time, that does not mean that they are out of date. Mirrorless cameras have certainly taken over the photography realm.
But are they trusted enough like the good old DSLRs? Also, if you are a beginner, should you opt for a DSLR or a mirrorless camera? And if you have been using a DSLR for a long time, should you upgrade to a mirrorless camera?
Well, hold your horses. We are about to answer all your questions. So, without further adieu, let us get started!
Best Time to Buy a DSLR
Are you looking forward to buying a new DSLR? With the photography market bustling with customers, it can be said that you can purchase a new DSLR at almost any time of the year.
But after much research and statistical data, we have found that DSLRs must be bought when brand new models are introduced on the market.
Often, we have seen that once an upgraded model is launched on the market, the price of the older models tends to go down. This is a very good opportunity to buy old DSLR models unless you want to go for the latest models.
For example, if new models are launched in January, then the older models are likely to go on sale by February. But if you are a professional DSLR photographer who likes to buy new models immediately when they are out on the market, then you must always keep an eye and look out for the perfect opportunity.
Moreover, you can always consider buying DSLRs during holiday deals in the event of Christmas, Diwali, New Year, Independence Day, and so on. Even the new DSLRs are available at a discounted price.
Best Time to Buy a Mirrorless Camera
Mirrorless cameras are the talk of the market as they are very much in trend. But when is the perfect time for you to get yourself a mirrorless camera? As mentioned before, the photography market is always active, and if you are in a hurry for a vacation or a wedding, then you may purchase it at any time of the year.
But as we've seen in the past with technological products, as technology advances, prices fall. Should you wait until technological advances make cameras extremely affordable?
Similarly, mirrorless cameras are comparatively new to the market, and hence there are major technological advancements that are still being made to improve the image quality. Should we wait for the upgrades to drive the price lower?
The answer is no. We would have missed out on all of those applications if we had waited too long for technology to drive down prices.
Simply put, you can purchase a mirrorless camera whenever you please. Companies are launching cameras more frequently now. So all shutterbugs must be vigilant enough to grab the new mirrorless cameras as soon as they are available on the market.
But if you want them at a cheaper price, then you can always consider buying them at the sale during the holidays. You can also opt for older models as they are cheaper when a newer model is introduced.
What Is the Difference Between Mirrorless Cameras and DSLR Cameras?
When DSLR cameras first came on the market, they were called the kings of photography. But ever since mirrorless cameras have entered the market, people are starting to reconsider what was previously stated. But it cannot be denied that both DSLR and mirrorless cameras have made significant advances and innovations.
DSLR is an abbreviation for digital single-lens reflex cameras. It's the digital equivalent of a film SLR camera, which means it captures images with a digital imaging sensor rather than using conventional photographic film.
Light enters the camera through the lens and is reflected off a mirror in the camera body, which bounces light into the viewfinder. Thus, when you press the shutter button, the mirror lowers, exposing the digital sensor, which absorbs light and captures the image.
On the other hand, mirrorless cameras are almost the same except they don't come with a mirror. Light enters the lens and never bounces off a mirror to illuminate a viewfinder; instead, the light is directed directly to the sensor.
After that, the sensor is electronically projected onto the camera's rear LCD and (in some cases) through an electronic viewfinder.
When you press the shutter button on a mirrorless camera, the sensor simply begins recording data, and you get a photo. Since it does not have a mirror, it is much smaller and more compact compared to the DSLR cameras.
A Comparison Between Mirrorless and DSLR Cameras
Now we will go into the main part. The entire article was about the differences between the two variants of the camera. We will distinguish between them on the basis of essential features like size, weight, autofocus speed, lenses, and so on.
Size and Weight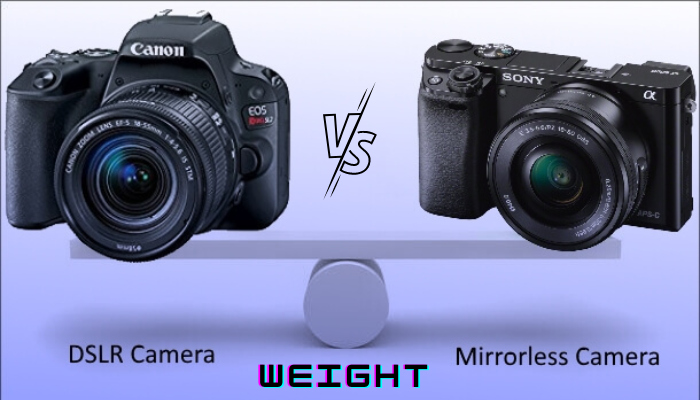 Size and weight are both important features that you must always look for in a camera. This is because you will have to take the camera with you to whichever place you want and not the other way around.
Hence, the camera must be compact and lightweight, making it portable. In this aspect, it is fair to say that mirrorless cameras are the better option.
DSLR cameras are generally bulkier than mirrorless cameras because they must accommodate a mirror and its housing, a pentaprism, a secondary autofocus mirror, and other autofocus system components. Even so, some APS-C DSLR cameras can be quite light.
Mirrorless cameras are significantly smaller than DSLRs due to the absence of the mirror mechanism and the viewfinder prism.
Full-frame mirrorless models are similar in size to full-frame DSLRs, whereas APS-C mirrorless models are similar in size to compact point-and-shoot cameras. The Micro Four Thirds mirrorless models are comparatively the smallest among the mirrorless cameras.
However, if you add a lot of bulky lenses, the mirrorless cameras will eventually weigh the same as their DSLR counterparts. Additionally, if the body of the camera is light and the lens is heavy, it may create a fair amount of disbalance during the shoot. Hence, this may be an issue for mirrorless cameras.
Price
At the end of the day, it will matter whether the camera you are buying is within your budget or not. You would not want to buy an extremely pricey camera that has the features of an average camera. Affordability has always been a factor when it comes to such devices.
You can acquire a good camera with good specs and a lot of features for a reasonable price if you buy an entry-level to a mid-level DSLR camera.
But the converse is not true. Anything on the lower end of the mirrorless camera spectrum will be weak in resolution, and battery life, and will lack a viewfinder. If you are opting for a mirrorless camera, make sure to expect a good pocket pinch.
DSLR and mirrorless cameras, on the other hand, are tied on points at the more professional and expensive end of the range. Be it a mirrorless or DSLR camera, you get nearly the same number of features, power, and performance, and the pricing range is the same.
Hence, we can say that prices would not differ if you are planning to buy a mirrorless camera or a DSLR camera on the higher spectrum.
Lenses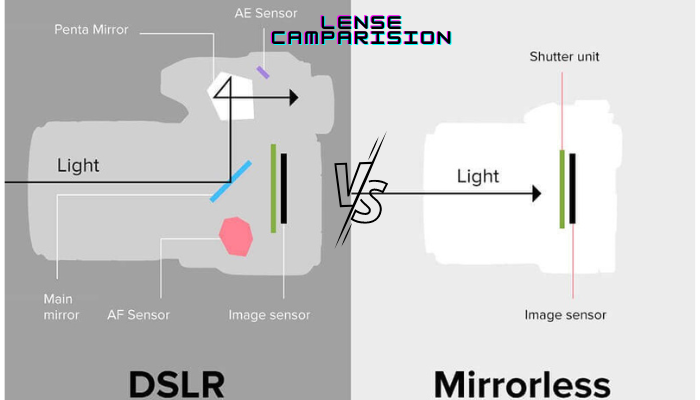 Lenses are an essential part of whatever camera you purchase. If you want your camera to capture different types of pictures under different lighting conditions, then you must have a variety of lenses for your camera.
Because DSLRs have been available and maintained for decades, they still have a lens selection edge. Anyone purchasing a Canon EOS DSLR today has access to 30 years of native optics as well as a plethora of compatible third-party alternatives.
With their DSLR lineups, Nikon and Pentax are in a similar position. However, what has dragged DSLRs behind in terms of development is that most companies are focusing more on lenses that are suitable for mirrorless cameras.
With the above said, we must not underestimate the power of mirrorless camera lenses. Companies like Fujifilm, Olympus, Panasonic, and Sony have enabled mirrorless cameras to be equal to DSLR cameras in terms of lens selection.
Fujifilm and Olympus have also had considerable time to create their native lens setups, so hardly any of the mirrorless camera brands are currently at a huge disadvantage in terms of lens availability. It is safe to say that both DSLRs and mirrorless cameras are the same in terms of the lens selection range.
Battery Life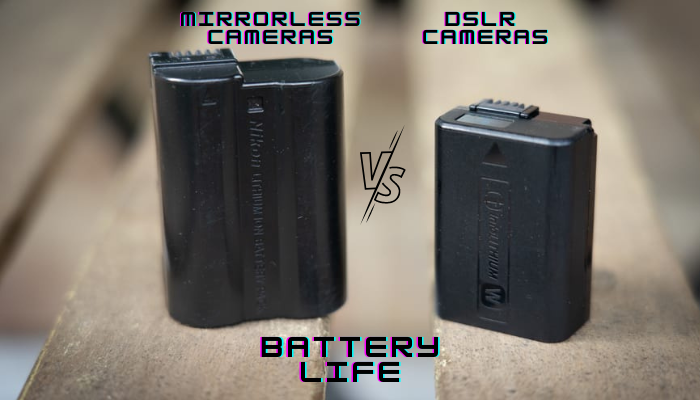 DSLRs win in terms of battery life. Mirrorless cameras are considerably less impressive when it comes to battery life.
An average DSLR camera can take up to 600–800 shots per battery, whereas even the best mirrorless cameras fail to produce 500 shots per charge. A high-end DSLR may even offer more than 1500 shots per battery.
Mirrorless cameras rely mainly on LCDs and electronic viewfinders, whereas DSLRs are mostly mechanical. As a result, while most DSLRs are rated at 800 shots or more per charge, many mirrorless cameras are rated at 300-400 shots.
Mirrorless camera bodies are smaller, which means smaller batteries. Since mirrorless camera sensors are always active, they drain battery life quickly.
However, the data above is now based on CIPA ratings, which do not reflect the actual usage of the camera. A typical mirrorless user can get over 400 images from a single battery, but you'll still need to bring a few additional batteries with you for day long shoots and when traveling, which can be annoying.
So, if you want to shoot carefree without having to carry too many spare batteries, then you must go for the DSLR.
Viewfinder
Comparing the viewfinder is very tricky because both of them are equally good. However, it all boils down to your personal preference. Whether you like the DSLR more or the mirrorless camera more, it is all up to you.
When using a DSLR, the image displayed in the viewfinder is the image that comes out of the lens. The image is reflected up to the viewfinder by a mirror within the DSLR. But on the other hand, since there is no mirror to deal with in the mirrorless system, the viewfinder image is formed electronically.
Simply put, when you look through the viewfinder of a mirrorless camera, you see a digital image. Conversely, when you look through the viewfinder of a DSLR camera, you see exactly whatever the lens sees.
Electronic viewfinders feature zoom functions for precise manual focusing and can provide a more visible image of a scene in low light. These are two overlooked perks of electronic viewfinders.
Electronic viewfinders, with their auto-gain light amplification effect, let you compose and capture shots in near darkness and have contributed to the emergence of small-aperture telephotos.
Shooting in the Field
While shooting in the field, some factors must be checked on whatever camera you are purchasing. They must adapt well to the environment, low-light conditions, and terrain. This depends mainly on the build and the autofocus time.
In terms of size, mirrorless cameras have always had an edge, but DSLRs, though a little heavy, is good for shooting outdoors.
Moreover, several new DSLR models weigh almost the same as the mirrorless ones, so the debate between the two and their portability cancels out. Additionally, lenses are often bulky, so it does not matter if you are using a DSLR or a mirrorless camera.
DSLRs have traditionally dominated focusing and low-light shooting, but mirrorless low-light monsters like the Sony a7S III are beginning to disrupt that.
Autofocus technologies on mirrorless cameras have also advanced significantly, with cameras like the Sony A6400 now claiming unrivaled autofocus rates.
DSLRs, on the other hand, are still better at autofocusing on incredibly fast targets, which is important in sports and wildlife photography.
Image Quality
Both DSLR and mirrorless cameras are capable of producing high-quality images with identical resolutions and noise levels. Traditional mirrorless cameras featured smaller picture sensors, which indicated lower quality (since they couldn't capture as much light), but this is no longer the case. Camera makers have figured out how to make more sensitive circuits and how to eliminate small sensors.
Although the image quality of both the cameras is almost identical, there are a few features that are slightly better in each of them. For example, if you are looking for a camera that performs very well in low-light conditions, then you may choose a mirrorless camera.
In particular, a number of mirrorless camera manufacturers are now using bigger picture sensors. Sony and Canon, for example, produce mirrorless cameras with the same APS-C sensor size as most DSLRs.
A variety of full-frame mirrorless cameras with the same sensor size (35mm) as premium DSLR cameras are also available. So, even in terms of sensors, mirrorless cameras are becoming parallel to DSLRs.
But, at the end of the day, DSLR cameras and mirrorless cameras are very much the same in photo quality. This is because they almost use the same image processors and sensors.
Video Quality
For two key reasons, mirrorless cameras have a significant advantage in this area. For starters, their shape lends itself to the continuous 'live view' essential for video capture.
Second, this is where camera manufacturers focus their video capture technologies, and this is where you'll find the best video capabilities and performance.
But don't overlook that DSLRs can also shoot video. The Nikon D90 was the first DSLR to shoot HD video, while the Canon EOS 5D II was the very first DSLR to shoot professional videography and filmmaking. However, modern DSLRs have video capturing as a standard feature.
Besides that, mirrorless cameras receive all of the attention and development work when it comes to 6K and 8K capture, raw or 10-bit video, fast frame rates, and more.
Hence, if you want a camera that will satisfy your high-end needs related to video, then, in our opinion, mirrorless cameras will work wonders for you!
But a DSLR can suffice if you only need video on occasion, but if it is a key (or THE most important) element of your business, mirrorless is the way to go.
Mirrorless lenses are increasingly using high-tech focus mechanisms and quiet stepping motor autofocus technology for seamless and hushed focus changes when recording; the bulk of DSLR cameras was developed at a time when this wasn't even contemplated.
Image and Video Playback
This is particularly one of those features where the comparison between DSLR and mirrorless cameras is unclear. Both of them have a three-inch LCD display that allows you to preview images and videos.
Despite the disparities between mirrorless cameras and DSLRs, there is still a common way to use both. When it comes to image and video playback, there is no obvious winner in this duel between DSLRs and mirrorless cameras.
But certain models of mirrorless cameras have tilted LCDs, which gives you an edge while viewing images and playing videos.
EVFs on mirrorless cameras, on the other hand, have the advantage of allowing you to see what the final image will look like before you take the shot. When you alter the shutter speed or aperture, for example, what you see in the EVF changes as well.
Meanwhile, because the optical viewfinder of a DSLR reflects light without distorting the image, you must rely on the camera's calibration and your own experience to determine how your final output will appear. In terms of the image preview, mirrorless cameras have a clear advantage over DSLRs.
Autofocus Speed
Previously, DSLRs used to have an edge in this area because they employ phase-detection technology, which swiftly measures the intersection of two light beams.
Contrast detection, which leverages the image sensor to identify the maximum contrast, which corresponds to focus, was the only technique available to mirrorless cameras. Contrast detection is slower when compared to phase-detection technology.
But that was ages ago. Almost all mirrorless cameras now include phase and contrast detection sensors in the image sensor. The Sony a6100, for example, features 425 phase-detection autofocus points and 425 contrast-detection autofocus points on its image sensor.
Fast-moving sports and action photography, which formerly required a DSLR, may now be effectively captured with mirrorless cameras.
Even DSLR enthusiasts would have to admit that the separate phase-detect AF systems in DSLRs look pale in contrast to the capabilities of the hybrid on-sensor focusing technology in the newest Sony A7 IV mirrorless camera.
The Benefits of Having a DSLR Camera
Although mirrorless cameras are excellent, there are several reasons to continue with a trusted DSLR. DSLRs are mostly mechanical, whereas mirrorless cameras rely heavily on LCDs and electronic viewfinders.
Consequently, while most DSLRs are rated at 800 shots per charge or more, many mirrorless cameras sit in the 300–400 shot range.
The more expensive DSLRs can even give you a shooting range of 1550 per battery. This means you do not have to worry about carrying spare batteries everywhere you go.
The middle and upper-tier professional DSLR models with solid glass pentaprism optical viewfinders have a superb viewing picture that no mirrorless EVF can equal.
DSLRs are often bigger than mirrorless cameras, allowing for greater space for separate settings for various camera functionalities like ISO, exposure correction, white balance, and so on. This is something that you won't find on mirrorless cameras.
In other words, optical viewfinders on DSLRs show you the world as it is, but electronic viewfinders on mirrorless cameras show you the world as it appears to your camera sensor. Electronic viewfinders have their advantages, but some photographers like to see the world as it is and not through image sensors.
The Benefits of a Mirrorless Camera
A mirrorless camera will make it much easier for you to take your camera with you everywhere you go. They're also rather light, so you can shoot all day without getting tired.
Because they don't need a big, heavy mirror box or the gears to shift a reflex mirror into and out of the light path, mirrorless cameras, regardless of size, are typically smaller and lighter than similar DSLRs.
As a result, they have fewer moving parts, are quieter to operate, and are intrinsically less prone to creating shake-inducing vibration than standard DSLRs.
An electronic viewfinder is included in professional mirrorless versions, providing a continuous live feed to the sensor. If your camera doesn't have an electronic viewfinder, it still has an LCD with the same functionality.
The hybrid CAF and PDAF systems in mirrorless cameras allow them to continuously focus on the subject, an essential feature that helps in wildlife shooting.
Silent shooting is available on many mirrorless cameras, and it is truly silent. This is ideal for event photographers who want to be as inconspicuous as possible, as well as street photographers.
And even wildlife photographers who want to avoid attracting the attention of their subjects. Although some DSLRs have quiet-shooting settings, they aren't truly silent.
Frequently Asked Questions
Which is better: DSLR or mirrorless?
The DSLR has a larger range of interchangeable lenses, a longer battery life, and a superior optical viewfinder for low-light shooting. On the other hand, mirrorless cameras are smaller, lighter, and provide higher video quality, even in lower-end versions. So it really comes down to what your preferences and purposes are. 
Do professionals use DSLRs or mirrorless?
Many professionals alternate between DLSRs and mirrorless cameras. Some argue that mirrorless lenses and autofocus aren't quite there yet and that DSLRs are the better option. The usage of both cameras actually depends on the genre of photography. So, it is safe to say that professionals use both mirrorless cameras as well as DSLRs. 
What is the advantage of a mirrorless camera?
Because mirrorless cameras don't have a mirror mechanism, they provide better image stabilization and less jittery photos. And, because there are fewer moving components inside, they're quieter and more inconspicuous. The sensor size of mirrorless cameras is smaller than that of DSLRs, which means they are compact and lightweight. 
Will mirrorless cameras replace DSLRs?
Mirrorless cameras have the potential to replace DSLRs in the long run. But there are still high-end DSLRs that no mirrorless camera can compare to. Big companies like Canon, Nikon, and Panasonic have deployed their workforce solely towards the development and technological advances of mirrorless cameras. 
Conclusion
At their fundamental level, both mirrorless and DSLR cameras are equally amazing. They each have their own set of advantages and disadvantages. Technically, there is no winner when it comes to the comparison between DSLRs and mirrorless cameras.
Mirrorless cameras have some major benefits, such as live exposure simulation, a smaller size, and quiet shooting, while DSLRs have a few advantages of their own, such as excellent battery life and optical viewfinders.
And in this article, we have made sure that we compared each and every feature of the variety of cameras. We believe this will immensely help you choose between one of them.
The choice between a DSLR and a mirrorless camera is entirely dependent on your shooting requirements. We would recommend buying a mirrorless camera if you want to travel with your camera, value silent shooting, and like the notion of a useful exposure preview. But if you like the quality of an optical viewfinder or don't mind a limited battery life, a DSLR is the way to go.
Today's mirrorless and DSLR cameras demonstrate how far digital camera technology has progressed, as both can generate never-before-seen image quality while providing outstanding performance and simplicity.
DSLRs may be the most popular now, but with the rapid advancement of photography technology, we have no idea what the photography enthusiasts may prefer.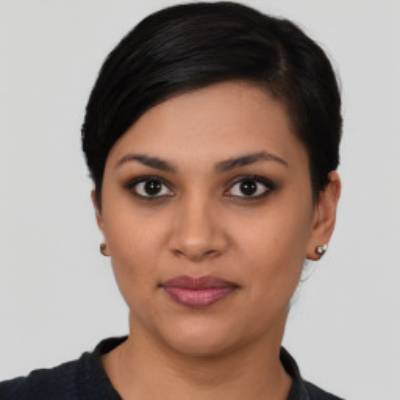 I am Garima, pursuing my 3rd year Electronics from Delhi University and I like to write on gadgets and computers through my social media, blogs and actively participating on quora discussions on gadgets. I have a keen interest in technology and how it can be used to improve our lives.