Do you know how much RAM is needed for a laptop? Is 8GB Ram Enough for Laptop? maybe you're thinking about whether or not spending the extra money for 8 GB of RAM will be worthwhile in 2023.
If you're like most people, the answer is probably "more than 8GB." But is that necessary?
In this article, we'll discuss why laptop users often require more than 8GB of RAM and provide a few tips on determining how much RAM you need. We also suggest a few alternate options if 8GB isn't enough. so read on to find out more!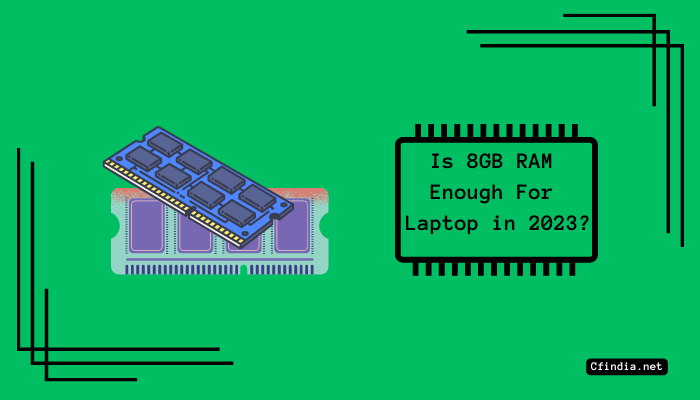 Frankly, 8GB of RAM is generally enough for most laptop users, particularly for performing basic tasks such as web browsing, office work, and video streaming. However, if you plan to use your laptop for tasks requiring high specifications, such as gaming, video editing, or running multiple programs simultaneously, you may or may not consider a laptop with 16GB or more RAM.
Does More Ram Increase PC Speed?
That's like asking if putting more tires on a car makes it go faster: it just doesn't make sense. If your vehicle only has two tires but needs four, adding the other two tires will almost certainly make your vehicle go faster.
Because if you try to drive it with only two, it will be quite difficult. Providing it even moves at all. It is not difficult to answer. Simply open the task manager, and look at memory usage. Increasing the RAM if used for more than 70 percent of its capacity, makes sense.
Which RAM Type Is The Fastest?
The acronym DDR stands for double data rate; in layman's terms, DDR3 is double the speed of DDR2 and quadruple the speed of SDRAM. DDR4 is faster than both. Regarding RAM, you're looking at two options: DDR3 and DDR4. DDR4 is newer and faster than DDR3, but not by much.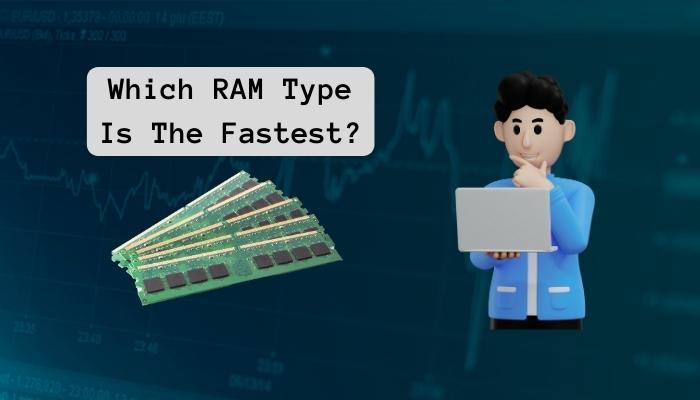 You probably won't notice a difference in real-life performance unless your computer or motherboard supports both types of RAM. If your PC has a powerful graphics card, you might get better frame rates by upgrading to DDR4 if your computer supports it. Upgrading to DDR4 will boost your game performance if you're using a weaker GPU.
8GB RAM Vs 16GB RAM:
8 GB, 16 GB. Your RAM. Your machine's memory. You're probably familiar with the term, but how much do you know about it? Is 8GB enough? Do I need 16GB? What do I use it for, anyway? 
16GB is sort of the sweet spot for RAM these days. 8GB is good enough for most of us. But if you're a gamer, aspiring filmmaker or programmer or like to keep many apps open at once, 16GB might be worth the extra cost.
4GB Vs 8GB RAM Laptop:
When it comes to laptop specs, many people tend to go overboard. 8GB of RAM is becoming increasingly popular, but is it necessary? 4GB of RAM is the minimum amount needed for the vast majority of laptop configurations. If you need to save space on your hard drive, downsizing to 4GB may be the best option.
Additionally, laptop manufacturers typically offer extra memory (up to 16GB) as an upgrade option, so don't hesitate to ask about it! Ultimately, it's best to research and determine what specs are best for you. As long as you know the minimum specs and how much memory your specific laptop needs, you'll be on the way to a desktop-like experience on the go!
Is 8GB RAM Enough For A Laptop?
Memory is an important factor when it comes to laptops and computers. But how much memory is enough? In simple terms, 8GB of RAM is the minimum required for most laptops. Remember, more memory doesn't necessarily mean a faster or more powerful laptop or computer. So if you don't need all of that memory, it's always possible to upgrade in the future.
As computing power has increased exponentially over the last few years, so has the demand for RAM. Laptops now require 8GB of RAM to run properly – more than enough for most users. So don't be afraid to upgrade your laptop or computer in the future, as more memory might be just what you need for a smooth and hassle-free computing experience.
How To Add RAM To A Laptop?
If you're like most of us, your laptop can't seem to keep up with the demands of today's apps and multitasking. It's not just limited to 8GB of RAM – most laptops are built with limited memory, which can't handle the heavy load of today's programs. Luckily, there are various ways to add RAM to your laptop.
Each one is easy and affordable and will give your pc a much-needed boost. Ensure your chosen ram is compatible with your laptop model and operating system. Additionally, upgrading your memory will give you a speed boost and improve your laptop's overall productivity. So, what are you waiting for? Upgrade your ram today! 
How Much RAM Do You Need?
RAM (Random Access Memory) is critical for laptops. Many of these machines come with 8GB of RAM, which is enough for most users. If you're concerned about how much memory your laptop has and don't think 8GB will be enough, don't worry – most laptops today are incredibly fast without extra memory.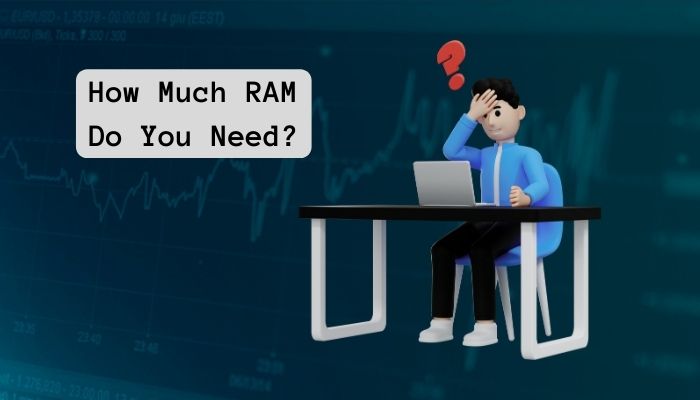 Some even come with no memory (like the iPhone), so don't worry if your budget doesn't allow for 16GB or even 24GB of RAM. More is not always better – too much memory can slow down your computer and cause problems. If you need more, consider upgrading to a laptop with 10 or 12GB of RAM.
Is 8GB RAM Enough For Gaming?
Do you have any idea how much RAM your laptop has? If you only plan to use it for simple activities such as web browsing and online shopping, then you should be fine with just 4GB of RAM. To be a gamer, you will require a minimum of 4GB of RAM.
With more RAM, you can play games on a laptop with faster loading times and clearer graphics. Consequently, whether you want to replace your laptop or get an idea of how much memory you'll need, beginning with 8 gigabytes of random access memory (RAM) is a decent place to start.
Is 8GB RAM Enough For Video Editing?
Many believe 8GB of RAM is the minimum memory required for laptop usage. While this amount of memory will suffice for most basic tasks, it's not enough if you want to use your laptop for video editing. For this purpose, upgrading to 16 or even 32GB of ram is recommended.
Even though most laptop manufacturers now include 8GB of RAM as standard, it's always best to check with your manufacturer to see if an upgrade is available. If you plan to use your laptop for video editing, investing in an upgrade to 16 or even 32 GB of RAM is important. Doing so will ensure you have enough memory to handle the intensive video encoding and playback tasks. 
Is 8GB RAM Enough For Programming?
Laptop memory is becoming more and more important as technology advances. While 8GB of RAM is sufficient for most tasks, it's not enough if you want to do serious programming or graphics-heavy tasks. If you need more memory, consider upgrading to a laptop with 16GB or even 32GB of RAM.
Always check the specifications of a laptop before making a purchase – just because a laptop has 8GB of RAM doesn't mean it can handle heavy programming work! Laptop manufacturers are starting to include more RAM in their models, so there's no need to worry about running out of space soon.
Is 8GB RAM Enough For Windows 10?
Windows 10 is a powerful operating system that can take advantage of more memory. 8GB of RAM is a better option if you frequently use applications requiring more memory. For example, if you're a photo editor or gamer, 8GB of RAM will be much better than 4GB of RAM. 
However, if your laptop primarily runs simple applications like email and web browsing, Laptop with 4GB of RAM is likely enough. It all depends on the type of work you do and how frequently you use Windows 10. So, ask your manufacturer what they recommend for your specific laptop.
Frequently Asked Questions:
Is 8GB RAM enough for everyday use?
 Yes. 8GB of RAM should be enough for word processing, web browsing, and music playing. If you download large files or play heavy games, you may need more RAM. Keep your system up-to-date with security patches and other upgrades to run faster and more efficiently.
Is 8GB RAM enough for Windows 11?
 While 8GB RAM is the current recommended minimum for Windows 11, it's important to note that this might not be enough. If you are using multiple applications at the same time or plan on doing lots of multitasking, then you will need more than 8GB RAM.
Is there a big difference between 8GB and 16GB RAM?
 It depends on your computer's settings. 16GB RAM can run heavy apps and games without lagging on an 8GB laptop. 8GB provides possibilities if you need extra memory. If your computer's performance suffers from insufficient memory, upgrade more RAM.
Is upgrading from 8GB to 16GB worth it?
If you mostly use your laptop for browsing the internet, emailing, and basic tasks, then an 8GB memory may be sufficient. However, if you plan on doing more complex or high-resolution tasks like photo editing or video encoding, a 16GB memory is likely better suited.
How much RAM should a laptop have?
A laptop needs adequate RAM to run smoothly. If you use Photoshop and Word often, you may need more RAM. Most people use 16GB. If your computer is slow, upgrading RAM may help. Many programs require more RAM.
Is 4Gb RAM enough for coding?
While 4Gb RAM is likely to be a bottleneck for most coding projects, it's always best to check the requirements of your project before starting. Large codebases and heavy technologies may require upgrading to 8GB or 16 GB. Ensure you have enough hard drive space to download all project files simultaneously. Processing delays may result.
Is 8 GB RAM enough for laptop gaming?
8 GB RAM is the minimum for any laptop for gaming. If you want to do intense gaming, you should consider 16 GB or more.
Conclusion:
Laptop users are always looking for the best laptop for their needs. With so many specs and RAM types, knowing which one is right for you can be hard. This blog has outlined the different RAM types and how they affect laptop performance.
We have also provided a guide on adding RAM to a laptop and how much RAM is enough for different purposes. So whether you're looking to upgrade your laptop or confirm that 8GB RAM is enough, read through this blog!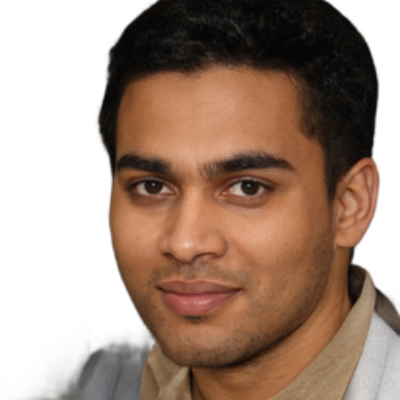 I am a Chandan Tewatia and I am the founder of this blog cfindia.net. I have been in the industry for over 10 years and have worked with some of the biggest names in the business. I have a wealth of experience and knowledge to share, and my blog is a platform for me to do just that.