Welcome to our blog, where we talk about the best laptops available for IT professionals. Anyone working in the IT industry needs the best laptop available in today's world. You need a dependable machine to handle your demanding workload, whether you're a programmer, developer, or IT manager.
That's why we've put together a list of the Best Laptop For IT Professionals available in India in 2023. Choosing the best option for your needs can be overwhelming with so many available choices. Your choice of the best laptop will be based on your knowledge of our in-depth reviews.
We've assessed a number of variables, including processing speed, storage capacity, display quality, and battery life, to bring you the most dependable laptops available. We, therefore, have you covered, regardless of whether you're an IT professional or a programmer or developer. Continue reading to find your ideal match!
Top 10 Best Laptops For IT Professionals In India
1. ASUS VivoBook K15 OLED: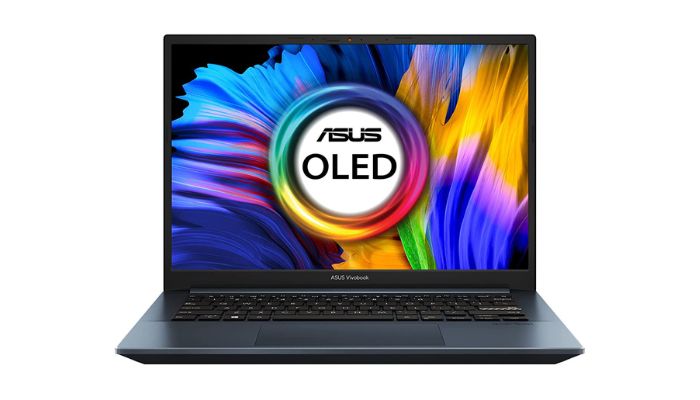 display that can be ordered with either an Intel or AMD CPU. The features are broken down as follows:
Display: The 15.6-inch OLED screen supports the entire DCI-P3 color gamut and has a full-HD resolution along with a peak brightness of 600 nits. The display has received certifications for color accuracy and low blue-light emission from organizations like Pantone and TUV Rheinland. Additionally, the display has thin borders on the left and right and is reasonably well-protected from the lid.
Build Quality: The plastics are well-fitted and finished, and the chassis is strong. Even though the lid flexes a little, there are no unwelcome creaks or flexes.
Processor: The Intel or AMD CPUs for the Asus VivoBook K15 OLED are both available. The 11th Gen Intel Core i3-1115G4 CPU is the base model for the Intel-based variants, which can be upgraded to a Core i7. The AMD version has an AMD Ryzen 5 5500U CPU with Radeon graphics built in.
RAM and Storage: The AMD model has a 1TB mechanical hard drive, a 256GB M.2 NVMe SSD, and 8GB of RAM. However, the CPUz app only identified one 4GB module, indicating that the other 4GB are probably soldered directly to the motherboard.
Connectivity: The laptop has plenty of ports, including two USB 2.0 Type-A ports and a USB 3.2 Gen1 Type-A port on the left, a USB 3.2 Gen1 Type-C port, HDMI 1.4 video output, a headphone jack, a DC power inlet, and a microSD card slot on the right. However, having more USB 3.0 ports in place of the two USB 2.0 ports and HDMI 2.0 in place of the v1.4 spec would have been nice.
Operating system: Windows 10 Home is pre-installed on the laptop.
Other Features: The laptop weighs 1.8kg and has an integrated webcam with a 720p resolution above the screen. A modest 42WHr 3-cell battery is also included in the laptop; with light to moderate use, it lasts for roughly four hours.
The Asus VivoBook K15 OLED is an excellent laptop all around with a strong processor and a stunning OLED screen. Although it is a little heavy and has a below-average battery life, its sturdy construction and connectivity options make it a fantastic option for daily use. The integrated Radeon GPU might not be sufficient, though, if you want to play graphically taxing games.
2. Mi Notebook Pro: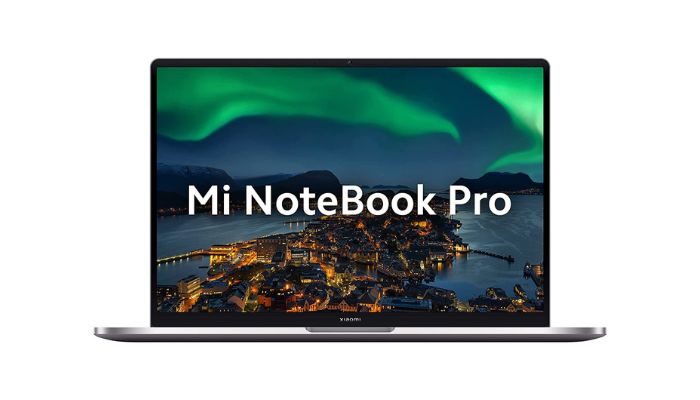 The Xiaomi Notebook Pro 120G is a laptop that closely resembles the MacBook Pro in appearance and offers excellent build and fit and finish. Here is a thorough evaluation of the product based on its attributes:
Design and build quality: The matte metal body is lightweight and has a sophisticated look. Additionally impressive are the roomy QWERTY keyboard and spacious trackpad.
The laptop has several ports for connectivity, including USB-Type A 3.1 Gen 1, Type-C USB 3.2 Gen 2, Thunderbolt 4, HDMI 2.0b, and a 3.5mm jack, which should be adequate for the majority of users.
Display: The laptop comes with a 14-inch 2.5K IPS LCD screen with a refresh rate of 120Hz, 100 percent SRGB colors, and dE 1.5 for color accuracy. Utilizing Windows 11 is very fluid thanks to the panel's 120Hz refresh rate, which also enhances the panel's pleasing colors and viewing angles. It is not as good as the OLED display found on laptops with comparable prices, though.
Processor and performance: The laptop has a 512GB PCle 4.0 NVMe SSD drive, 16GB LPDDR5 RAM, and an Intel Core i5-12450H processor. With the performance boost from the NVIDIA GeForce MX550 GPU, it can now handle casual gaming as well as light video editing and photo editing.
Operating system: Windows 11 is already installed on the laptop and is a fantastic option for most users.
Additional features include an ambient light sensor that enables the laptop's auto-brightness feature and a 100W charger that charges the battery to 50% capacity in just 30 minutes. A USB-PD power bank can be charged using the laptop as well.
Battery: The 56Whr battery has a 6-7 hour lifespan, which is respectable but not exceptional. On a busy office day, the battery life can only last about 5.5 hours after accounting for the 120Hz display.
Overall, the Xiaomi Notebook Pro 120G is a solid laptop with strong connectivity, impressive performance, and a lovely design. The battery life could be better, but the laptop makes up for it with its fast charging capabilities.
3. Asus VivoBook Pro 14 OLED: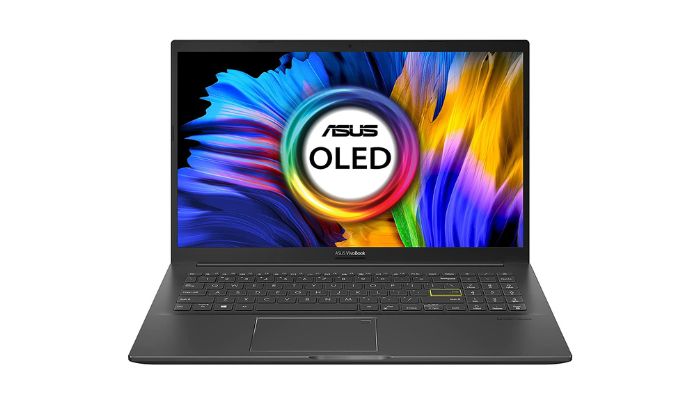 The Asus VivoBook Pro 14 OLED is a svelte and fashionable laptop with a number of noteworthy features. Here are a few of its standout characteristics:
Design: The laptop has a simple, durable aluminum lid and an Asus Vivobook logo in the shape of a badge. There are two color choices available: Solar Silver and Cosmos Blue. The matte-finished laptop in the Solar Silver color option measures 18.9mm thick and weighs 1.4 kg.
Display: The laptop has a 14-inch, 2.8K, 16:10 OLED screen with a refresh rate of 90 hertz and HDR support. The device offers an 85% screen-to-body ratio and has thin side bezels. The laptop provides complete DCI-P3 color gamut coverage, guaranteeing accurate color reproduction. Due to its TUV Rheinland certification, you can use it for a longer period of time without experiencing eye strain.
Processor: The AMD Ryzen 7 5800H and Ryzen 5 5600H are both available in the Asus VivoBook Pro 14 OLED. 16GB of RAM and a 512GB SSD are included with the Ryzen 7 5800H model. Whatever task you throw at the laptop, it can handle with ease and performs well.
The laptop has several ports for connecting devices, including a USB Gen 3.2 Type-A port, two USB Gen 2.0 ports, an HDMI 1.4 port, a 3.5mm combo jack, and a microSD card reader. It does not, however, have a USB Type-C port, which might be problematic for some users.
Additional features: The laptop has nine bottom vents that allow for proper airflow and regulate temperature. Additionally, it supports 90W fast charging, so you can finish the entire charging process for the device in under two hours.
Battery: The Asus VivoBook Pro 14 OLED has a 50 Whrs battery that lasts for roughly 7 to 8 hours on a single charge.
In conclusion, the Asus VivoBook Pro 14 OLED is a fantastic laptop with a number of outstanding features. The laptop is lightweight and convenient to carry around, with a sleek and fashionable design. The laptop's processor can easily handle any task, and the display is colorful and accurate in its use of color. The connectivity options are adequate, but some users might be bothered by the lack of a USB Type-C port.
The laptop has a good battery life and supports fast charging, making it a practical choice for use while traveling. The Asus VivoBook Pro 14 OLED is unquestionably a laptop worth taking into consideration if you're looking for a dependable and fashionable device that can handle routine tasks with ease.
4. LG Gram 17: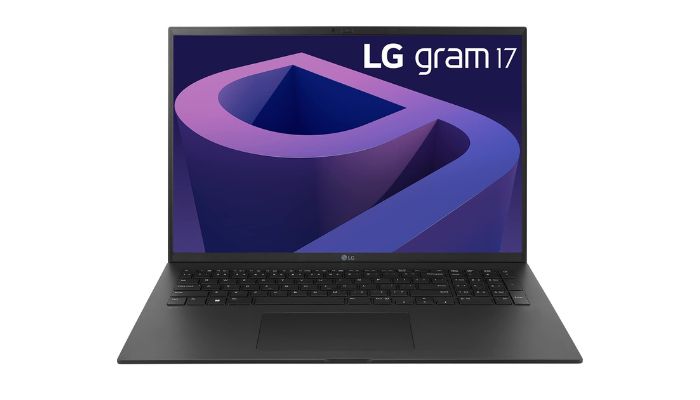 The LG Gram 17 is a capable and portable laptop that comes with a number of impressive features, making it a great choice for anyone looking for a large-screen portable device. These are the distinguishing features that set the LG Gram 17 apart:
Weight: At just 2.3 pounds and dimensions of 0.7 by 14.9 by 10.2 inches (HWD), Gram 17 is incredibly light. Given that it is among the lightest 17-inch laptops on the market, carrying it around for a long time is simple.
Display: With a 2,560-by-1,600-pixel resolution, the 17-inch screen provides plenty of space for document editing, media streaming, web browsing, and photo editing. It offers some of the best color quality currently available with 100% sRGB and 98% DCI-P3 color reproduction, and the IPS panel looks even better thanks to a non-reflective coating that removes glare.
Processor: With Intel Iris Xe Graphics and 12 total cores (four performance cores and eight efficiency cores), the Intel Core i7-1260P is a potent computer that can handle the majority of tasks with ease.
RAM and Storage: The Gram 17 has a 1TB SSD for storage and 16GB of LPDDR5 RAM, providing plenty of room for files and programs. Other configurations include dual SSD slots for increased storage and LPDDR5 memory with 8GB, 16GB, or 32GB allotments.
There are many options for connecting to external devices thanks to the laptop's abundance of connectivity features, which include two Thunderbolt 4 ports, a full-size HDMI output, dual USB 3.0 ports, a microSD card slot, and an audio jack for headsets.
Other Features: To keep your device secure, the laptop has a full HD webcam with an IR sensor for Windows Hello facial recognition and secure logins. In order to enhance the sound quality during Zoom calls, it also includes AI noise cancellation.
Battery: With a battery life of over 20 hours, the Gram 17 provides excellent all-day endurance. This is an improvement over the 2021 Gram 17, most likely as a result of the 12th Generation Intel processor's increased efficiency.
The LG Gram 17 is a remarkable laptop that features a potent processor, a ton of storage and memory, exceptional connectivity, and a sizable, high-quality display. It's a fantastic option for those who need a portable device for work or play due to its lightweight design and long battery life. Even though it might not have a discrete GPU like a gaming laptop, it still provides impressive performance at a reasonable cost.
5. Apple MacBook Air 2022: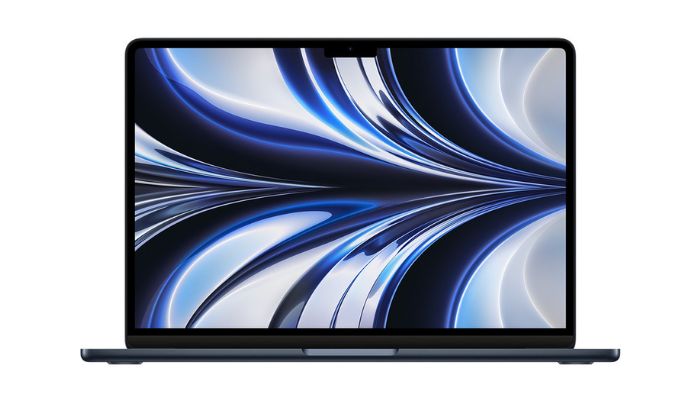 For those who value portability and performance above all else, Apple has created the MacBook Air 2022, a stylish and potent laptop. The following standards should be taken into account when assessing the gadget:
RAM: A combined memory capacity of up to 24GB enables quick performance and seamless multitasking.
Storage: The SSD storage options of 256GB, 512GB, 1TB, and 2TB offer plenty of room for files, media, and apps.
Display: A 34.46-centimeter (13.6-inch) Liquid Retina screen with more than 500 nits of brightness, P3 wide color, and support for one billion colors that produces stunning visuals with vibrant colors and incredible detail.
Processor: Powered by the Apple M2 chip, which features an advanced 8-core CPU and up to a 10-core GPU for blazingly quick performance and seamless multitasking.
Two Thunderbolt ports and a headphone jack provide connectivity, enabling flexible connectivity and quick access to external devices.
Runs on macOS, Apple's user-friendly and intuitive operating system that seamlessly integrates with all of your Apple products.
Additional features include a 1080p FaceTime HD camera, a three-mic array, and a four-speaker audio system with spatial audio, enabling clear video calls and high-definition audio. For quick and safe charging, use the MagSafe charging port. An incredibly strong and long-lasting enclosure made entirely of aluminum.
Battery: The Apple M2 chip's power-efficient performance allows for up to 18 hours of battery life, providing all-day use without the need for recharging.
The Apple MacBook Air 2022, in conclusion, is a top-tier laptop that provides exceptional performance, a gorgeous display, and a versatile selection of features in a sleek and portable design. For anyone who values productivity and portability, this device is a great choice thanks to its potent processor, ample storage and memory, and long battery life.
Additionally, it is a dependable and secure investment for years to come thanks to the advantages of macOS, sophisticated camera and audio features, and the choice of AppleCare+ coverage.
6. Dell XPS 13: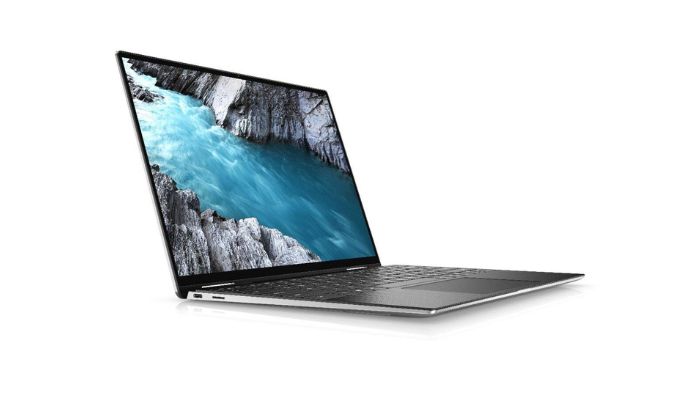 The Dell XPS 13 is a high-end laptop that balances performance and portability. The following standards should be taken into account when assessing the gadget:
Design: This keyboard has a premium look and feel thanks to its lightweight, aerodynamic, aluminum chassis, and carbon fiber keyboard deck.
Display: A 13.4-inch InfinityEdge touchscreen with a resolution of either 1920 x 1200 or 3840 x 2400, producing vivid, bright images with true colors and deep blacks. The 16:10 aspect ratio of the display makes it ideal for productivity tasks.
Processor: Equipped with the most recent 11th Gen Intel Core processors, with clock speeds of up to 4.6 GHz, for quick performance and seamless multitasking.
RAM: Up to 16GB of LPDDR4x RAM is available, enabling quick and responsive performance even when several apps are open at once.
Storage: The PCIe NVMe SSD storage options of 256GB, 512GB, or 1TB offer plenty of room for files, media, and applications.
Two Thunderbolt 4 ports, a microSD card reader and a 3.5mm headphone/microphone combo jack are provided for connectivity, providing users with a variety of options.
Up to 14 hours of battery life make it possible to use for the entire day without recharging.
Operating system: Offers a dependable and user-friendly interface and runs on Windows 11 or Windows 10 Home.
Other features include an HD webcam with a privacy shutter, a backlit keyboard, a precise touchpad, and a fingerprint reader for biometric login.
Options for customization include a touch screen, a 4K OLED display, and certification for the Intel Evo platform.
The top-of-the-line Dell XPS 13 laptop features outstanding performance, a gorgeous display, and a wide range of features in a stylish and portable package. It is a fantastic option for anyone who values productivity and portability thanks to its strong processor, ample storage and memory, and long battery life. Plus, it is a dependable and secure investment for years to come thanks to the extra features of a backlit keyboard, precise touchpad, and fingerprint reader.
7. Lenovo ThinkPad T14: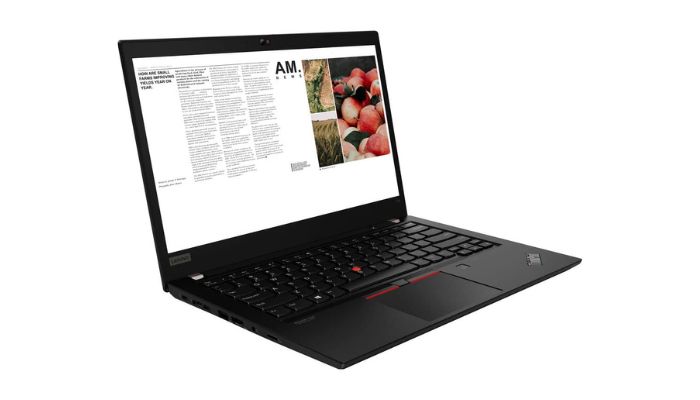 For business people who need power and performance while on the go, Lenovo designed the ThinkPad T14 laptop, which is dependable and tough. The following is a list of its features:
Its processor is an Intel Core i5-1145G7 vPro from the 11th generation.
RAM: The motherboard already has 16GB of RAM installed, but there is a spare slot left over for future upgrades and to support dual-channel performance. Lenovo gives customers a choice of 8GB or 16GB of factory-installed RAM.
Storage: A 512GB M.2 PCIe NVMe solid-state drive (SSD) that can be upgraded is included.
Display: The device has a matte 14-inch 1920×1080 (FHD) display. A maximum brightness of 388 nits and color reproduction of 99% sRGB, 75% AdobeRGB, and 75% DCI-P3 are provided by the display.
Dual Thunderbolt 4 ports, two USB-A 3.2 (Gen 1) ports, HDMI 2.0, a 3.5mm audio jack, a microSD card reader, and full-size RJ45 Ethernet are all included in terms of connectivity. Additionally, it has Bluetooth 5.2 and an Intel AX210 Wi-Fi 6E modem.
Operating System: Windows 10 is pre-installed on the laptop.
Additional features: To ensure that it can withstand a harsher environment than most typical laptops, the laptop underwent MIL-STD 810G durability testing. Additionally, it has two 2W speakers that can be tuned for Dolby Audio, a side docking connector for Lenovo's exclusive docking stations, and an optional 4G LTE with Nano-SIM and eSIM.
Battery: In PCMark 10's Modern Office rundown test, the 50Wh battery impressed with a lifespan of more than 10 hours. The battery charges very fast, getting back to 100% in just over an hour.
The Lenovo ThinkPad T14 is, all things considered, a solid laptop option for professionals who need a dependable and durable machine. It's a great tool for heavy multitasking and photo editing thanks to its processing power, storage capacity, and display.
The Thunderbolt 4 ports and wireless connectivity options ensure that it can easily connect to a variety of peripherals and networks. Its long battery life and fast charging make it perfect for users who need to stay mobile for extended periods.
8. HP Pavilion 14 Laptop: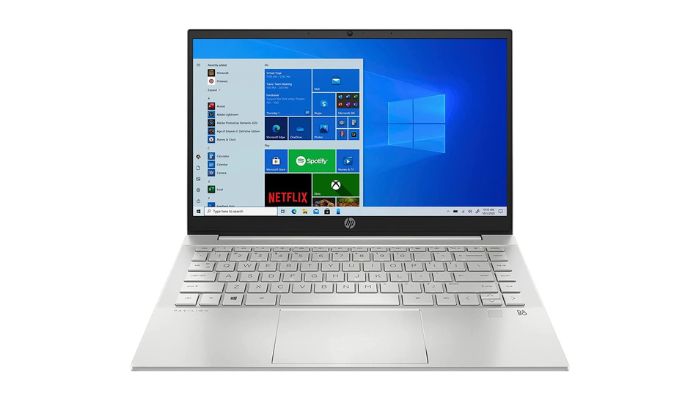 The HP Pavilion 14 laptop is a wonderful machine that can easily handle your regular workday. Here are some details about its attributes and measurements:
RAM: The base model has 8GB of memory, but it can be configured to have up to 16GB of RAM for better multitasking efficiency.
Storage: Although configurations with up to 1TB of storage are available, the base model comes with a 256GB solid-state drive (SSD).
Display: IPS panel with a 14-inch full HD (1,920 by 1,080 pixels) resolution. Although the system's maximum brightness (250 nits) is not very bright, it is of decent quality for the price. For models that can be customized, touch and brighter 400-nit display options are available.
Processor: The base model has a Core i3-1215U processor, but it can be upgraded to a Core i7 processor for more processing power. All of the processors, however, are U-Series chips, which have performance restrictions because of their power-limited construction.
Connectivity: Has a good selection of ports, including HDMI-out, USB Type-A and Type-C ports, and an audio jack. Additionally included are Wi-Fi 6 and Bluetooth connectivity.
OS: Windows 10 Home is included as the operating system.
Other extra features: Includes a 720p webcam and an all-silver chassis design. Configurable models can be customized with different colors and component options, including a low-end Nvidia GeForce MX550 GPU for improved graphics performance.
Battery: Battery life is decent, lasting up to 7 hours on a single charge according to HP. However, real-world battery life may vary depending on usage.
Overall, the HP Pavilion 14 Laptop offers a slim and sleek design at an affordable price point. Its display, processor, and connectivity options are all serviceable for everyday tasks, but may not be sufficient for more demanding workloads.
However, the ability to customize the laptop with different component options allows for some flexibility in tailoring the device to specific needs. The laptop's battery life is decent, and its variety of ports is a plus for a smaller system.
9. Samsung Galaxy Book2: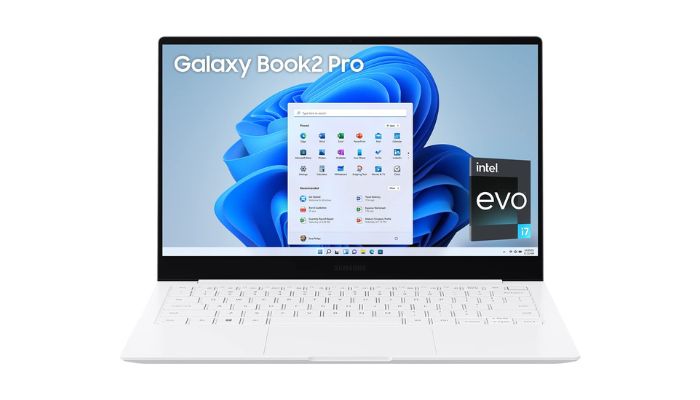 The Samsung Galaxy Book2 laptop is a potent tool that can easily handle your daily workload. Here's a closer look at its features and specifications:
RAM: The laptop has 16GB of RAM, which is enough to multitask and run multiple applications at once.
Storage: The 512GB solid-state drive (SSD) capacity of the Galaxy Book2 is available. The laptop is quick and responsive thanks to the SSD storage, which also guarantees quick app launch and boot times.
Display: The laptop has a 15.6-inch, 60Hz-refresh LCD screen that is LED-backlit. The screen offers vivid, bright colors, good contrast, and adequate brightness levels despite not having an AMOLED display.
The laptop's 12th Gen Intel Core i5-1235U processor, which is quick and effective and makes it simple to handle daily tasks and applications, powers it.
In terms of connectivity, the Samsung Galaxy Book2 has a number of Type-C ports, HDMI, Type-A ports, an audio port, and a microSD card reader. For wireless connectivity, Wi-Fi and Bluetooth can also be used.
OS: Windows 11, Microsoft's most recent operating system, is preinstalled on the Galaxy Book2 and offers a user-friendly interface and cutting-edge features.
Additional features include the ability to change display modes, adjust the keyboard backlight brightness, and reduce battery consumption using Samsung Settings, which are included with the laptop. Additionally, the laptop has speakers at the bottom, but the sound quality could be better.
Battery: The Galaxy Book2's battery life is only 4-5 hours on average when used continuously. However, the device can be charged quickly with the 65W charger, going from 10% to 100% in about 2 hours.
In general, those looking for a stylish, light laptop with a great display, a potent processor, and a variety of connectivity options should consider the Samsung Galaxy. Despite the fact that the battery life could be longer, the fast-charging capability and effective SSD storage make it a great device for daily use.
10. MSI Modern 15: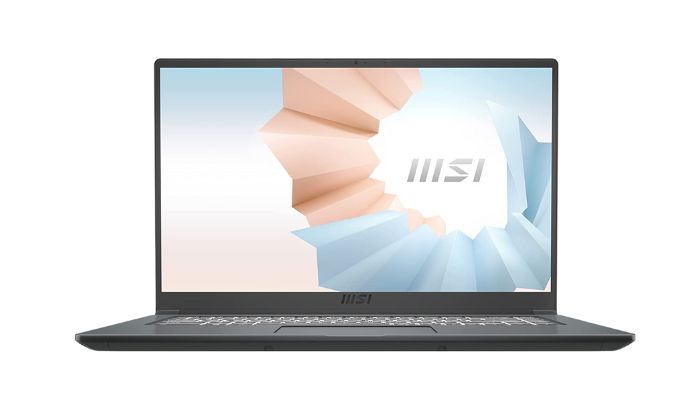 A mid-range computer that aims to provide potent performance without breaking the bank is the MSI Modern 15 Laptop. Here is a list of its main characteristics:
8GB of RAM is included, which is enough for the majority of daily tasks.
Storage: A 512GB SSD is included enabling quick read and write speeds for files and programs.
Display: 15.6-inch LCD screen with slim borders, contributing to a modern look.
Poor color saturation, covering only 58% of sRGB, which may result in a slightly weak, pastel look. Good contrast, but maximum brightness is limited at 270 nits, making it suitable mainly for indoor use.
Processor: Powered by a Core i7-1255U CPU, which provides very good CPU performance.
However, gaming performance is not as strong as some 11th Gen slim-and-light laptops. Erratic fan behavior in some performance modes may cause some concern.
Connectivity: Comes with a single USB-C port, two USB 2.0 ports, an HDMI port, and a microSD slot. Having only two moderately fast USB connections may feel a bit limiting.
OS: Ships with Windows 10 Home installed, which is standard for most laptops.
Other extra features: All-plastic design, but looks good and has good panel stiffness.
720p webcam, which is a bit outdated compared to some other laptops. Non-upgradeable RAM, which may limit its lifespan.
Battery: Battery life is a weak point, lasting only 5.5 hours, which may not be sufficient for all-day use. Chargeable over a cylindrical socket or USB. MSI sells the Modern 15 with two different battery capacities, but the higher-capacity version may be challenging to find in the UK.
With some trade-offs, the MSI Modern 15 is a reasonably priced, capable computer. Although it is attractive and strong, its weight makes it unwieldy for regular use. Although the display is passable, it is not bright enough or has vivid colors for outdoor use. Although the performance is excellent, some competitors offer better gaming performance and a quieter fan.
Average battery life and non-upgradable RAM are both disadvantages. Overall, the MSI Modern 15 is a good option for those looking for a performance-focused laptop that won't break the bank but are willing to give up some features.
How Much To Spend On A Laptop For IT Professionals In India?
For IT professionals in India, the cost of a laptop will vary depending on their individual requirements and spending power. For the majority of tasks, though, a mid-range laptop with a contemporary processor, at least 8GB of RAM, and a solid-state drive (SSD) would be adequate.
Normally, this would cost between INR 40,000 and INR 70,000, though costs may change depending on the brand, model, and extra features.
Criteria For Choosing The Best Laptop For IT Professionals:
Important factors to take into account when selecting the best laptop for IT professionals include the processor, RAM, storage, display, connectivity, battery life, and overall build quality. The unique requirements of the IT professional should also be taken into account, such as whether they require a dedicated graphics card for video editing or a lightweight design for portability.
An IT professional who needs a dependable and effective tool for their work needs to strike a good balance between performance, portability, and durability.
Frequently Asked Questions:
Are 2-in-1 laptops a good choice for IT professionals?
2-in-1 laptops can be a good choice for IT professionals who prioritize portability and versatility. However, they may not offer the same performance as traditional laptops or desktops.
Should I go for a laptop with a dedicated graphics card for IT work?
Whether you need a dedicated graphics card for IT to work depends on the type of tasks you will be performing. For tasks that require intensive graphics processing, such as 3D modeling, video editing, or gaming, a dedicated graphics card can be beneficial. For general IT work, it may not be necessary.
Is a Windows or a Mac laptop better for IT professionals?
The choice between a Windows or Mac laptop for IT professionals largely comes down to personal preference and the specific software and tools you need for your work. Both platforms offer advantages and disadvantages.
What type of processor is best for an IT professional's laptop?
The best type of processor for an IT professional's laptop will depend on the specific tasks you need to perform. For general office and productivity work, a mid-range processor such as an Intel Core i5 or AMD Ryzen 5 should be sufficient. For more intensive tasks such as programming, data analysis, or virtualization, a higher-end processor such as an Intel Core i7 or AMD Ryzen 7 may be more appropriate.
Conclusion:
Numerous crucial considerations, including processor, RAM, storage, display, and connectivity, must be made when selecting the best laptop for software professionals. Making the right decision can be difficult with so many options on the market. However, by focusing on your specific needs and budget, you can find a laptop that offers excellent performance, durability, and user-friendly features
A powerful processor, enough RAM and storage, a premium display, and good connectivity are all features of the ideal laptop for software professionals. Software professionals can increase their productivity, accomplish their objectives, and advance in their industry by picking the right laptop.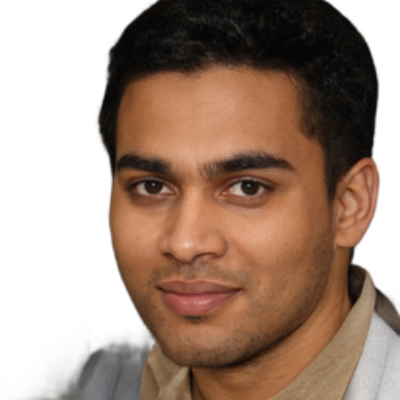 I am a Chandan Tewatia and I am the founder of this blog cfindia.net. I have been in the industry for over 10 years and have worked with some of the biggest names in the business. I have a wealth of experience and knowledge to share, and my blog is a platform for me to do just that.